10 most memorable cricket matches of 2011
Correspondent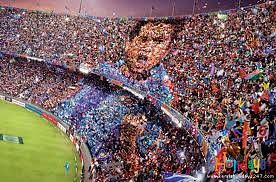 The year 2011 witnessed some of the best moments ever in the history of world cricket. From the historic world cup win by India to the shocking defeat of Australia by the Kiwis, here are the top 10 magical cricket matches of 2011.
1.INDIA Vs SRILANKA (WORLD CUP FINAL 2nd APRIL 2011)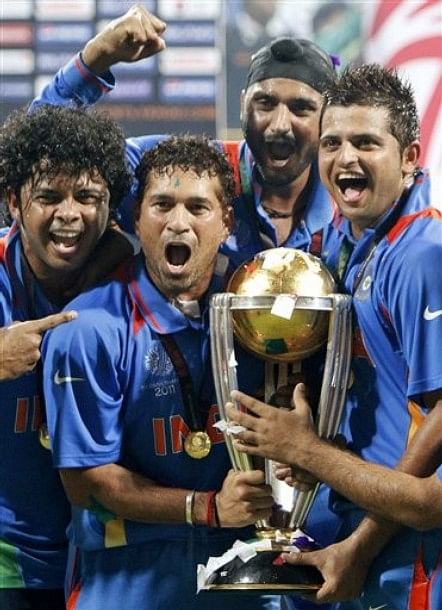 The day for which millions of Indians from all around the globe were waiting was finally there after a long gap of 28 years. Indian team under the captaincy of  M.S Dhoni  defeated Sri Lanka by  6 wickets in the finals in Mumbai and lifted the much awaited World Cup trophy.There were tears of joy and happiness in the eyes of every Indian. God of Cricket 'Sir' Sachin Tendulkar after winning the world cup said "They are happy tears, so I don't mind at all," he said. "I could not have asked for anything better than this. Winning the World Cup is the proudest moment of my life".Man of the tournament Yuvraj Singh said that he wanted to win this tournament for Sachin Tendulkar.He added that "We played like champions and we deserve to win. We batted like champions and we saved lots of runs at the field". Its very hard to define those moments but surely that match and that magical world cup winning moment was the best in the current year.
2. . INDIA Vs PAKISTAN (WORLD CUP SEMIFINAL 3Oth MARCH 2011)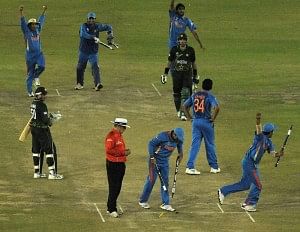 On 30th March 2011, the PCA stadium in Mohali saw the outstanding clash between arch rivals India and Pakistan. India outclassed Pakistan in all the departments  and defeated them by 29 runs. The match was even termed as war and it saw the presence of celebrities, diplomats and Prime Ministers from both the nations alongside the huge crowd. Experts said that the Pakistan team lost the match because of their poor fielding. Master Blaster Sachin Tendulkar was dropped five times in the entire innings before he got out on 85. Even Sachin said that in his 21 year long career, he has been never dropped five times in one innings. The match received a viewership of 67.3 million in India alone, and an estimated 150 million viewership worldwide.
3.AUSTRALIA Vs SOUTH AFRICA (1st TEST MATCH NOV 9-NOV 11)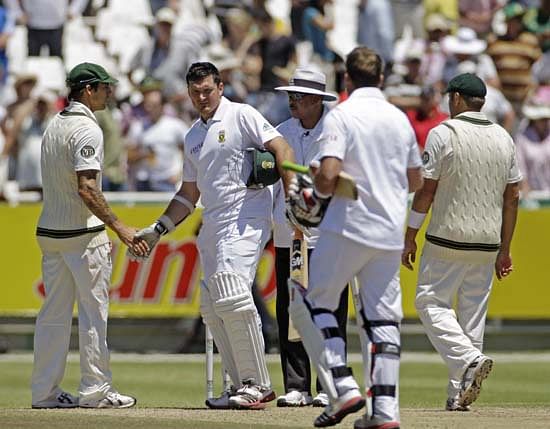 This match was one in a million, the test match which just got over in 3 days had complete drama, full entertainment and everything you want in a test match. This match recorded the 4th lowest total by Australia in an innings but it could have been more worse if the last wicket partnership would not have been that good. Australia after batting first scored a handsome score of 284 with an remarkable innings of 151 by Micheal Clarke. South Africa were blown away by Watson and Ryan Harris, as they bowled brilliantly to dismiss South Africa on 96. Australia had a lead of 188 runs, but that was not enough second innings as Australia batted worse than a school team and at one time were 21 for 9 in just 12 overs but they somehow managed to reach 47, thanks to the last wicket partnership between  Nathan Lyon and Peter Siddle. They also just managed to overcome their lowest total in test matches of 36. South Africa who were completely out of form in the 1st innings batted superbly and achieved the target of 236 in just 51 overs with outstanding centuries by Smith and Amla.
4. INDIA Vs ENGLAND(WORLD CUP LEAGUE MATCH 27th FEB 2011)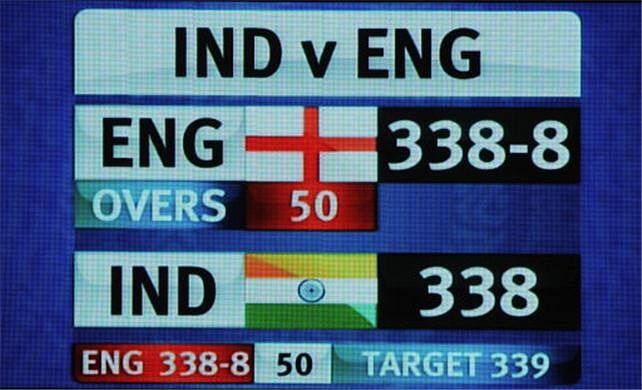 If you want to know how close a cricket match can be, than this match between India and England is the perfect example. This match was played on 27th February at Chinnaswamy Stadium and ended in a high scoring tie. India, after winning the toss elected to bat first, and aided by an outstanding innings of 120 runs by the  Sachin Tendulkar, they ended up making a mammoth total of 338. But England did not surrender at any point during their chase. Captain Andrew Strauss smashed 158 runs of just 145 runs to take his team close to the total but when he was dismissed, England started to collapse. But some last moment sixes by Bresnan, Shahzad and Swann took England to 338. From the first over of the match, in which Virender Sehwag was nearly dismissed three times in five balls, through to the exemplary strokeplay by Tendulkar and Strauss, to the batting collapses – one apiece for the lower order of both teams – there was hardly a moment in which normal service prevailed
5.INDIA Vs WEST INDIES( 4th ODI  8th Dec 2011)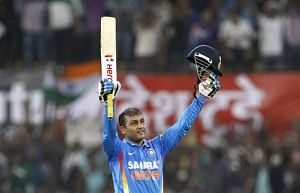 This historic match will be only remembered  because of the superb knock by the Nawab of Nazafgarh Virendar Sehwag. Sehwag smashed the 2nd double hundred in ODI cricket after Sachin Tendulkar and claimed the record of the highest individual score in ODI cricket. Sehwag scored 219 runs of just 149 balls which included 25 fours and 7 huge sixes. Holkar stadium at Indore will now be remembered by this sensational Sehwag knock. Virender Sehwag, the batsman was most touted to break Sachin Tendulkar's record for the highest individual ODI score, didn't merely break it – he shattered it and raised the bar so high that it's hard to imagine anyone, apart from Sehwag himself, to break the record. Sehwag's performance led India to 418 for 5, their highest ODI total.
6. ROYAL CHALLENGERS BANGALORE Vs SOUTH AUSTRALIA(CHAMPIONS LEAGUE 5th OCT 2011)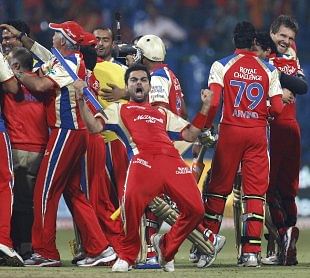 Hitting a last ball six to win the game for your side is a thrilling prospect for any cricket. The same thing happened at the M. Chinnaswamy stadium on 5th oct 2011 when young Arun Karthik hit a six of the last ball on the bowling of Daniel Christian. South Australia Redbacks  scored 214 runs in 20 overs in which Daniel Harris smashed an unbeaten 108  in just 61 balls. RCB also started their innings with a bang when Gayle scored 26 runs by hitting 3 sixes in just 15 balls and Dilshan played an outstanding innings of 74 and then Virat Kohli hit 70 runs of just 36 balls. But it all boiled down to the last ball, off which six were needed, and Karthik stepped up to smash Daniel Christian into the stands over midwicket. The crowd went up as one, the RCB dug-out exploded in joy, and even the usually laid back Chris Gayle walked out shirtless with a broad smile.
7.AUSTRALIA Vs BANGLADESH (2nd ODI 11th APRIL)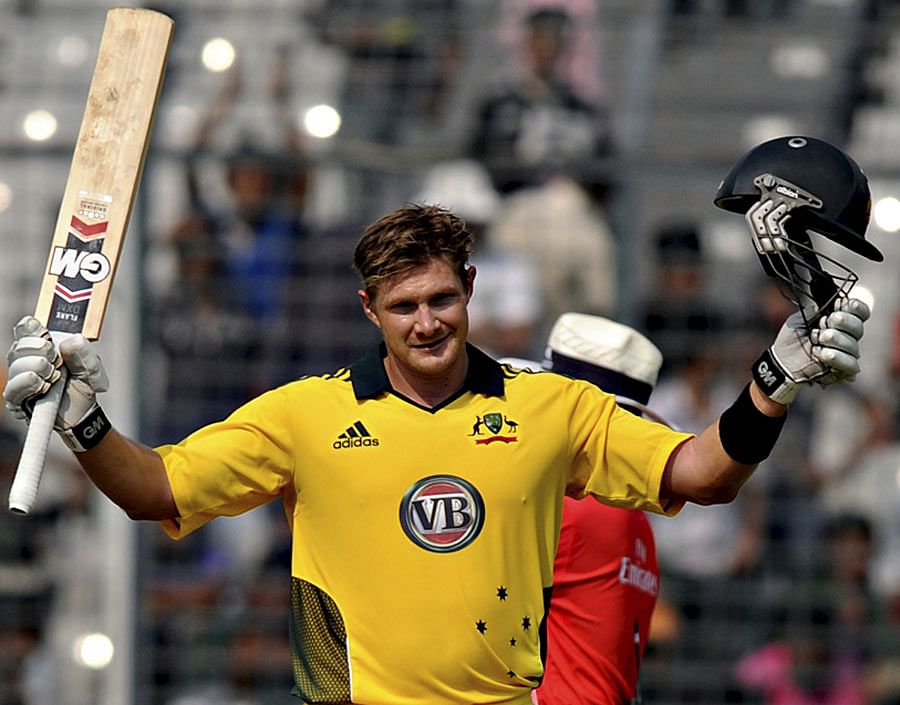 This match saw one of the most dangerous knocks in the ODI format, and the guy who was responsible for this was none other than the Australian all rounder Shane Watson. Shane Watson knocked Bangladesh bowlers senseless with a world record tally of sixes as the Australia galloped to a nine-wicket victory. Shane watson smashed 15 fours and sixes and achieved a target of 230 in just 26 overs. Watson scored unbeaten 185 runs of just 96 runs. He also broke the record of Xavier Marshall of 12 sixes in an innings which he set had up in 2008. Watson scored 79.74% of the total runs scored by Australia; Viv Richards, in his momentous 189 not out against England in 1984, had scored 69.48% of total when they made 272-9.
8. AUSTRALIA VS NEW ZEALAND ( 2nd TEST MATCH 9th Dec-13th Dec)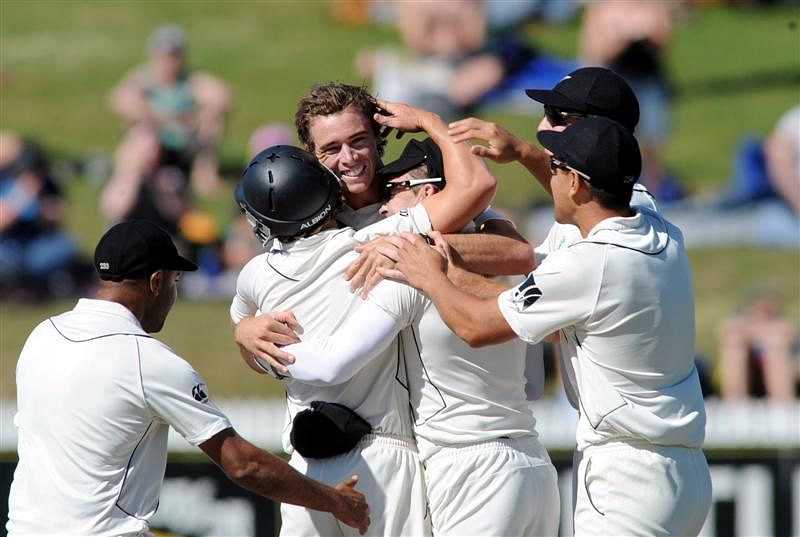 This was the match which New Zealand fans will never ever forget.New Zealand beat Australia by just 7 runs in an epic encounter at Hobart. This was New Zealand's first Test win against Australia since 1993 and the first on Australian soil since 1985. New Zealand were bowled out for just 150 runs in the 1st innings by an outstanding bowling spell by Pattinson, who was later also selected as the Player of the Tournament, The Kiwis bowled even better than the Aussies and dismissed them for just 136 in their first innings. In the 2nd innings, New Zealand managed to reach the score of 226 runs and gave Australia the target of 241 runs. Australia started really well and they were at one stage 159-2, but their last 8 wicket fell of just 84 runs and even the century by David Warner could not help them win.
9. INDIA Vs WEST INDIES(3rd TEST MATCH 22-26 Nov)
An extraordinary third test in Mumbai left cricket fans with flippin' murder in mind. India and West Indies drew the match with scores level, only the second such instance in 2,019 Test matches. The first came in Bulawayo in 1996-97, when England were so exasperated by Zimbabwe's negative tactics that after the match their coach, David Lloyd, famously fumed: "We flippin' murdered 'em!". With two overs to go, however, India looked to have the game sewn up. They needed only six runs to reach their target of 243, with three wickets in hand and the first-innings centurion Ravichandran Ashwin at the crease. West Indies got a lead of 189 runs in the 1st innings but because of the outstanding bowling performance by Ashwin and Ojha, they were bowled out on just 134 runs in the 2nd innings, thus giving India a target of 243 runs. Indian team required just 3 runs to win on the last ball and the young Aaron was on strike. He was unable to score on the first 3 deliveries, and eventually when India required 2 runs of the last ball, they were only able to make 1 run and thus ending the match in a draw.
10. IRELAND Vs ENGLAND(WORLD CUP 2011 2nd MARCH)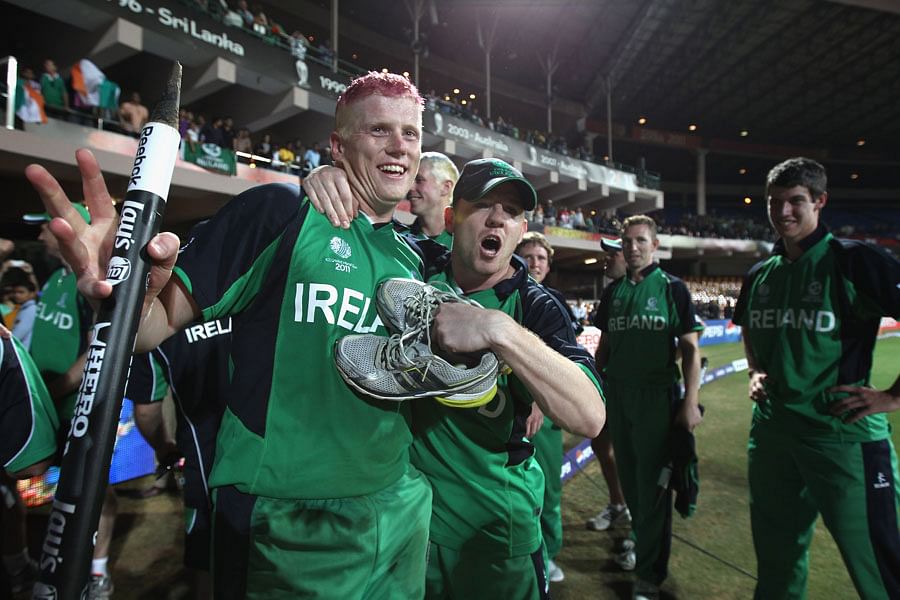 This was the most shocking match of the 2011 World cup. Ireland defeated their rivals England by 3 wickets in a historic match played at Bangalore .No one would have thought that an inexperienced team like Ireland can chase a massive score of 328 runs. With no big names in the Irish team, it was very difficult to chase that total but it was all Kevin O brien show, who proved that names really don't matter, it's all about performing on the day. Kevin O Brien stunned England with the fastest hundred in World Cup history as Ireland secured their greatest victory with a monumental three-wicket triumph in Bangalore. O'Brien hammered a magnificent 113 off 63 deliveries as Ireland completed the highest World Cup run-chase with four balls to spare. After he had added a match-changing  partnership of 162 with Alex Cusack, John Mooney joined him to play the innings of his life and help write another famous chapter in Irish sport.