Liverpool FC: Why two trophies would be better than a UCL place
liverpool-fc-why-two-trophies-would-be-better-than-a-ucl-place/bell-3/" rel="attachment wp-att-108010″>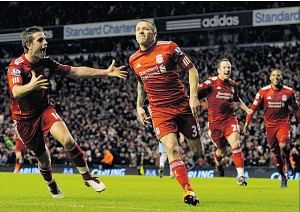 I am stirring up a debate which started as soon as this season began. Most Liverpool fans were wondering and discussing which would be better for LFC, two trophies or a place in the UEFA Champions League. Many would be shrewd and say we want both. It would be fantastic if they achieve both, but it seems highly unlikely. All their key players can't be expected to play three matches in eight days and it's frequency could increase in lieu of possible FA Cup replays. There is a high possibility that Liverpool will have to face a fixture pile-up sometime this season, more so if we progress in the FA Cup. With this being the case, it has actually turned out to be a boon not to be in Europe this season.
Assuming we'll progress in the FA Cup, we have two trophies to play for on one side and a UEFA Champions League spot at stake on the other. As an LFC supporter, if I was asked to choose one among them, I would go for winning two trophies, viz. the Carling Cup and the FA Cup, even if it comes at a price of not being in the top four. Now that one ticket to the historic Wembley Stadium has been booked after a gap of 16 years, another one is possible if we get to the FA Cup finals. I know I am being optimistic but it is a possibility. Two trophies will remind the LFC players what playing for LFC is all about. It will give the players and the supporters a sense of belief that LFC are destined to achieve great things. This belief will be a great incentive for the next season.
On the other hand, say we secure a Champions League place but do not progress in the FA Cup. It won't be that bad, but do we have a good enough squad to compete with the top clubs in Europe? I don't think so. There's no point getting into the Champions League and ending up in the Europa League after the group stages. It would be diasappointment from all ends.
With the addition of a few more players in the summer and the return of Lucas Leiva, they can aim for the Premier League and the Champions League spot next season. But for this season, considering the kind of inconsistent performances they have had in the Premier League, two trophies in the Anfield cabinet won't be bad idea at all. It could be nostalgic for the LFC supporters and if it happens, it will be after five long years since the FA Cup win in 2006..
(edited by: Prthvir Solanki)