A walk down the memory lane with Roger Federer
Correspondent
Crowd: C'mon Roger!
Chair Umpire: Quiet please, thank you.
Commentator: Federer- The master has a championship point.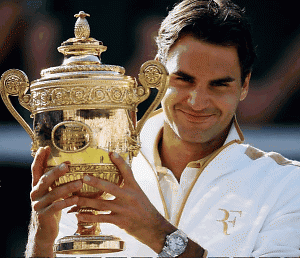 Point completed.
Chair Umpire: Game, set and match – Federer.
Commentator: And he does it again. Another Grand Slam in the bag for Federer.
Now how many times have you been through this situation? I bet none of the true Federer fans have missed even one of his Grand Slam finals, at least I haven't. All these years it has been an honor watching him play. He never fails to amaze you, be it with his amazing forehands, his  elegant one handed backhand or his fancy tweener(the between the legs shot) which leaves the opponent and the crowd awestruck. The elegance and grace with which he plays the game is a treat for the viewer.
Making of the Champion
Growing up with Federer has been quite an emotional roller coaster. At the start of his career, many people considered him as the next big thing in tennis and their predictions were bang on, as Federer defeated the great Sampras in the 2001 Wimbledon 4th round. The center court had found its new king. There was no stopping Federer then as he kept winning titles at will defeating almost every player in the circuit. He became the numero uno player in the world and won a lot of hearts due to his humble nature. He used to always cry after winning a Grand Slam and seeing him cry would make me emotional as well and I would stand up to salute the man's brilliance.
Nadal's Era
Then came the Nadal phase. Federer was at the top of his game, but somehow he still hadn't managed to win the Roland Garros. Rafael Nadal a 18-year-old beat the great Federer in the semi-final of the French Open and went on to lift the French Open title in 2005. This was how Nadal came into the picture. He was a strongly built, fierce competitor. At first we all thought that Nadal was just a clay court specialist and would not pose a threat to the No.1 ranking of Federer, but gradually Nadal paved his way through defeating players at all Grand Slams. Then came the epic Wimbledon final of 2008 where Nadal overcame the mighty Federer in 5 larger than life sets. This victory proved that Nadal was a player for all surfaces. He continued to be a thorn for Federer, defeating him in a number of Grand Slam finals. He ultimately uprooted Federer from his No.1 position that he had held for years together.
Federer having achieved everything in life, was short of just one milestone and that was completing a career slam by winning the French open. But defeating the master of clay (Nadal) in Paris was something that seemed next to impossible even for the genius. Then came the day when a hard hitting Swiss who played fearless tennis, outclassed the king of clay in his own den in the round of 16 of Roland Garros 2009. The whole world understood that this was the make or break year for Federer. He rose up to the occasion and played mind boggling tennis to defeat Robin Soderling in the final and claim his first ever French Open title. Tears rolled down his cheeks and the moment was overwhelming.
Djokovic Era (2011-present)
Federer was overshadowed by the brilliance of Nadal and Djokovic, both of whom easily defeated him and he gradually slipped to the 3rd position. Djokovic was ready to break free and extend his supremacy all over as he defeated Nadal in 7 consecutive finals making him the No.1 player in the world. Djokovic was on a 41-match winning streak when he ran into Federer at the Roland Garros semi-final where he was outclassed by the maestro in 4 sets. Federer lost to Nadal in the final but there were glimpses of the old Federer we all knew of.
Even though he lost the semi-final to Federer, Djokovic still remains the player to beat in the tennis circuit at the moment. His physique, fitness, return game, ground strokes have earned accolades all around the world.
Glimpses of the Genius
Recently Fedex has defeated both Djokovic and Nadal and has shown great promise. But I wonder what has changed in the last few years. Is it Federer's game that has dropped or have Nadal and Djokovic raised their level to become superior players? I guess the answer to it is that after reaching your peak, you are bound to stumble and fall. The important thing is maintaining your peak for a long time. Federer did it for about 5 years. Nadal did it for about 2-3 years and Djokovic is still living the dream. Federer still has it in him to beat any player on the tennis circuit. He is the most graceful player I have ever seen. When he plays that one-handed backhand down the line, all I can say is WOW!
I just hope that I will hear those words again, – "Game, set and match – Federer."