Slipping, sliding and slamming: A look at the clay prospects of the top ATP players
Featured Columnist
It's gritty. It's dirty. It's garish orange in colour. And it looks incredibly tough to play on. But as unpleasant as the prospect of playing claycourt tennis looks from our television screens, most players find the clay swing of the tennis calendar refreshingly welcome, specially after months of slogging on the unforgiving hardcourts. Even Roger Federer, who has supposedly been afflicted with a phobia of all things clay ever since Rafael Nadal put on a pair of piratas and took a racquet in his hand, was heard saying in 2009, "Thank God the hardcourt season is over" a few weeks ahead of the claycourt season. While that quote may have partially been born out of Federer's intense frustration that reached boiling point at Miami, the last hardcourt tournament before the start of the clay swing (that's some mighty fine racquet-smashing technique, Roger!), there's no denying that claycourt tennis is considerably easier on tennis players' bodies than hardcourt tennis. But is winning on clay as easy for the players as playing on it? Let's take a look at the claycourt prospects of the top players this season:
John Isner: Has the American media hype made Isner look better than he actually is? I want to say 'yes', but Isner's signature wins lately have been nothing short of sensational. He's defeated Federer on clay (a surface that is least conducive to Isner's serve-based game), Djokovic on hardcourt (a surface that is most conducive to Djokovic's versatile game), and last year he become the first player to take Nadal to 5 sets at the French Open (enough said). Will Isner's dream run continue? Something tells me it will, even on clay.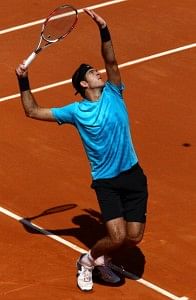 Juan Martin del Potro: The towering Argentine can certainly play on clay, and most tennis followers reminisce fondly about his epic semifinal clash against Federer in the 2009 French Open semis. Of course, a lot has happened between then and now, and ever since del Potro has made his comeback from injury, he's been struggling to regain his place among the elite of men's tennis, a feat that has proved tougher than it looked. The clay stretch of 2012 may or may not be the time when del Potro finally jumps back into the top echelon of players, but you know he'll give it his all to make that happen. The good news for him? On clay, even if he runs into Federer, his nemesis this year (del Potro has only lost to one other player other than Federer this year), he'll probably not find it impossible to win.
David Ferrer: Tennis's Energizer bunny keeps sprinting along. Can he sprint his way past his heavyweight rivals? Ferrer keeps making semifinals and finals at big events, and he keeps losing them. Yes, he will be there when the big boys stumble; on clay, you can count on him to make at least the final four of every event, so winning the whole shooting match in the event of the top 4 failing to make their seed wouldn't be unthinkable for Ferrer. But judging from the consistent showings of the top players lately, it's looking increasingly harder for Ferrer to get that career-defining victory. Least of all on clay, where both Nadal and Djokovic loom like immovable objects.
Jo-Wilfried Tsonga: Yeah, that stumped me too. Tsonga has found a place for himself in the top 5? The Frenchman has crept up to a ranking of No. 5 while no one was looking. The only explanation that I can think of for that is that he's been healthy for almost a year now. And there you have it: Tsonga is so talented a player that if he remains injury-free for any reasonable stretch of time he can put up really good results without having to do anything special. But he will have to do something special if he has to overcome the players ranked above him, particularly on clay, his least preferred surface by a mile. And for a player of his flamboyant gifts, that something special is merely being more consistent. But with Tsonga, that's easier said than done.
Andy Murray: You'd expect that a player with innumerable peaks and troughs in his career would be a tennis writer's delight, but Andy Murray has turned that logic on its head. It has become so tough to analyze Murray's chances from one tournament to another that it is almost putting off. Murray's career has become a series of contradictions, and it is almost impossible to predict anything about his future, whether the immediate or the long-term. Clay is supposed to suit his defensive, counter-punching game, but his movement on the surface is inadequate, to the extent that he's never seriously contended for any big title on clay. While Murray's forehand, a shot that has become such an interesting topic of conversation because of Ivan Lendl's supposedly furious attempts to ramp it up, is too loopy to do much damage on fast courts, it doesn't shoot through the court enough to win him points on clay. On one hand, Murray should be focused on doing well at Wimbledon and the Olympics, but on the other, he can earn boatloads of ranking points by doing well in the tournaments before those two events. Contradictions, contradictions everywhere.
The one steadying factor for Murray in the upcoming stretch, of course, is the presence of clay master Lendl in his corner. But can three months of coaching help a player get over his long-standing aversion to a surface? I'm thinking no.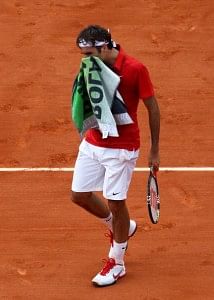 Roger Federer: The Swiss has been on a roll lately, with his well-documented recent run of 6 titles out of 9 tournaments making many people forget that he was supposed to be a past-his-prime, limping 30-year-old who had no reason to continue playing tennis. But how much does Federer really care about this part of the season? After his loss to Andy Roddick at Miami, Federer hinted that he was exhausted from having played so many matches so early in the year. And he has certainly been getting his share of rest and relaxation since then, even managing to defy physics and click a few underwater pictures for kicks. Federer has suffered years of heartbreak and agony on dirt, mainly because of the otherworldly skills of his Spanish nemesis, and his attacking game with the 'cant-handle-high-balls' backhand has never been ideal for the high-bouncing clay. And this year, Federer has an extended grasscourt schedule to look forward to as well, with the London Olympics being the prime object of his attention. All of which makes me think that Federer will not be as invested in the clay tournaments this year as he normally is. But that's not a completely bad thing: with the pressure off, Federer might just be able to play his most free-flowing, instinctive tennis.
Rafael Nadal: There's mutiny brewing in the kingdom, and the emperor is not happy. Nadal has ruled the claycourts for nearly 7 years now, but he has been uncharacteristically grouchy of late, complaining about the ATP, the calendar, the rankings system and even his long-time punching bag Roger Federer. Already reeling under the pile of losses to Djokovic, he came face to face with a familiar foe in Miami: knee troubles. Traditionally, the start of the clay season has been the soothing balm to all of Nadal's problems: the man has been known to overcome injuries, bad form and formidable opponents with a minimum of fuss on his beloved red dirt. But this time he has a potentially game-changing factor to deal with: the seeds of doubt sown by his twin losses to nemesis Djokovic on clay last year. Are there holes in Nadal's armory that can be exploited now? This year he'll likely get to face Djokovic earlier than usual: Djokovic has entered the Monte Carlo Masters' event, which means Nadal's borderline ludicrous 7-year reign at Monte Carlo will be severely tested.
Considering Nadal's famed ability to fight against adversity, you'd think it was a matter of time before Nadal found a way to overcome this latest, most challenging adversity. But that was what we thought way back at Madrid last year too; we're still waiting for that matter of time to transpire. Still, I get the feeling that even a single victory against Djokovic, whether at Monte Carlo or Madrid or Rome, will be enough for Nadal to get back into terminator mode on his favorite surface. But if he is still looking for that elusive win by the time Roland Garros rolls around, then the kingdom might finally be ready to crumble.
Novak Djokovic: I don't know about you, but Djokovic's back-to-back wins at Rome and Madrid last year, with straight-set wins over Nadal in both finals, came like a bolt out of the blue for me. No matter how well Djokovic had been playing up to that point in the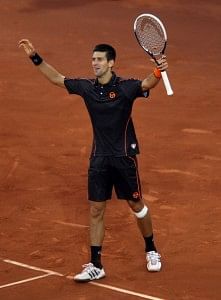 season, getting past Nadal on clay seemed like a bridge too far for him. But when it came down to it, the Serb almost made defeating Nadal on clay look easy, as ridiculous as that may sound. Which is why, after having conquered the seemingly unconquerable, Djokovic's loss to Federer in the French Open semis came like a bolt out of the blue too. Sure, Federer played inspired tennis that day, but that was a match Novak should never have lost – you don't go from doing the impossible to failing to even give yourself a shot at the ultimate prize.
This year, Djokovic comes into the clay season with 2 losses more and 2 titles less than last year. But there's one huge positive. He's now armed with a new weapon that might be considered more powerful than any number of match wins or tournament victories – a mental stranglehold over arguably the greatest claycourter in history. The confidence that Djokovic has derived from that absurd run of victories over Nadal has made its presence felt in all of their recent encounters. Clay suits Djokovic's game too: he moves and slides extremely well on the surface, and his spectacular defense is an even greater asset on the slow dirt than it is on the hardcourts. Of course, there's also the small matter of Djokovic's prospect of becoming the first man in 43 years to hold all the 4 Slams simultaneously – if he wins at Roland Garros, he'll have won 4 Majors in a row. Will the pressure of the non-calendar Grand Slam be as overpowering as the pressure of the winning streak was last year? We likely won't find that out until the second weekend in Paris; everything up to that point is irrelevant for Djokovic. Unless, of course, he gets drubbed by Nadal 6-0, 6-0 in all their matches before then. We'll be talking about Nadal's mental stranglehold over Djokovic in that case.