Featured Writer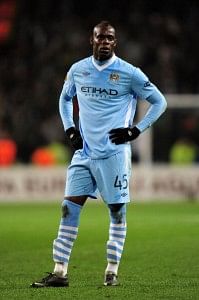 Enigma (n) : 1.Something that baffles understanding
2. A difficult problem
So which one of these definitions is Mario Balotelli. Something that baffles understanding? Quite. A difficult problem? Most definitely. An enigma? In every sense of the word.
When Mario Balotelli came to England, he came with a price tag. One that set Man City back by 22 million Euros. However, he came with a bigger tag; the tag of being 'unmanageable.
When Roberto Mancini brought Balotelli from Inter, he said, 'his style of play will suit the Premier League, and because he is still so young there is a big chance for him to improve. He is a strong and exciting player, and City fans will enjoy watching him.'
Roberto was spot on all every single count. Mario is physically quite intimidating. He is not shy to throw his weight around. He is not easily shrugged off the ball. He can give as good as he gets when pitted against the brutes at the back in English football. Mario was only 19 when he came to England; which was a very young age by any stretch of the imagination. He is still only 21. Hardly what one would call old. He is exciting. He can turn on the flair at will. He can play that fancy back-heel; he can pirouette past the defender; he can drop his shoulder, move the other way and leave the defender for dead; he can make a blistering burst to get away from the defender. Manchester City fans do indeed enjoy watching him. That, however, is subject to one condition. That he stays on the pitch.
Every time I watch Mario play, as a defender, I am scared. Not because I am scared that he will go mad and go studs up on someone but scared that he will turn the game on its head in one moment of brilliance. He has it all; explosive pace, power, brute strength, a fierce shot, a left foot and indeed calm and composure. He can play with his back to goal as well as he can facing it. He can play the spearhead and indeed drop deep to feed his fellow frontmen.
He can strike a dead ball quite brilliantly and his penalties. Oh! His penalties. He seems to really be 'the ice man'. Nothing seems to fluster him. How then does a person so calm and level headed act as stupidly as he does on occasion? Well, I must not use the phrase 'on occasion' for that would mean that he acts stupidly only once in a while. He does it way more than just once in a while. He does it most of the time.
After his recent red against Arsenal, Mancini said that if Mario did not 'grow up' soon, he would lose his God-given talent. He would become one of the 'if onlys' that football keeps throwing up at us from time to time. It would be a real shame if his talents were to go to waste. There were others in the past. Gazza. Bestie. A whole troupe. All those careers, beautiful as they were, are always looked upon with a tinge of sadness.
Where does this stupidity stem from then? Essentially, Mario is a supremely confident individual. He believes in his ability. He backs himself, no matter what. He believes he is the best. Or, in his words, 'the second best player in the world.' He believes that only Messi is better than him. Now, I, quite obviously, do not agree with him. He is not the world's second best player. Not by a long stretch. However, he does indeed have the potential to be. That, is undoubted.
He is still a 'spoilt brat' in every sense of the word. He rides fancy cars; he only wears designer; he sports a new hair-do every game and acts pretty much like he owns the world. Perhaps this is a case of him getting too rich too quick. I believe it is. Somehow, money does that to people. This is indeed a serious problem in football today. Sir Alex himself has said that these days, footballers are not like those of old. They have 'fragile egos'. Too much money is a serious problem and that has, in part, led to a series of misfortunes. That, however, is a different topic altogether and I shall deal with that separately.
They say that there is a flash of madness in every genius. There have been those before him who have been arrogant. One only needs to look a few miles down the road from where he plies his trade. One only needs to look at a legend at that club. One only needs to think of seagulls and trawlers. That, however, is true genius; one who manages to keep this streak well under his control. He lets the genius in him talk for itself, the madness being a mere detail.
Perhaps it is time for Mario to man up. Perhaps it is time for him to put his money where his mouth is. His goal scoring record is quite excellent. He averages a goal almost every other game. Perhaps it is time to let his football do the talking. Perhaps it is time to see him more in the back pages for his exploits on the field rather than off it. He has time on his side. He has talent at his disposal. He has a fantastic manager to look to for guidance. All he needs to do is to open his eyes and swallow his pride.
Mario Balotelli has white paint smeared all over his face, with lipstick in the shape of a smile. He is hanging upside down. He quotes the Joker.
'You see, madness, as you know, is like gravity. All it takes is a little push!' 
He then laughs hysterically.