Serena Williams: Adding a unique dimension to women's tennis
Featured Writer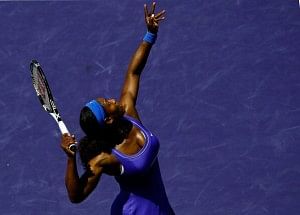 In the hallowed halls of women's tennis, the resonance of Serena Williams is forever ricocheting. In spite of the sporadic titles that have fallen into her kitty in the past couple of years thanks to her recent illness, Serena Williams remains a force to reckon with – not just on her best days, but at times even on her worst.
Amidst the roaring successes of Azarenka, Kvitova and Sharapova, the resurgence of Clijsters and the brief-yet-alluring presence of Li Na, Schiavone and Stosur, the shine of Serena Williams might have dimmed a bit, but it is still omnipresent. Her recent claim to her first title after two years in the WTA tour at Charleston was testimony to her tenacity and the will to survive – even if by a whisker.
In spite of her brashness and an audacity that borders on the obnoxious at times, Serena has been a pivotal part of women's tennis for years now. The element of consistency, which has been a questionable aspect for quite some time now in the women's realm, was palliated to a considerable extent by the American. In the long line of women's slam winners, there isn't a single current player other than Serena and Clijsters who has managed to defend a Slam title, which is further evidence of the lack of consistency among the women today.
Slam titlists seem to be in a league of their own, while the rest of the individuals have seen their performances soar and dip almost to the point of anarchy. With each new week, rankings seem to change like changeovers for a boutique mannequin. For the moment, though, things do seem to have stabilised with Azarenka boldly establishing herself at the pinnacle of the rankings' system. But where once Serena ruled the roost unequivocally, it remains to be seen whether Azarenka would be at her best for a long time, while consistently getting the better of the top players in the sport. Of course, it's too soon to comment on Azarenka's prospects but prognosticators aren't letting anything be dormant.
At 30 years, Serena is definitely not in her prime, and looking at her performance at Miami, it might not be harsh to say that it may a long road ahead for the 13-time Grand Slam winner. But while Serena is at it, it won't be an easy road for her younger peers – for if Serena decides to turn tides, she won't do it by half measures at any costs.