Top players' chances in clay court season
Senior Correspondent
Playing on a clay court requires a special skill-set. You may be one of the best players in the world but when you come here you can still struggle. It is the place where the most dominant players don't necessarily win titles. Of course there were champions like Ivan Lendl and Bjorn Borg who won on clay just as frequently as they did on other surfaces, but this place has been especially kind for those players who had never been champions on other surfaces. Yes, I am talking about the upcoming clay court season.
Talking of clay courts, the difficulty of winning here can be construed from the fact that none of the 14 majors of Pistol Pete was won in Roland Garros. If such was the case with a great player like Sampras in his more than a decade long career, it is needless to mention how demanding has been this game when played on clay courts.
The clay court tennis will kick start this year as usual in Monte Carlo in a few days from now and for the next couple of months the game of tennis will be as perspiring as ever. It is not the amount of winners and aces which a player hits decides the match but it is the amount of unforced errors, which the players make, decides the match. It was where the players like Michael Chang, Sergi Brugera and Juan Carlos Ferrero, who have been sheer baseliners, were able to win their lone majors.
Given below are my opinions as to how each player would fair this year on clay courts: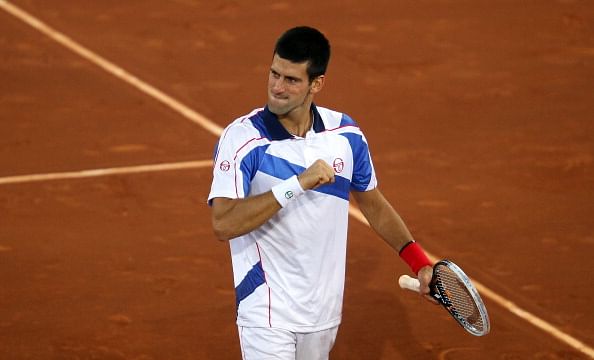 Ever since he got his second major last year in Australian open, this man has been having overwhelming success. He has won four out of the last five grandslam tournaments. He has always been looked upon as someone to shine on clay courts given the nature of tennis he has played off-late. The Serbian has dominated Rafael Nadal like no one has done before and has bagged two successive final wins against the Spaniard on this surface. His only bad luck was, he had to meet an in form and vastly experienced Roger Federer last year in the semifinals of the French Open. Many people still feel that if he would have been  a better challenge to Nadal's game in the final of the French Open than Federer. The way he has been beating Nadal off-late, I strongly believe this year may be Nole's best outing on the clay court.

2. Rafael Nadal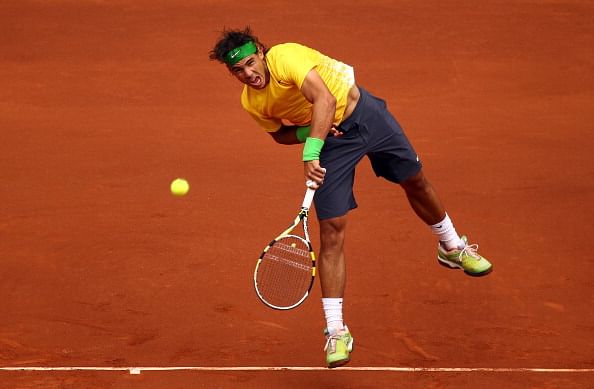 When we speak of clay, we cannot stop speaking of Rafael Nadal. What more can we say about a man who has won Monte Carlo and Roland Garros six times. The Spaniard was the first one to win a French open on his debut. Since then till 2008, he won four straight French open titles beating Roger Federer once in semis and the rest of the time in the finals. In the year 2009, the law of averages perhaps got into him, which resulted in his fourth round loss to then a little known Swede, Robin Soderling. After a brief lapse for a year, he won two straight French open titles in 2010 and 2011. No doubt he is being hailed as the King of Clay. Nadal, in spite of his seven straight defeats against Nole, is the favourite to win all the ATP events on clay and the French Open this year.
3. Roger Federer
True to his ranking, he can be reckoned as the third favourite to win French open after Nadal and Nole. Even when he was invincible in tennis, it is one place where he could not step up to win titles. Of course, he has got two victories over Nadal, one each in Hamburg Maters and Madrid Open but that was all. After failing repeatedly in his attempts for four straight years where he had to face Nadal all the time, thanks to the eventual finalist, Robin Soderling, he finally realized his dream of winning a career slam and that was in 2009. Last year he looked determined after prevailing in a very physical match against Novak Djokovic but again had to meet his nemesis Nadal in the final, where, as expected, he lost. Federer, if only he succeeds in avoiding baseline slugfest and cut down his unforced errors, can hope to win his second clay court major. For me, he has an outside chance of doing well in clay court season this year.

4. Andy Murray
The British No.1, Andy Murray, cannot be called as a favourite to win on clay at least this year. But there has been a noticeable improvement in his game in the last six months or so. Last year, though he got beaten by Rafa in straight sets in the semi finals of Roland Garros, though he gave a tough fight to the defending champion. His return of serves is one major weapon with which can hurt his opponents and if his serves hold better, he can certainly pose a greater challenge to the top three players on clay. Also, he has the great Ivan Lendl as his coach whose favourite surface has been clay. So, I won't be surprised if Murray springs a surprise or two in the upcoming season on clay.

5. Jo –Wilfred Tsonga
The Frenchman ended last year well on hard courts finishing as a runner up to Roger Federer twice. But the same man, on clay, has always been susceptible. Last year in a Davis Cup match against Rafa, he could hardly match his opponent's brilliance. He was completely annihilated and even in this year on clay, he suffered a loss to World No.10, John Isner. The clay does not look to be his surface at all. His best surfaces are grass and hard courts and so the maximum he can try is to reach the semifinals on clay which also I think would be something hard to imagine.
6. David Ferrer:
This Spaniard, but for Rafa, would have been one of the most adorable sportsmen in Spain. His skills of the baseline game are astonishing and it is really surprising that he has not been able to win a major yet. He started this year well and he has multiple titles already. Though he has looked pretty good this year until now, he will be tested by the likes of Nadal and Djokovic. He may give a tough fight to the top players this year on clay, particularly to Murray, but I don't think he has it in him to win a clay title or for that matter Roland Garros this year.

7. Thomas Berdych
This tall and well built Czech had his chances of upsetting Nadal earlier this year in Australian open but squandered the opportunities that came his way. Being in a Wimbledon final in 2010 has been his career best till date. He has a great serve but he does not move fast on courts and that will be his major disadvantage when he steps on to play in clay courts. Not even he can be called as a dark horse and his game furthermore has got depleted at the moment after his feud with Nicholas Almagro of Spain. Even he has lost some crowd support after the way he behaved following his victory over Almagro at the Australian open. He may reach the quarters of Roland Garros .
Considering his limited abilities, we can say that he had a great season last year throughout where even he succeeded in beating Novak Djokovic in one of the ATP tour matches. This Serbian does not look to be a title winner where the top four male single's players are participating. Though he may be ranked world No.8 on paper, some of the players who are ranked outside top 10 are better than him, say for example Del Potro and Milos. He may have to play really well if he has to reach even the semi finals of clay court masters and the question of him winning Roland Garros definitely does not arise.

9. Mardy Fish
The problem with Mardy Fish is his consistency. He does not seem to be a guy who can beat either one of the top four players and so it is highly impossible to win any title. Again, as a slow mover on the court one cannot expect him to do well in Roland Garros. Not going by the ranking that ATP has given, I feel he is unlucky to be ranked behind Tipsarevic and Berdych. Nevertheless, though he has got the game, as I said, his inconsistency is inhibiting him from showing good performances. Though he did well against Switzerland in Davis cup this year on clay, it highly matters as he nears the clay court season. He, by all means, will be left with no titles at the end of the next two months.
10. John Isner
If there was one who has started making a big impact among ATP professionals, then it has to be this marathon man of Wimbledon. Infact he was the one who came close to beating Rafael Nadal and that too in the first round of French open 2011. He is a much improved player by now and he has proved it by beating both Roger Federer and Novak Djokovic this year. In fact, his victory over Federer was in the clay court and that augurs well for the upcoming clay court season. He is the hottest player at the moment in ATP but still I think he will have to wait for one more year to have his dreams come true.
The titles will be split between Novak Djokovic and Rafael Nadal, I feel. Although, Federer is certainly one of the favourties to win on any tour in which he is a part of, but still I feel there is going to be an intense contest between the top two players in men's singles.
You may also like
http://www.sportskeeda.com/news/qualifier-russell-shocks-top-seed-fish-at-atp-houston/
http://www.sportskeeda.com/2012/04/10/off-the-court-davis-cup-new-coaches-and-moving-tournaments/