Beatrice posts thrilling win against Zerodha in Bangalore amateur basketball league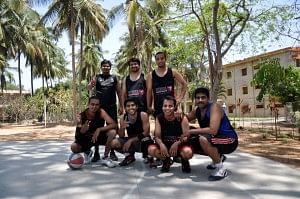 Beatrice Basketball Team secured a thrilling win against Zerodha in the Bangalore Banergetta league finals hosted by My sportz network.
Beatrice Sports Club, which was founded in 1977, is an organization that has been fostering sports and developing talents for the past three decades.
The Club's primary mission is to create opportunities for members to play team sports together where they can learn essential skills in ways that are consistent with best practices in athletics.  As generations have gone by, we have faced tremendous challenges that have contributed towards our strength. Today, we have emerged as the winner, which is nothing but a reward for our consistency. Our march continues with the determination to succeed by creating an environment for the growth of sports and games.
We believe in team work and we will reach greater heights with the support of all our members and well wishers.   We are a club performing with the people, by the people and for the people holding a single motto of developing sports and games, and that's what makes "Beatrice Sports Club" incomparable.
Please find more About Us here:  http://www.beatricesportsclub.com/aboutus.html