Senior Correspondent
Two weeks into the IPL, and we have already seen a lot – From Morne Morkel's consecutive stump-dismantling yorkers to Pollard's mammoth sixes off Botha, from Rohit Sharma's last ball six against Chargers to Rahane's classy 98 against Punjab, from the notable presence of Sourav Ganguly to the notable absence of Shilpa Shetty, we are already struggling to digest the fun. While the on-field action has been at its competitive best, the off-field action has had a major impact of its own. Here are some off-the-record happenings that warrant our attention.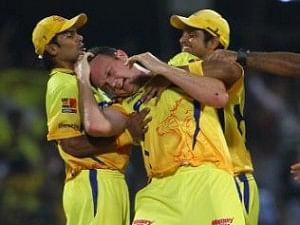 1. Sources inside the BCCI report that the government had asked BCCI to cancel the opening ceremony for IPL and instead lend government the money which would have helped reduce the national fiscal deficit by 80 percent. "It is ridiculous for the government to be asking us for help," said a BCCI official who wished to remain unnamed, "Just because they let our cheerleaders wear a horrible hybrid of Indian and Western attire and bail out our sponsors every week, does not give them a right to our money." Government officials have refused to acknowledge such developments and have dismissed the allegations of seeking financial help as false rumors, though Pranab Mukherjee was spotted yesterday entering the residence of Salman Khan.
2. Kevin Pietersen was recently seen hanging around in Sarojininagar market in south Delhi, evidently searching for a tattoo parlour. "I want to get a tattoo of the Delhi Daredevils," said the explosive English batsman when accosted, "It saddens me that IPL is getting a lot of negative publicity back home, when all they want to do is give you a lot of money and teach you a few lines in Hindi. IPL hai sabse achha!" exclaimed Pietersen proudly. He already sports the tattoo of the English Cricket Board on his left arm, and was spotted later in the day reciting "Bahut achha joke tha!"
3. In other news, Doug Bollinger was found hopping around in excitement in his hotel lobby, which has sparked many rumors. While some experts attribute that to his jubilation after Australia beat the West Indies, insiders report that Priyanka Chopra finally accepted Bollinger's friend request on a social networking website. Doug Bollinger was seen shaking a leg with the Bollywood actress in the opening ceremony of IPL-5. It has also been reported that R. Ashwin's request status is still 'Pending'.
4. After his unceremonious exclusion from Kolkata Knight Riders' bidding attempts last year, Sourav Ganguly has moved on to embrace his new team – Pune Warriors. They have won 3 out of 4 matches this year, and much of the credit is being attributed to Ganguly's aggressive and shrewd captaincy. While Ganguly continues to give the credit to the entire team, it has been confirmed by the security officials of Shahrukh Khan's residence that the Knight Riders' owner was sent a note by Ganguly yesterday saying 'My name is Ganguly, and I am not a bad player.'
5. The IPL's fifth season has registered a fall in total viewership and television ratings for the opening six games in comparison to the 2011 season. While the country still awaits Sachin Tendulkar's finger injury to be healed, the BCCI has decided to take drastic measures to improve the viewership of the annual extravaganza. It has been reported that Navjot Singh Siddhu is being persuaded to come out of retirement to play for Punjab and occasionally approach players on the field menacingly with his bat raised, threatening to beat them up. "I am considering the possibility and am honored to have received this offer from the BCCI, "said a cheerful Siddhu. "But let me say this. You cannot make an omlette without breaking the eggs" he concluded and left, leaving the reporters slightly confused. Other players allegedly being wooed to the IPL are Inzamam-ul-Haq, Merv Hughes, Greg Chappell and Roger Federer.
With much more action to come, IPL promises to keep the fans busy. Stay tuned for more.
Other articles that might interest you :
http://www.sportskeeda.com/2012/04/11/the-plunder-games-week-1-recap/
http://www.sportskeeda.com/2012/04/09/top-ten-heavyweight-cricketers/