Preview - Mumbai Indians vs Delhi Daredevils
Senior Correspondent
Delhi Daredevils touch down in Mumbai today to play the home team under the lights of the Wankhede stadium. Delhi is brimming with confidence after devastating Chennai in their last game and emboldened by the inclusions of Kevin Pietersen and Mahela Jayawardene in their ranks. Ross Taylor is reportedly nearing match-fitness, but the combination that beat Chennai may not be disturbed just yet. Mumbai come with a hard-fought win against Rajasthan but with increasing confidence in their batting prowess and a bowling line-up that continues to impress. Sachin Tendulkar's finger injury has been steadily improving and he faced a few throw-downs in the nets, but he may not be risked against Delhi.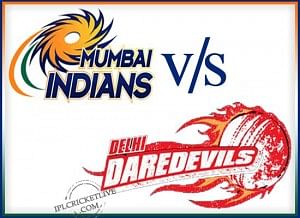 Delhi will be banking on its leading fast bowlers Morne Morkel and Umesh Yadav to take early wickets, but on a sluggish pitch at the Wankhede, they might struggle to get steep bounce or movement. Mumbai has been hugely successful with its varied bowling attack, and will test Delhi's explosive top order. The heavy picks in both the teams have performed consistently, and it may be the performance of the younger lot that may make the difference in the end.
Head to Head
Mumbai Indians hammered Delhi in both their meetings last season, a year the Daredevils would want to forget. But, overall, out of 7 matches that they have played, Mumbai Indians lead 4-3.
Players to watch out for
Delhi Daredevils
Kevin Pietersen
Pieterson is fresh from a strong 151 against Sri Lanka in Colombo and a swift 42 from 26 in his first IPL game this season against Chennai. He will be raring to make up for comparatively lackluster IPL seasons previously, and will be Delhi's answer to slow-bowling-mastery from Mumbai.
Morne Morkel
Morkel has taken 7 wickets from 3 matches, 6 of which were top-order scalps. He has the ability to take quick wickets upfront and put pressure on the opposition. As he has shown this season, he can bowl deadly yorkers as effectively as his jaw-aiming bouncers.
Mahela Jayawardene
If Malinga strikes early, Jayawardene will be an indispensable tool for Delhi to build the innings against a varied attack and a slow pitch. He scored a quiet 20 off 21 in the last game, and will be looking to unleash his classy self sooner rather than later.
Mumbai Indians
Lasith Malinga
Malinga is always a player to watch out for when a team goes up against Mumbai. Just as Owais Shah was cutting loose against Mumbai in the last game, Malinga came back to remove Shah on the first ball with an accurate yorker first up and extinguished any hopes that the Royals had. He has single-handedly made the kind of impact that other bowlers have found hard to emulate. Delhi will be wary of letting him take out their top order.
Richard Levi
Levi has had some good starts and will be looking to convert one today. His opening partners have failed to create an impact and he will most likely end up opening the rest of the season with Sachin Tendulkar when he returns. It will be interesting to see how he encounters his fellow compatriot Morne Morkel first up.
Rohit Sharma
Rohit Sharma has given brief glimpses of his talent that has yet to reach its potential. This season will be an important season for him to prove his batting worth to the Indian selectors with impending empty slots in the Indian batting order up for grabs. He would be looking to take advantage of the opportunity given to him of batting at No. 3 and making a healthy score.
Anticipated Face-off
Lasith Malinga to Virender Sehwag.
Malinga is aware of what Sehwag can do to half-volleys and might test the Delhite with some short stuff.
Prediction for the game
Delhi has given fairly all-round performances till now while Mumbai Indians has relied heavily on a few big names. Mumbai's bowling attack has been extremely consistent and effective, but the batting line-up that sports both experience and explosiveness and which can successfully encounter Mumbai might just be Delhi's.
Predicted winner: Delhi Daredevils.
Other articles that might interest you :
http://www.sportskeeda.com/2012/04/16/rahane-reigns-in-royal-encounter/
http://www.sportskeeda.com/2012/04/15/searching-for-a-hayden-csk-finds-du-plessis/