The making of a champion team
Featured Columnist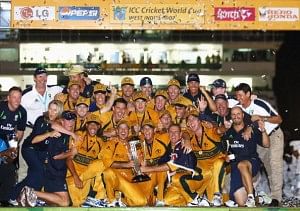 Star-studded teams are not necessarily those which win matches, as the waning fortunes of KKR and RCB (so far) in the Indian Premier League would suggest.  The nature of T20 is topsy-turvy so it would be inappropriate and premature to predict anything, but the premise holds true in its broader aspect nonetheless, and across sports.
For instance, Real Madrid has been one of the most coveted football clubs in the world and boasts of some of the best players in the world. But its success rate at winning titles has not quite been commensurate with the hype or the high spending. Where countries are concerned, in the past decade and more, Argentina have never quite lived up to their high standing in World Cups.
There are some interesting such examples in cricket too. The West Indies team of the 1960′s looked unbeatable on paper. They had the best all-rounder in the world then, an array of dazzling batsmen, the most feared pair of fast bowlers and the world's best off-spinner, but they could win only sporadically.
A line-up which read Conrad Hunte, M Carew, Rohan Kanhai, Basil Butcher, Seymour Nurse, Garfield Sobers, David Holford, Deryck Murray, Wes Hall, Charlie Griffith and Lance Gibbs should have swept aside all opponents. Yet, Sobers's side never reached the heights West Indies cricket did under Clive Lloyd in the 1970′s and 80′s when they beat all teams in all conditions.
Likewise, Pakistan in the 1970′s had a truly enviable line-up: Majid Khan, Sadiq Mohammed, Zaheer Abbas, Javed Miandad, Mushtaq Mohammed, Asif iqbal,  Imran Khan, Intikhab Alam, Wasim Bari,  Sarfraz Nawaz, Asif Masood. For sheer talent, this looks an unbeatable combination, but while there were some outstanding personal achievements, Pakistan's performances as a team in this period were modest at best.
On the contrary, Pakistan enjoyed enormous success under Imran Khan in the beginning with a 3-0 whipping of India, and his reign culminated with the World Cup victory in 1992. Imran had a host of young players to rely on, fewer stars (though some of the young players went on to become that in time), but the results were far superior to any other time in Pakistan's cricket history.
So what goes into the making of a champion team? A team with fine players who complement or supplement each other is more likely to succeed than a team full of superstars with similar skill sets. That much is clear. If the skills sets overlap, there is bound to be confusion and one-upmanship – both disastrous where winning a match is concerned.
In cricket, at least, strong leadership is imperative. Unlike other sports cricket demands decisions to be taken continuously. In football, hockey etc, most plans are drawn out prior to the game. The pace and tenor of these sports also does not facilitate constant revision of tactics the way it is possible in cricket (for instance, a cricket captain can even change the field after every delivery if necessary).
Inspiring captaincy can change the fortunes of a team, as we saw in the first season of the IPL when Shane Warne led a team of unfancied players to victory over star-studded teams. What Warne did was cleverly assess the strengths and weakness of his squad, work out the right composition for particular opponents, and instill self-belief in his players.
There is an extended dimension to leadership, which is to do with a national sporting ethos that automatically pervades the dressing room. Teams and countries that have performed best over long periods of time are either beneficiaries of a legacy that puts a premium on excellence and winning, or have created one.
By common consensus Australia, who boast of the best performance record in the history of cricket – both Tests and ODIs – have the most robust dressing room ethos. The emphasis in Australian cricket has been on excellence, pride in performance and team wins rather than on individual records and pandering to prima donnas.
The West Indies, who were virtually unbeaten for more than 16 years, first under Lloyd and later under Viv Richards, had built up some such similar ethos in their cricket. Despite the fact that players came from different countries, the pride of playing for the West Indies was paramount and they went about their task with ruthless efficiency.
Unlike Australia, though, the West Indies slipped into steep decline because the deep ambition in the regimented Lloyd/Richards teams waned after the great players of the 1980s retired. Despite the extraordinary cricketers they've produced, the ethos of excellence and pride was never deeply embedded in Caribbean cricket. This was only intermittent.
Under Frank Worrell and Lloyd/Richards, the West Indies reached dizzying heights, but at all other times they have been mercurial. A recalcitrant West Indies cricket board – with a poor talent-search system in place and forever at loggerheads with its players – has not helped matters any.
All three ingredients — a balanced team, a strong, decisive captain and a healthy ethos which craves for excellence — go in the making of a champion team. Of course, luck plays a part too, without which success in any sport may be very difficult. But the luck quotient diminishes considerably if the other three are in abundance.