Pit stops: Ferrari sets the pace for others
Featured Writer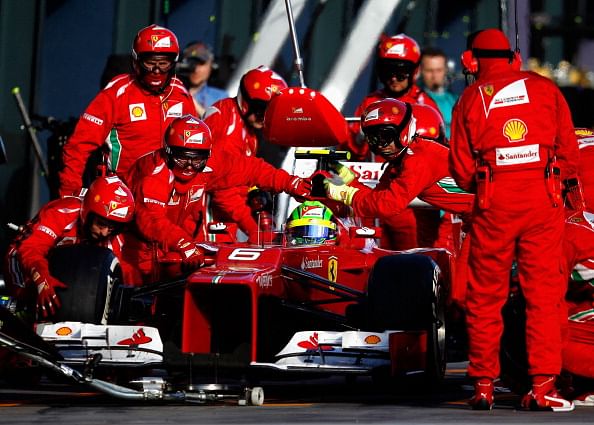 The F2012 is not the fastest car on the grid at the moment but when it comes to pit stops, the mechanics from Maranello have been the quickest.
In Australia, Ferrari had both the fastest pitstop and the fastest average pitstop times during the race. In Malaysia, they were very close to achieving the fastest time again. And  in China, they made the fastest pitstop in a staggering 2.4 seconds when they pitted Fernando Alonso during the race.
This shows that Ferrari have worked very hard on improving their pitstop times as compared to 2011 when they were definitely not the fastest. In this season where fractions of seconds could mean a loss or gain in terms of race positions, gaining six tenths on average (which Ferrari did in China over rivals Mercedes, McLaren and Red Bull) is a huge advantage. The result of the hardwork showed when during the race, Fernando was able to undercut Kimi (who was ahead of Fernando before Fernando's pitstop) by quite a significant margin.
It will take some time for the F2012 to become competitive, so the time Ferrari has gained from pit stops will be very beneficial in future races.
One thing that might have contributed to this tremendous improvement for Ferrari, is that helium air guns have been banned in 2012 which has resulted each team losing around two tenths on average. So Ferrari might have something innovative in their air guns which is helping them gain advantage over other teams.
Fernando Alonso himself stressed on the importance of pitstops: "On a grid as tight as this one, it is very important to take care of these sorts of details. They can gain you positions and points, which could be decisive at the end of the season."
Ferrari test driver Marc Gene too agreed that currently Ferrari seem to have an upper hand during pitstops: "It is noteworthy that we have done the best pitstops, the strategies have generally been good, and the car is reliable".
You may also like 
http://www.sportskeeda.com/2012/04/18/how-the-top-three-teams-have-fared-at-shanghai/
http://www.sportskeeda.com/2012/04/17/the-rise-of-silver-arrows-chinese-style/