Spinning a Web: A review of Shehan Karunatilake's "Chinaman"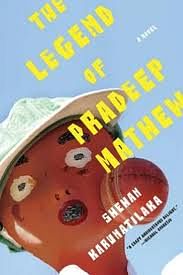 Pradeep Sivanathan Mathew. While going through the pages of Shehan Karunatilake's debut novel, one is sure to have felt the irresistible urge to look up on Wikipedia or Cricinfo for his stats. But the novel isn't just about cricket, it's about the trials and tribulations faced by an ordinary Sri Lankan citizen through a turbulent period of history. It's about writer's block, alcoholism, suicide and ultimately the all conquering nature of love. The one thing protecting perhaps all of us from oblivion. There has been a paucity of sports fiction works that revolve around cricket. As a young boy I had read "Runs in Ruins" by Sunil Gavaskar and the short stories of Moti Nandy. The latter were in Bengali and dealt primarily with the football obsession of all Bengalis. But what "Chinaman" provides is quite different. Its style is more deliberate, the plot unfolds in its own languid pace, like a Jonathan Trott innings and gains acceleration at a crunch time. Karunatilake lays bare the more murky areas of cricket, betting, sledging, chucking, it goes the whole hog. The numerous references, to cricketers, past and present, occasionally through heteronyms draws a chuckle on the face of any cricket enthusiast. Like Hashan Mahanama and Mohinder Binny, no points for guessing who are being talked about here.
WG Karunasena, the 64-year-old narrator of Chinaman, is a grumpy old man in an endearing Walter Matthau kind of way. He's convinced that "unlike life, sport matters". WeeGee or Wije, as he is known to his friends, is a retired sports journalist who is dying because he persists in doing shots with breakfast. He loves his wife Sheila, would take bullets for her and their son, Garfield (named after Sobers, not the cat), but he also knows that sport is somehow bigger than this. "In 30 years, the world will not care about how I lived," Wije says. "But in a hundred years, Bulgarians will still talk of Letchkov and how he expelled the mighty Germans from the 1994 World Cup with a simple header." The philosophizing imposed using cricketing metaphors is something quite delectable. The endearing characters get  to you like the arrack that flows freely through the pages of the novel. Slowly and steadily. But it's sure to hit you.  This is probably due to the fact that it is an oblique reflection on corrupt Sri Lankan politics, a dissection of its everyday culture, a caustic indictment of the racism its Tamil citizens face at the hands of the Sinhala majority, an insightful psychological study of one man's headlong foray into self-destruction, a layered relationships drama, a detective thriller, as well as a hilarious collection of musings about any number of things that strike the author's fancy, including the publishing world that ensures that only works that reaffirm the orientalist gaze — using evocative clichés such as 'monsoon' and 'spice' in their titles — make it into the market.
The novel is peppered with these brief but incisive explanations of cricketing terms and fundas, for the non-pundit. And that too using pictorial diagrams. Consider this example:
"The Chinaman
'Fancy being done by a bloody Chinaman,' said 1930s' English batsman Walter Robins in a jibe that today would have required a disciplinary hearing. It was Mathew's bread-and-butter delivery. Pitching outside the batsman's bat and cutting into him. Ellis Achong, a West Indian of Chinese descent, dismissed Robins with one such delivery, and sparked both the outburst and the term.
A ball turning in from a left-arm bowler is not considered as dangerous as one that turns away. The logic being that it is not difficult to combat something that moves towards you. Mathew bowled two variations of the chinaman. One with cocked wrist and one with rolling fingers. He would drift it to wide outside the off stump, giving it the appearance of a wayward delivery, and then rip it in at awkward angles.
The chinaman accounted for most of Mathew's early wickets and remained his stock delivery throughout his career. It can be difficult to combat something that moves towards you, if it arrives unexpectedly."
If the Great American Novel, as Philip Roth argued, has to be about the Great American Sport of baseball—a conceit Roth himself put to use in a largely unsuccessful work with that title—then it is entirely plausible that the great Sri Lankan novel has to be about cricket. Few sports consume a country as cricket consumes Sri Lanka, and few activities transcend the ethnic, social and linguistic divides in that nation as this great sport does. Given the premise, it is entirely possible that the Great Sri Lankan Novel has been written—and that this wonderful book is the one.