10 things to expect from tonight's El Clasico
Featured Writer
As the clock ticks down to probably one of the most important El-Clasico's in recent seasons, Sportskeeda takes a look at the lighter side of things – the 10 hilarious things that one could expect from this version of the El Clasico!
Expect the unexpected: A cliché, lame, and might be misguiding, but it is what I am looking forward on April 21. Barcelona and Real Madrid are meeting for the second time this season, and it may not be the last. This might be their battle for now, but the war will never end. On the contrary, the war has become more severe where casualties are leaving the pitch to visit the treatment rooms and warm the stadium seats.
But, I am no Greg Stobart or I am no Guilem Balague. I will not go into the in-depth analysis of the match and list down the 'key battles' or maybe the 'previews or predictions.'  What I am going to do is take the lighter side of tonight's monumental – El Clasico.
1. The Pre – Match tussle
As expected, the banter between Mourinho and Guardiola starts even before the real battle is fought. In his press conference, Mourinho singles out the need to eliminate the bad side of the El Clasico, by promising that the game would be played in the best of spirits. Mourinho ends the conference with his typical statement -
'Let's hope the game is not decided by the referees and may the best team win'
Guardiola, with no come-back of his own, and stuck in a tight spot, simply points out  that Jose is "f*kin owner of media" for the 5th time in 5 conferences. Well done, Pep!
2. Mourinho : Why are only OUR shoes Stolen?
In their Champions League Semi-Final against Bayern Munchen, 6 pairs of shoes were stolen from the Madrid dressing room, to which Jose Mourinho replied :
 "Why? Why don't Barca boots get stolen? Is it UNICEF protecting boots? Is it Villa's frightful leopard prints scaring off the thugs?"
Much to Mourinho's dismay – the dacoits enter Real Madrid's dressing room and do steal shoes and jerseys of the Madrid players – yet again, to which his outragious response sparks mass reactions from the press :
'I don't know if it's to give publicity to UNICEF or their power at UEFA. I don't know if people just like them. I don't know and I don't understand. Where does all this power come from? No-one else has a chance really. Why don't the thugs steal Barcelona's boots? If Barcelona are honest, they know this is happening.'
3. Ronaldo will throw his hands in the air.
Barcelona, will as usual, keep around 75% of the ball possession and ultimately pass the ball to Lionel Messi, who will ride the challenges of  6 Madrid players, before eventually rolling the ball into an empty net. Seeing this from the other end of the pitch, Cristiano Ronaldo will throw his hands up in the air – asking God -
'WHY Have you sent Lio Messi? Cant you see me happy? Dont you want Real Madrid to win against Barcelona? As if UEFA wern't enough, even you have started supporting them. NOT Fair, Not fair at all'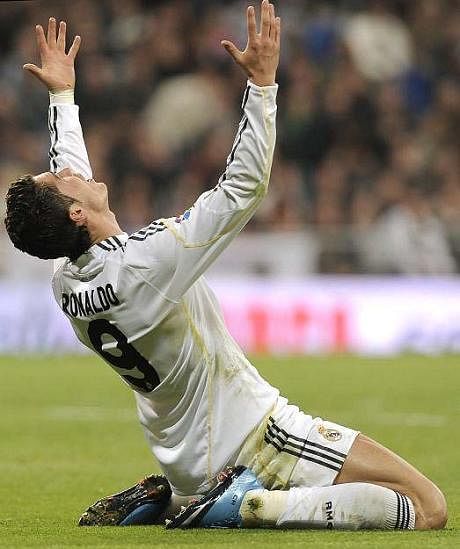 4. Tito Vilalneuva has said that he is waiting for this moment to extract his revenge
He has sharpened his canine teeth – in fact that's what he was in surgery for. He also promises to bite Mourinho("What Real can do, Barca can do better"!)
Mourinho responds by saying – "I still have a secret weapon, Mr Tito"
5. Lionel Messi to score
Well the odds would suggest it, wouldn't they? 62 goals this season already. Messi must be able to relate to Barney in How I met Your Mother : "Lord, my brilliance is now becoming a bit of a burden." Of course, he would not have a say in the 90 minutes if Pepe – the Portugese destroyer – would not have been sent off for his challenge on Dani Alves,  the repercussions of which left Alves rolling on the floor – and it seemed that he would roll all the way to his homeland –  the land of Joga Bonito – Brasilia!
6. Someone will get sent-off.
In each of the last four clasicos, a red has been shown, to a Madrid player that is (If you ever see a Barcelona player being red-carded, expect Emile Heskey to score and the 21st December fairy tale to come true). Expect similar on Saturday night. Two yellows for Pepe? Straight red for Marcelo? Either way, one of the synchronized diving team members – Busquets, Mascherano or Alves will fall over.
7. Diving classes before the match.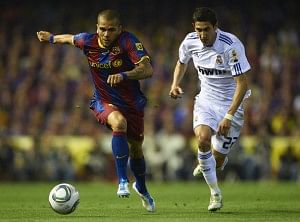 It definitely seems as if Sergio Busquets has lost his penchant for diving which previously, had become his shot to fame. Looking at Young's growing reputation in the world of divers, Guardiola shows his 'star-man' the video tapes of the recent exploits of the United No 18 – and much to his delight, Busquets does recover his touch!
On the other hand, Jose Mourinho had been seen taking down notes from the Chelsea game, just to teach Di Maria some advanced tricks, flips and groin rubs which were sure to attract the referee. In fact, the 'Special One' calls upon Greg Louganis – a champion of Scuba Diving to give personal training to the divers in the Madrid squad!
8. A humongous Mosaic before the Match.
They know the art of making them, don't they?
And as expected, Jose Mourinho interprets the mosaic to mean – 'Thank you UEFA' instead of 'Thank you Barcelona'- which the fans actually wanted to convey.
9. The Camp Nou to become a theater!
Expect –   a contest between Di Maria And Busquets to bag the next role in a Bollywood film as the lead heroine, since Bollywood is the new in – thing for overacting. Hollywood is passe.
As the game moves on, Angel Di Maria goes down under a ghost tackle!
60 Minutes gone – As Barcelona pass the ball around and Madrid try to close down – Alves is bored. He decides to add some spice to the bland cuisine so far. He decides to put himself in the firing line. As he forays forward, the much maligned Pepe tackles him, and BOOM! The fall of Alves is accompanied by 80,000 roars and a booking for Pepe. Everyone has their mouths covered – Alves is carried off a stretcher with an oxygen mask over his face. He is expected to be out of the game for atleast 8 months, says one person! But, BANG! Alves is back on the pitch!
 'It took Jesus 3 days to come back from dead, Dani Alves does it in under 3 minutes'
Xavi goes down under a challenge- a genuine foul, but wait. Busquests could be seen on the ground, holding his face , perhaps lamenting the foul on Xavi?
 "How could they foul the greatest midfielder?"
And as everyone predicted – Dani Alves is presented with the 'Fallon D'Floor' award for his magnificence in trolling so many people at once.
10. Victor Valdes to do nothing, really.
Except the odd goal kick and protecting his coach, do not expect Valdes to do anything in the match.
He will definitely be on the pitch in case you are wondering (Yes, he might Kung-fu kick Higuain if he tries to approach the Barcelona penalty box). Just for the record, Pinto got sent-off  after slapping Alvaro Arbeloa that may have ended Busquets' life prematurely.