El Clasico observations part I: Barcelona
Featured Writer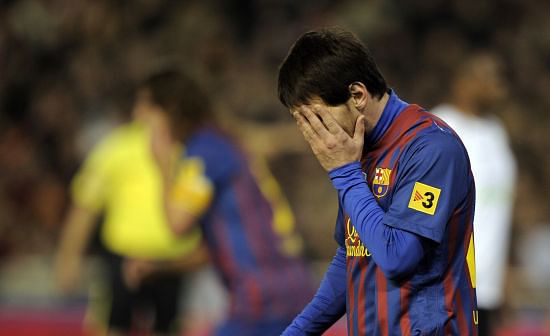 As a Blaugrana fan, I type this out with a heavy heart, and yet pricks of anger are ever present at what was one of the most appalling performances they've ever put up. I take nothing away from Real Madrid as they put up a majestic performance, despite not "controlling" much of the actual play. They defended doggedly, and in the end, turned out deserving winners. And these are my observations from the Barcelona display last night :
FC BARCELONA :
Lack of cutting edge – In more ways than one, this performance was an extension of theirs against Chelsea. Ignoring the truckloads of possession and supposed 'dominance', they weren't able to find their way past two teams who decided to park the bus, and counter at every opportunity. The Holy Trinity (you know, them) tried and tried and tried. And still failed to outscore their opponents. The inability to find some precision might lie with the formation Pep Guardiola has sent several times this season. A standard 4-3-3 on paper with Iniesta, Tello and Messi up front. But on the pitch, Messi played deep, deeper than Xavi. Tello played on the left, Alves on the right, Puyol at right-back, Sergio and Mascherano as centre-halves. As a result, play was all too predictable. Hoof the ball up to Alves, who'd fail to come up with some end product, and return it to Xavi or Messi, who'd pass to Iniesta or Tello, neither of whom came up with substance and this cycle was on loop. When opponents defend with a wall, it is imperative that Messi play up top, to give the midfield someone to slip the ball through to. But, in a deep lying position, they have nowhere to go but wide. Which, considering Barcelona's aerial inability, is what their opponents want.
Victor Valdes– The third choice keeper for Spain, and for many a game, Barcelona's sweeper, driving the ball up from defence, initiating the tiki-taka. But, as a shot-stopper, his flaws have been there for all to see. Sure, he's no Manuel Almunia, but he's no Manuel Neuer either. Far from it. At fault for both the goals conceded last night, he fumbled a straightforward save for the first, and was caught way off his line for the second. He started brightly, making a sharp save from a dipping Ronaldo header, but it all went downhill there onwards. In the previous Clasico as well, a horrendous pass straight to a Madrid player allowed them to score. But on this night, his attack was unable to conjure three goals like last time. Victor Valdes may just play out the rest of his career as first-choice Barca keeper, but they would do well to bring in a more reliable shot-stopper. Someone who does his primary job well. Indeed, passing finesse is the realm of outfield players.
The Barca Big Three – Iniesta, Xavi, and Lionel Andres Messi. Three of the best players ever to grace a football pitch. Players who've dominated teams like Manchester United, Real Madrid, Arsenal and Milan with utmost ease, without so much as the blink of an eyelid. Yet, they have stuttered. Twice. In a row. Before you steam up and furiously type out an X-rated retaliation at me, stop, and think over what I have to say. Iniesta has been dogged by injuries throughout the season. Minor muscle problems yes, but niggles nonetheless. It should be seen as a sign that his body is yearning for a break, after the extreme exertions of three long seasons previously, and another long one right now. He hasn't lost even a shade of magnificence, just lots of energy. Similar to Messi. The best player in the world, for obvious reasons, plays every game that his team play. And while he may seem fit and with an endless reservoir of spunk, he needs to rest at times and take the pressure off his back. And to mount problems, the new Barcelona side with a bloated midfield of Iniesta, Thiago, Xavi, Sergio and practically Dani Alves, doesn't seem to serve him well. He tends to drop deep, thus leaving a void up top. He needs to be the focal point, and not the initiating point. And this is where Xavi suffers. He still has the ability to split a defence with one pass, but to what avail? Alves and Tello are barely the options. And yesterday his overall play was shabby as he inexplicably missed a sitter, after being put through by a Messi wonder-pass.
Against Chelsea in London, Barcelona were brought down by these same problems. Stubborn as he is, Pep needs to change things around if we are to see Barca's glory repeat itself this year. La Liga has headed to Madrid; lets hope the European trophy doesn't make the same journey.