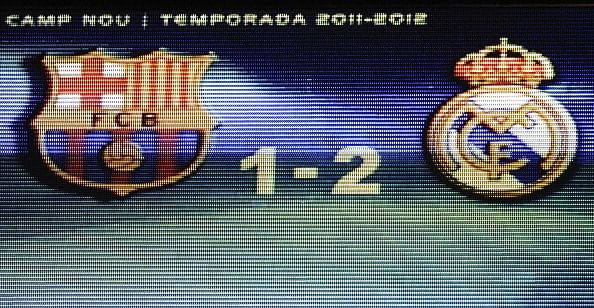 It feels so good to wake up the morning after a clasico reminiscing about a Madrid win, which has hardly happened over the past three seasons. Barcelona have been so dominant that it`s almost always been a sad, wistful feeling – why did Real lose, how can they beat Barcelona, etc. My friends would have a field day having fun at my expense and I would always promise retribution at the next clasico which sadly never happened. So when Real and Barca took to the field at Camp Nou yesterday evening with the possibility of a once gargantuan 10 point lead being whittled down to a sad 1 point, you could have understood the trepidation in my heart. What the next 90 minutes were about to reveal would have a huge bearing on not just the two teams' psyche, but also that of their fans. For once, I could look down upon my Barca supporting friends, but if Real blew it now, it would be almost unrecoverable!
I was elated when Khedira scored from a corner in the 16th minute. Thence, it was trepidation and more trepidation. My mind kept telling me- Barca WILL score. The question was how long could Real hold on. Xavi should have scored in the 26th minute but Casillas' touch took it away from the goal. Relief coursed through me. It was wave after wave of Barca attack and Real kept repealing them. The 2nd half started in much the same fashion. Thiago put Tello through with a wonderful pass but the youngster skied his attempt. Villa would've buried that chance. Xavi went off for Sanchez in the 68th minute and two minutes later Barca did equalize. It was a scrappy goal, not the beautiful, sublime goals Barca conjure up at regular intervals. Yet, a goal is a goal and I started to fear for Real. But Ozil and CR7 combined to devastating effect. My throat hurt from all the screaming at this goal!
Real hung on for a precious win and might have had a 3rd but CR7 skied his shot from barely 4 yards out. But when the final whistle blew, I was jubilant. Real had beaten Barca and that too at the Nou Camp. Woohoo!! It put a balm on my wounds and gave me fresh hope that the Barca juggernaut will be stopped. They have had phenomenal 4 years with 13 trophies out of a possible 16. Many teams don't win that much in their lifetime! Here's hoping that the Real juggernaut picks up pace and wins trophies galore. Hala Madrid!