A look at how clubs use their center-forwards
Featured Writer
In an age of uber-professionalism and 34-year old superstar coaches, the importance of tactics and strategy cannot be over-played. Not all coaches can claim to be tactical geniuses, except perhaps for the occupant of the managerial position at a certain North London club. Often the most important element of strategy lies in the basic choices of personnel. In this article, I will attempt to examine the tendencies of  a few top Barclays Premier league clubs with respect to the employment of those occupying their center-forward berths, leaving out players whose primary presence upfront is out on the wings as opposed to a more central position.
Forwards: Danny Welbeck, Javier Hernandez, Wayne Rooney, Dimitar Berbatov, Michael Owen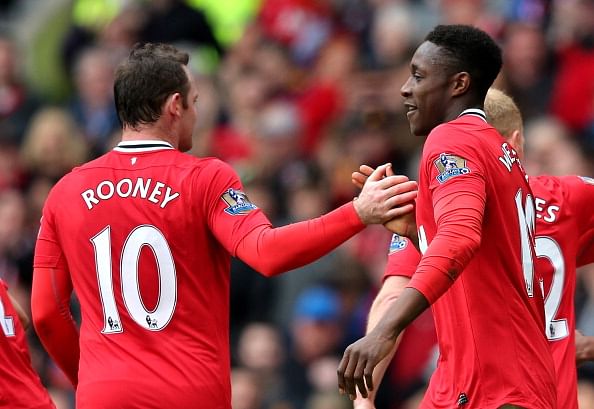 They may have a surfeit of options up front, but it isn't too difficult to predict the constitution of United's forward line for most games. Wayne Rooney is  certain to start all games if fit, playing 'in the hole' once again, after a successful 2009-10 season where he revelled in the role of lone center-forward. Playing in front of him would be either Danny Welbeck or Javier Hernandez. Welbeck has proved to be increasingly important to United, offering plenty of mobility and the ability to link up well with his team-mates. His finishing still leaves a bit to be desired, but his endeavour rarely goes unappreciated by his team-mates. He has at times been shunted out to the wing to make room for Chicharito. Which brings us to the little pea, who offers a rather different option.
Hernandez is distinctly average when he has his back to goal, and his ability to bring others into play is quite pedestrian. But those are traits which aren't really required of him, as his movement can be quite outstanding. Running off the shoulder of the last defender, he can sometimes stray offside more often than it would be desired, but that is an occupational hazard if one were to make runs the way he does. The up-side of this approach is that he not only gets into fantastic positions with space to manoeuvre into ahead of him when he gets on to the receiving end of a pass, but he also constantly pulls defenders with him when he makes his runs, offering space for the likes of Rooney to exploit. While Dimitar Berbatov and Michael Owen are also among the ranks, their lack of game-time renders analysis of their impact on the team to be moot.
Forwards: Sergio Aguero, Edin Dzeko, Carlos Tevez, Mario Balotelli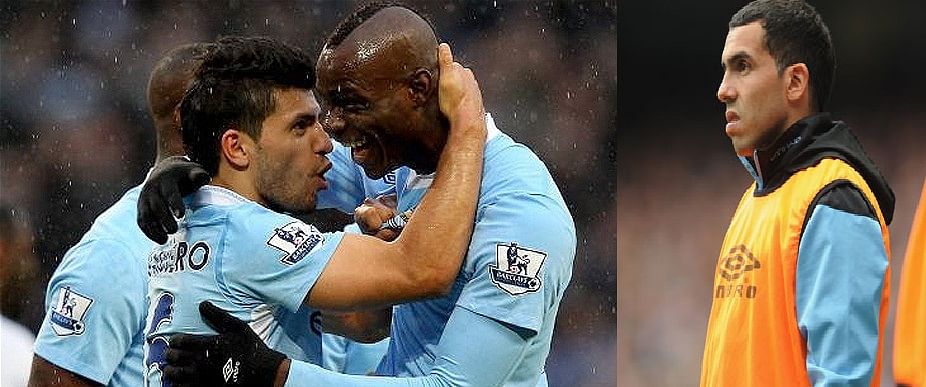 Once again, a plethora of options; Sergio Aguero has without doubt been their outstanding forward, offering pace, skill and tremendous finishing ability up front. Edin Dzeko's scoring exploits may be too inconsistent, but on his day he can be a real handful, offering a target to hit, while also being armoured with finishing ability with both feet as well as a fearsome header. Carlos Tevez has only recently come back into the fold, but the potential of his contributions will surprise no-one, given his importance to the side last year. It would be interesting to see if Roberto Mancini offers him the opportunity to play up front alongside his fellow Argentine, or whether Mancini will stick to his tendency to play a more physically endowed striker alongside a smaller forward. Also in the mix are the maverick talents of Mario Balotelli, who baffles and bedazzles in equal measure, capable of being a truly complete forward on one occasion, and prone to being utterly incompetent the next. All in all, Mancini seems to be showing more favour to a two-forward approach, ditching the rather more pragmatic five-man midfield which became a trademark of his in years past.
Forwards: Luis Suarez, Andy Carroll, Dirk Kuyt
To start off with, the reason for Liverpool's inclusion in this list is to illustrate just how completely toothless a forward line can be rendered in the event of poor planning and recruitment. Or sheer  bad luck. When Andy Carroll was signed for the whopping sum of £35 million, to be followed by Luis Suarez, tails were set wagging at Anfield; At the time, it was supposed to be a formidable partnership, a classic "Big man-Little man" combination. In fact, the amount that each player completely embodies these classic stereotypes is almost comical: Andy Carroll is a towering colossus of a man, and possesses a hammer of a left foot; Luis Suarez is as slippery and tricky as they come, twisting and turning past his opponents in a manner that often seems impossible. The problem is, however, that neither man really knows his way to goal, with Suarez perhaps being unlucky with his tendency to strike the frame of the goal with almost ridiculous regularity. The weight of his transfer fee is borne not only by Carroll, but by Kenny Dalglish as well, as he is obliged to give as many opportunities as possible to his fellow Briton, at the expense of the more mobile Dirk Kuyt, with whom Suarez often links up with well. Either Carroll will have to rediscover his confidence and recreate his dominant, powerful displays at  Tyneside, or Liverpool could eventually be forced to cut their losses and part ways with the burly Englishman.
Forwards: Emmanuel Adebayor, Louis Saha, Jermaine Defoe
Tottenham's shape is altogether more difficult to predict, as the number of forwards is contingent on the other available personnel in the squad. More specifically, if Rafael Van der Vaart is available, Spurs often play with a solitary forward. Otherwise, Harry Redknap often plumps for two center-forwards. In that eventuality, he has the ultra-mobile Emannuel Adebayor among his ranks. The Togolese forward can be a handful for any defense with his languid movements and powerful physique. Louis Saha was once considered as one of the best marksmen in the Premier League, and with good reason. A belter of a left foot, fantastic strength, aerial prowess all make make him a tough opponent. Injuries over several years have robbed him of a yard of pace however. And finally, the forgotten man, Jermaine Defoe, who has featured only intermittently over the course of the season. Nippy, quick, and a great finisher, his lack of all-round play have counted against him when being considered for a place in the Spurs side, where linking up with midfield has become increasingly central to their approach play.
Forwards: Didier Drogba, Fernando Torres
Didier Drogba is a real beast of a striker. Few forwards in world football have a physique as imposing as his, and fewer still can appear to be as fragile when confronted with a touch from a defender. Gibes aside though, he is truly on the world's premier forwards when on song. Aside from his obvious physical prowess, he possesses fearsome technical strength as well, with two great feet, fantastic ball control, and a towering header. He has recently displaced the improving Fernando Torres from the side. The Spaniard may be improving, but there is still plenty of ground to cover before he recreate the barnstorming  displays of his Liverpool days.
Newcastle:
Forwards:Pappis Cisse, Demba Ba, Shola Ameobi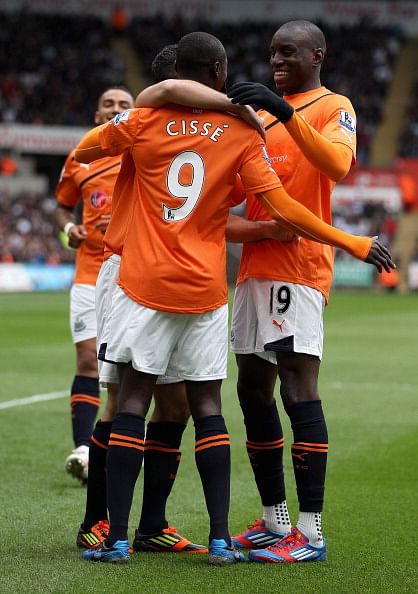 As it has been said plenty of times by plenty of fans already, Pappis Cisse has to be one of the best buys in the January transfer window in a long, long time. Signed for a modest transfer fee, the Senegalese forward has brought good hold-up play and movement to the forward line, but most importantly, he has shown himself to be a truly sumptuous finisher. Demba Ba similarly stole plenty of praise in the first half of the season, and has been played in more of a supporting role of late. As cover, the Tyneside club have one of their own in the squad, with home-town boy Shola Ameobi still gracing St. James Park, with a career stretching back to the glory days when Alan Shearer was at the club (as a player, not as the manager!). They all have plenty in common in terms of style of play, and have a great work-rate to boot.
Forwards: Robin Van Persie.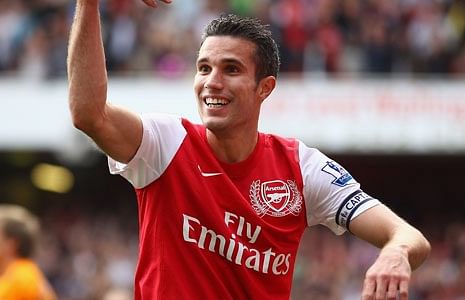 No disrespect meant to Park Chu Young; maybe a little meant in the direction of Marouane Chamakh. In any case, when a side has a focal point as clinical as Robin Van Persie, they don't really need too many other options. Fabulous technique, a thunderous shot, and the ability to bring others into play are all traits of the flying Dutchman, who has really taken the bull by the horns this season, often carrying the Arsenal side on his own. Arsene Wenger's system with two wide players supporting a central striker, with midfield runners coming in from deep positions, mean that Van Persie is just about the perfect player to fit into this system. Arsene Wenger would be loathe to trade him for any other forward in the world.
What remains clear is this: tactics, game-play, pressing, pushing up or withdrawing defensive lines, man-marking, playing between the lines – all these aspects of strategy, and more, are of increasing importance in the modern game, where victories and defeats between similarly placed teams are borne out of increasingly small margins. Before all of that even comes into the picture though, names have to first go on the team-sheet. And that has, and will always remain, the most crucial decision a manager has to make before any fixture.