Can Sanga's men break the jinx?
Correspondent
This is going to be a battle between two unevenly matched teams. While Kolkata Knight Riders are on a high after winning 4 out of the last 5 games, Deccan Chargers are reeling at the bottom of the table and are still awaiting their first win this season. Sangakkara's boys need to get their campaign right back on track as soon as possible and they need to win this game if they want to be in any kind of contention for the play-offs. As for Shahrukh Khan's boys, they are sitting comfortably in the top four but need to get rid of their habit of panicking at the death overs in each match.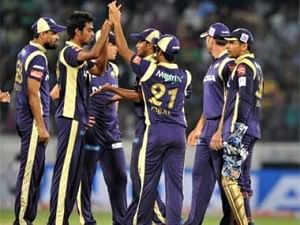 Head-to-head
Kolkata Knight Riders are certainly the better team with 7 wins out of 9 matches while Deccan have won only twice.
Played – 9, KKR – 7, DC – 2.
Players to look out for
Deccan Chargers
Kumar Sangakkara : He needs to strike form as early as possible for the sake of his team. The former Sri Lankan skipper has been a huge disappointment with the bat that has cost DC's chances of registering their first win. If someone can get the Chargers' campaign right back on track, then he is the man. Hyderabad will expect lots from him going into this encounter. He is a big match guy and can turn tables round once he clicks.
Shikhar Dhawan : He has been starting well but failing to keep up the momentum. However, he will definitely take some heart from the way he played in the last match. DC will be banking on him because of the fragile middle-order. Dhawan needs to stick till the end to see his team through against the likes of Sunil Narine.
Dale Steyn : It's been mixed fortunes for him. While he has picked up crucial wickets on one hand, he has given away matches in last overs on the other. But he is a tough nut to crack and KKR batsmen will be wary of him as they walk on to the middle.
Kolkata Knight Riders
Gautam Gambhir : He is in prime form and needs to continue producing the goods for his team. His intelligent captaincy and calculated gambling has gone in KKR's favor. He must be satisfied with his own form and must look to carry on the goods on to the next matches.
Sunil Narine : He has lived up to his nickname of "mystery spinner". He is certainly, KKR's best bet on spinning tracks and his ability to exploit each and every strip makes him all the more difficult for batsmen. The Eden wicket will assist him and add to his venom.
Brett Lee : The Man of the Match in the previous game, Lee has proved that he is ageless. Gambhir will look forward to him for providing the break-throughs early in the innings. Some fantastic fielding along the boundary rope and his ability to hit it big with the bat makes him a huge asset for the team.
Prediction
The odds are stacked in favor of the Kolkata Knight Riders and if all goes accordingly, then it must be a victory for KKR. However, the Eden strip's habit of being slow and low may spell a tense finish in this match.