How Real Madrid won El Clasico
The Camp Nou had just come back to life. Those feelings of come backs after conceding had just started in their heads as Chilean striker Alexis Sanchez coming in for already struggling Xavi had found the back of the net, although not in a fashionable manner, but this goal meant almost everything. They wanted more. They knew they would get them as at the Santiago Bernabeu earlier this season.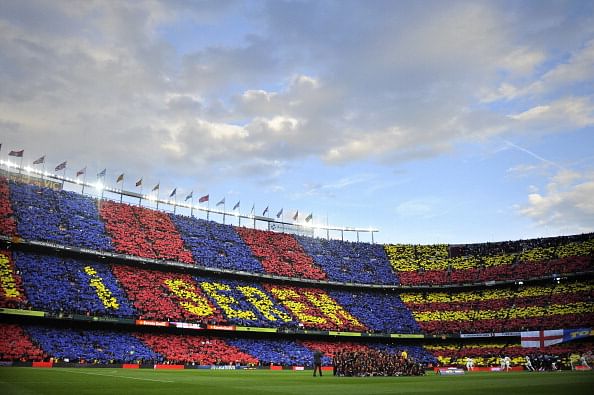 Two minutes later Real suddenly broke into a counter attack. Mesut Özil found the ball. He beautifully crossed it to Ronaldo who rounded Valdes before smashing the ball into the net. His celebration was epic. He silenced the 98,000 Barcelona fans at the Camp Nou. A come back was a distant possibility. The Bulgarana faithful knew it.
It was a day to forget for the Barcelona fans as the full time whistle blew. They knew they had just handed over the domestic trophy to Mourinho's men. Mourinho's men had just ended Barcelona's undefeated home run of 54 in official matches (all competitions) in the so called – Fortress.
Looking back at the Clasico makes one wonder where Barcelona got it all wrong and Real Madrid got it right.
The Starting Line-Up:
Both the coaches surprised the people who were witnessing the El Clasico with their starting line-ups. One expected Jose to drop Fabio Coentrão after a dreadful show against Bayern Munich. Jose had faith in the same line-up. He didn't drop Coentrão. Pep Guardiola surprised the viewers even more by dropping Cesc Fabregas and Gerard Pique. He brought in Christian Tello.
Formations:
Jose had two options with him. He could employ 4-3-3 which he had employed earlier this season against Barcelona and which Chelsea had effectively used to defeat Barcelona. Jose could also employ his teams default formation 4-2-3-1 which had proved effective when he had employed it against his eternal rivals in the Kings Cup finals which he had won last year. He chose the latter one.
Pep was expected to employ 4-3-3 but he started with a 3 men defence and employed 3-4-3.
The Game:
Madrid looked as though they would fight this time and not defend deep as they did last time. They controlled the midfield. Not to mean that they had good possession, but they didn't allow much space for the Barcelona playmakers. Real didn't defend too deep. This allowed them to initiate counter attacks fast and with more speed.
Pep wanted to play wide. That explains the inclusion of Tello and Alves playing too high. He might have been inspired by Bayern Munich wing play that defeated Real Madrid in their Champions League first leg match. But the problem here was that Tello and Alves couldn't handle much pressure from the Madrid full backs unlike Bayern wingers.
The credit of Madrid's victory is shared by the players who overcame their psychological barrier and put an amazing performance and their coach, Jose Mourinho.
Here is a comparison:
Goalkeepers:
Iker Casillas was very good. He showed as to why he is preferred over Valdes in the national team. He should have pushed Tello's shot which led to the goal, even further. However he made two impressive saves to cover up his error but was beaten the fourth time. He thwarted Alves goal bound effort in the first half when Alves had only the goalkeeper to beat.
Valdes had a really bad day. His errors cost Barça yet again. He should have done better when Pepe headed the ball towards him. His mistake was punished by Khedira who came up with a rare historic goal. He wasn't decisive when Ronaldo broke free and eventually scored.
Defence:
Real Madrid centre-backs put on another impressive show. Ramos and Pepe were absolutely brilliant. They helped each other in thwarting Barcelona's efforts at front. They silenced Messi too. You would never say that the fullbacks – Arbeloa and Coentrao played bad against Bayern. Such was their performance. Coentrão handled Alves and Arbeloa did well to put pressure on Tello. Arbeola also stopped Iniesta, who would sometimes dash forward. Barcelona had 14 goal attempts with just 3 on target.
Barcelona had a three men defence with Busquets dropping back if required. Three men weren't enough to stop real Madrid's counter attacks. Pep had confessed they needed to control the game if they had a three men defence. But here they didn't. Puyol had man marked Ronaldo but he couldn't do it with more ease with just two men beside him.
Midfield and Forward:
It is here where a game is won or lost. Madrid had won it. Khedira and Alonso had a difficult job but they did it well. Khedira tirelessly defended in the midfield and Alonso tried to run the show from his position with his passes. Real's attacking players too fought for the ball when they did not have possession . When they had they executed the attack beautifully. This shows why they had 6 shots on target compared to Barcelona's 3 with just 28% possession.  Cristiano and Özil had silenced their critics yet again.
Barcelona's midfield struggled. They were tortured by Alonso and Khedira who limited their options. Xavi, Busquets and Thiago couldn't move forward. Either they were stopped by Madrid's midfielders in their tracks or Madrid's defence would do this job. The strikers were growing impatient by the minute because of they didn't get the ball. If they did, they couldn't keep it for a long time with them. This made Lionel Messi drop deeper. When he did, Madrid defenders could intercept Alves and Tello's crosses with ease. It was a horrible night for Barcelona's midfield and strike who were clearly outplayed by Real Madrid. Messi had his defence splitting pass wasted by Xavi and his run lead to Barça's first goal. Other than these two moments, he had been nowhere into the game. Madrid defenders made sure he had least time with the ball.
Substitutions:
Guardiola realised his team needed more options at front. He brought in Sanchez for Xavi. His substitution paid off immediately as Sanchez netted the equaliser. Adriano came in for Pedro and played a defensive role. Pep substituted Tello who had squandered many decent opportunities, only in the 81st minute for Fabregas. Fabregas deserved more time on the pitch.
Mourinho's first substitution was Granero who was brought in for Di Maria. This increased Madrid's steel in the midfield. Callejón and Higuain were brought in late for Özil and Benzema respectively.
Barcelona depend heavily on Messi. You stop Messi and you stop Barcelona. Real Madrid did just that. Madrid attacked via counter attacks and set-pieces. Barcelona are vulnerable to both of them. I couldn't find a single Madrid player playing bad on that day except for Di Maria who lost the ball rather easily. You could say Mourinho had learnt from his past mistakes. It's the goals, not the possession that win a game you know.
Here is the match report.