Senior Correspondent
30 matches into the tournament and only one win separates the team ranked 1st and the team ranked 8th in the points table. In what is turning out to be a hotly contested IPL edition, sparks are flying off the field as on it. Here is what happened this past week that could change cricket as we know it.
1. Dale Steyn has reportedly been caught by the hotel CCTV cameras looking for jobs online on his laptop. When reporters flooded the hotel conference room and refused to leave without a statement, Steyn finally came out and said, "A fake profile has been posing as me on various job sites on the internet. It is an unfortunate act orchestrated by miscreants and critics. My loyalties lie with the Deccan Chargers, even if they lose all the matches." He paused and added, "Even though Delhi respects its South African fast bowlers, and it wins matches; also Mumbai Indians; my buddy Jacques is doing well for Kolkata, which has room for more players; Punjab needs a fast bowler like me; And…" the fast bowler was cut short by the Deccan Chargers media manager and was whisked away to his room. The team later released a statement saying that Dale Steyn had been suffering from mild hallucinations after a lengthy interview with Danny Morrison.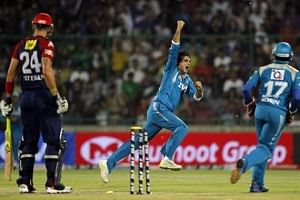 2. The Indian Olympic Association has sent an official letter to Saurav Ganguly requesting him to train India's 100 m race athletes for the upcoming London Olympics. "We have never seen an Indian run that fast," said a flummoxed IOC official, watching Ganguly's celebration after taking Kevin Pietersen's wicket on YouTube several times. "It is unfortunate that this man chose to take up cricket instead of athletics. We would be honored to have him on our team." Though gratified to receive the offer, Ganguly has decided not to pursue the same. "I have many commitments that I need to take care of, and my primary concern is to lead Pune to victory in this championship." Ganguly's performances have unfortunately also triggered riots in Kolkata between the supporters of Kolkata Knight Riders and Pune Warriors over which city Dada truly belongs to. Chief Minister – Mamata Banerjee has sent a letter to Saurav Ganguly asking him to score poorly in the next few games to calm down the situation in Kolkata. All eyes will be on Dada as he goes up against Delhi again on the 24th.
3. Several retired players have reportedly decided to come out of retirement and put themselves up for selection for the IPL teams. Javagal Srinath was recently seen sweating it out in the nets and practicing his trademark leg-cutters. "Saurav has shown that we pros have still got what it takes to play at the top,"said the former Indian pacer. "The youngsters need guidance, and the state needs my services. We need discipline, like the good old days," he added, and started to gesticulate angrily at a non-existent point fielder for letting the ball go.
Meanwhile, sources say that Punjab has approached Curtly Ambrose to add sting to their bowling attack. An insider who wished to remain unnamed said, "We trained our bowlers in sledging and intimidating tactics, but Praveen Kumar and Piyush Chawla can't scare a squirrel if their lives depended on it." Other retired personnel rumored to being lured to join the IPL are Geoffrey Boycott and Navjot Singh Siddhu.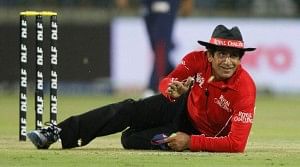 4. Asad Rauf has reportedly sued Chris Gayle after the international umpire barely managed to duck several shots hit powerfully down the ground by Gayle in the match against Pune. "The man is after my life," said a stricken Rauf. "Playing for West Indies he always hit sixes a safe distance away from me on the odd occasion that he lasted the first spell. How has he suddenly become so consistent playing for Bangalore? This is an evil conspiracy." When asked if he had inquired from Gayle whether he wanted to injure him intentionally, Rauf replied, "I will ask him tonight. Chris is taking me out to a Caribbean dance show!" Gayle was not available for comments.
5. After concerns that the Fair Play policy is not being taken seriously by the players, the IPL committee has decided to take strict action against the defaulters. Apart from a fine as applicable in the IPL Code of Conduct, the defaulter will be asked to act as a cheerleader for his team for a match and thereafter attend a classroom session held by Preity Zinta. While the cricketing fraternity has met the news with dismay, Preity Zinta did not hold back her exhilaration on twitter: "I can't wait to be a part of this glorious tournament and give my inputs to the players for as long as I can! Who is with me?! #MunafPatel."
With one more month of extreme action to come, expect more drama as the tournament enters its second half. The Indian Premier League prepares for its climax.