Aaron Ramsey: A Step Too Far?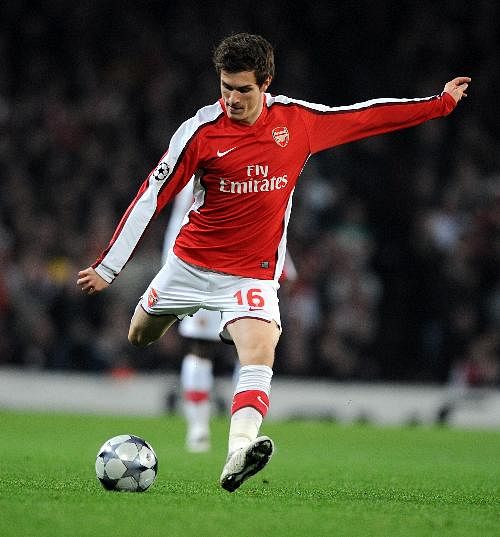 Aaron Ramsey, 20, from Arsenal has always been considered a future star and has already been made the captain of his national team, Wales. But since the death of  the Wales coach and inspiration for Aaron, Gary Speed, Ramsey's performances has began to slump. Alongside this down slide, the Arsenal fans has now started to get agitated and has been sending him abuse and threats.
'Fans' of the Welshman have sent been abusing him via various social networking sites such as Facebook and Twitter, by posting hateful messages on his official accounts. Understandably, football fans usually enjoy voicing their opinions and passion regarding their football team, however, death threats are definitely beyond the line. 
Back in 2009, Keeley Houghton, 18, was jailed for sending death threats to another girl on Facebook and was the first person to be put behind bars for vicious internet campaigns. So why those sending Aaron Ramsey death threats aren't going to be punished for their actions?
So he's missed a few goals, what's the big deal? The last thing a player would ever want to lose is their confidence as it's the main thing that fuels a player's drive to succeed. Think over to Fernando Torres, he made a £50m switch from Liverpool to Chelsea and found it difficult to find good form. He suffered from a goal-drought of over 1000 minutes on the pitch and the Chelsea fans didn't helping him with mocking chants like: "Chim Chimeny, Chim Chimeny, Chim, Chim Cheree, Torres is B*llocks, Could'a had him, For free!" 
Despite these hate campaigns against Fernando and Aaron, both players seem to be coming back to their top level performances. Ramsey has had a pass completion of 97% against Chelsea and overall a good game, whereas Fernando scored a last gasp goal against Barcelona. 
All in all, it's completely unfair of the fans to be sending in abuse to the players instead they should send encouraging messages and let them concentrate on their game.


Written by Felix Foreman 
Follow me on Twitter @FelixAFC


Please like O-Posts on Facebook
Follow the site on Twitter
Published with permission from O-Posts.