Russian Premier League: My Team of the Season
It's been a record breaking season in Russia, with the actual calendar lasting more than one year, but I've enjoyed every moment that this action-packed season has provided so far. And while there are still a few weeks to go before the season is done, in my opinion it is already clear who have been the standout players in the season.
While Zenit have been the standout team throughout, players such as CSKA forward Seydou Doumbia and the strong and powerful Kuban centre forward Lacina Traore have caught the attention of Europe.
But there are only 11 places available in my team of the season, and after some deliberation, here are my choices for the Russian Premier League team of the season 2011-12.
Goalkeeper: Vyacheslav Malafeev (Zenit)
A man struck by the tragedy of the death of his wife in March of last year, the 33-year-old has come back ever stronger to have the best season of his career. Malafeev almost single-handedly led Zenit to new Champions League history by progressing through the group stages, particularly with his spectacular performance between the sticks against Porto in Portugal. 
He has done his growing reputation around Europe no harm at all, and at the same time has asserted himself as Russia's no.1 after seizing his chance in the team following the injury to CSKA star Igor Akinfeev. 
It didn't even take me 2 seconds to decide who has been the best goalkeeper in Russia this season, and I'm sure that even the most ardent CSKA or Spartak fan would agree with me here.


Right back: Alexander Anyukov (Zenit)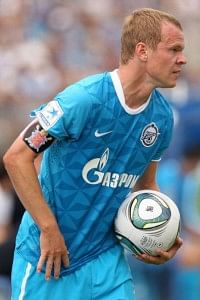 Despite surprisingly surrendering his captain's armband to Malafeev recently, Anyukov has been consistently reliable for Zenit over the course of the season. Very rarely do you see him put a foot wrong, and with his marauding runs down the right flank, he scored one of Zenit's most important goals of the season in the 2-0 win away to CSKA in the summer of last year.
Over time he has earned comparisons to Barcelona and ex-Sevilla star Daniel Alves, and while his attitude may be questioned after the captaincy issue, there is no doubting that Zenit just wouldn't be the same without their own Mr. Reliable.


Centre back: Nicolas Lombaerts (Zenit)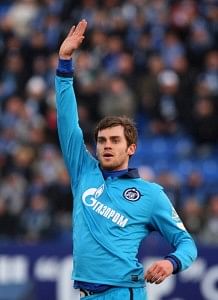 Playing with Bruno Alves or Tomas Hubocan in the centre of defence, Lombaerts has looked solid every time and every game. He also has the handy knack that all good centre backs have – of scoring vital goals, such as his key goal in the Champions League game at home against Shakhtar, and scoring away in Samara in a thumping Zenit victory against Krylya Sovetov in the league.Yes, another Zenit man, but this is yet another player from the St Petersburg side who has been almost faultless throughout the whole season in Russia.
Also seen as one of the most elegant and technically talented defenders in Russia, Lombaerts has now finally managed to stay clear of major injury, at the same time becoming one of Zenit's irreplaceable men in the sturdy Petersburg defence.


Centre back: Salvatore Bocchetti (Rubin Kazan)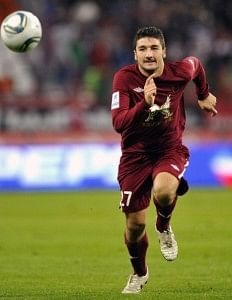 Maybe a bit of a surprise to some, but the strong Italian certainly deserves his place in the team of the season. Again, like Lombaerts, he has the handy ability of being able to pop up with vital goals, such as the one against Rostov in the Russian Cup and his brace against Tom Tomsk in the league, and despite strong rumours linking him with a move back to Italy over the winter, he decided to stay with the Tatarstan side.
In doing so, he has established himself as one of the team leaders along with fellow centre backs Roman Sharonov and Cesar Navas; Rubin have the joint best defence in Russia so far this season, you can't say that's much of a surprise with this Italian rock in their armory.


Left back: Yury Zhirkov (Anzhi)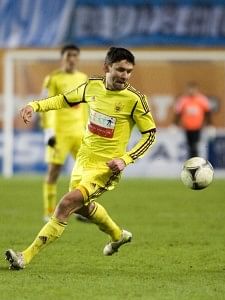 Despite only joining the ridiculously ambitious side from Dagestan in the summer of last year, he quickly showed everyone in England that it was a mistake for Chelsea to let him go. Russian defences thought they had seen the last of him after the end of his CSKA days, but he has returned to haunt the defences of opposing teams with his tricky and penetrating runs forward, and even managed to cleverly assist Samuel Eto'o with his first goal in Russian football.
While some would say that Eto'o has gone on to fall away in Russia, Zhirkov has gone from strength to strength in his home country again, at times single-handedly leading the Anzhi attack, while managing to stay reliable at the back.

Centre midfield: Igor Denisov (Zenit)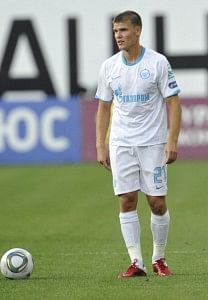 Mr. Consistent, and nothing but. In every game that Denisov has played in this season, he has bossed the midfield for Zenit, providing the vital link between breaking up attacks of the opponents and starting up a fast dangerous attack.
Seeing a mistake from Denisov is just about as likely as seeing Barcelona getting beaten 5-0, and his undying passion and will to win have captured the hearts of the Zenit faithful over the years. There is no doubting this man's ability to read and play the game, and his ability to deliver an accurate and penetrating ball forward is truly invaluable.


Centre midfield: Roman Shirokov (Zenit)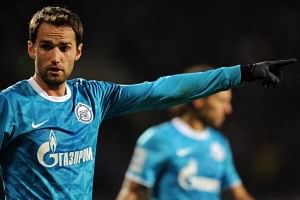 This team of the year is just starting to look ever more like the Zenit team of the year, but once again, you cannot deny that this Zenit man deserves his place here. 30-year-old Roman Shirokov, central defender-turned-central midfielder, has almost unexpectedly became one of the leaders of Zenit, weighing in with his fair share of goals.
Being the top scorer for Zenit in the Champions League with 5 goals (which included a brace against Benfica in the last 16) quickly propelled him to becoming a household name around Europe, with his elegant and effortless style of play combined with his knack of joining the Zenit attack at just the right moment to score a crucial goal heightening his growing popularity. And there are no signs of him stopping his relatively late progression yet.


Attacking midfielder: Denis Glushakov (Lokomotiv)

Taken from Zimbio- Getty Images
An unknown at the Moscow giants until around 2008, Glushakov has gradually and progressively worked his way to the top which has culminated into forcing his way into the Russian national team set-up, and being desired by clubs such as Zenit.
With his powerful and often accurate long range shot, and a range of excellent passing and technical skills available at his service, Glushakov has became the man Lokomotiv rely on, who can drag them out of a sticky situation with just one swing of his right or left leg. 
Improving with every game and every season, it is becoming increasingly difficult to ignore the growing presence of Glushakov in the Russian championship, and at only 25 years of age, he has time on his side.


Attacking midfielder: Aiden McGeady (Spartak Moscow)

Taken from BBC- Getty Images
Although technically a winger, the highly talented Irish international has proven he can be just as dangerous when cutting inside. Although his presence here may have come as a surprise to many, McGeady has shown himself to be every bit as talented as any other midfielder in Russia. 
While recently his form has severely fallen away due to injuries, you cannot deny how important he has been to the Spartak attack over the course of the season. 
With his relatively low sense of gravity, he has the wonderful ability of being able to run with the ball at his feet while beating his opponents at the same time with his pace and trickery, which was highlighted most vividly when he served striker Artem Dzyuba with a delicious assist for a goal against Nalchik last year.
While his form may not be consistent enough for some, you can't deny that Spartak would be a whole lot less dangerous without him.


Striker: Seydou Doumbia (CSKA)

Taken from Zimbio- Getty Images
The Ivorian goal machine just has to be included. 27 goals in all so far in the league and on the cusp of becoming the Russian Premier League's top scorer ahead of Zenit's Alexander Kerzhakov, Doumbia has proved a menace for every defence he has played against this season, scoring almost at ease and showcasing his ridiculous talent with the ball at his feet. 
While he may struggle for a foothold in the Ivory Coast national team with competition such as Chelsea's Didier Drogba, he has become completely irreplaceable for CSKA, single-handedly ripping opposing defences to shreds with his trickery in the Champions League as well as the Russian League, and scoring at will. 
Heavily linked with a move away to one of Europe's more decorated leagues, the Moscow club are facing the prospect of a real fight to keep him in their books over the summer.


Striker: Lacina Traore (Kuban Krasnodar)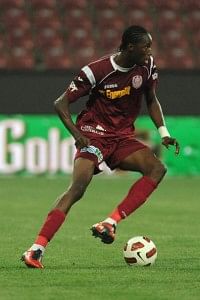 Standing a lanky 2.08 meters, you could be forgiven for thinking that he would be a clumsy and cumbersome centre forward who doesn't know what to do with the ball at his feet. But you couldn't be more wrong. 
Over the course of the marathon season, the young 21 year old African – also from the Ivory Coast – has shown that he has just about everything in his locker. Apart from his expected ability to head the ball, most of all, he can seriously use the ball when he has it in his feet. 
Just a few days ago against Zenit, he scored an absolute wonder goal, picking up the ball in the centre of the midfield, and charging through the midfield and defence with power, guile, and pace and calmly placing the ball beyond the grasp of Zenit keeper Malafeev. 
That goal just about encapsulated the season as a whole for Traore, and it would be a big as a shock if Kuban somehow managed to keep hold of him over the summer.


Manager: Luciano Spalletti (Zenit)

Taken from UEFA- Getty Images
The bald headed Italian maestro has won every prize in Russia with Zenit, despite only joining them at the start of the 2010 season. In doing so, he has taken Zenit to the next level with perhaps his biggest achievement of all being guiding them through the Champions League group stages in the winter of 2011. His great ability to motivate his players for every game in the Russian championship that are practically already won before the game starts is remarkable. 
Under Spalletti, Zenit have adapted to a slightly more defensive, Italian style, and this has proved dividends, with yet another almost flawless season for the Petersburgers culminating in a 3rd league title in 5 years, with just 3 defeats so far with just a few games left to play.
Zenit fans will be praying that their maestro doesn't get tempted to go back home to Italy if an offer from a big club comes over the summer.
Written by Shaun Nicolaides
Published with permission from O-Posts.