Mumbai Indians vs Deccan Chargers - A game of surprises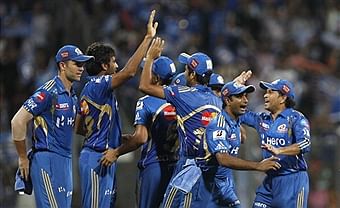 What is surprising about Mumbai Indians beating the Deccan Chargers, you ask? The answer – nothing. The surprise lies in the manner in which the Mumbai Indians won. You may argue that every game comes with anomalies. Some reliable players stay out while new talent is given a chance; some star players give no contribution while others of who least is expected provide winning contributions. But what deems this game surprising is the very number of abnormalities.
To begin with, there was Sangakkara. The captain of DC, who had just got a win under his kitty was unexplainably missing from the action. His title and responsibilities falling on Cameron White, he stayed on the sidelines instead of using their last win as the tail wind to propel his team to show their grit.
On MI's side, all rounder Kieron Pollard was out of the game owing to an injury. All expectations from him fell on James Franklin who did not exactly live up to the increased pressure.
Then there was the score – the match had the third lowest score of the IPL, the first and second being Mumbai Indians vs. Delhi Daredevils (target of 93) and Kolkata Knight Riders vs. Delhi Daredevils (target of 98). Surprising, because when you have a team like Deccan Chargers who are all charged up after their recent, and only, victory, you expect them to have a 'get them' attitude. But the attitude, just like the intent to win, was missing.
And it was this missing drive that made their final score of 100 even more surprising. The almost slack performance that DC displayed initially was turned around long enough for them to reach 100, not something anyone was expecting looking at the way their wickets were falling. But anyway, there they were and MI needed 101 to win.
'Piece of cake' is what everyone thought. This shouldn't take them more than 12-15 overs – its MI after all. But where DC's final score was a turnaround of events, so was their bowling and fielding. And after the first wicket of MI fell on the first ball, it seemed like the target might not be that easy after all. With a see-saw performance, where at times the target seemed attainable without effort and at other moments it seemed like DC actually had a chance, MI lost a few more wickets before reaching their target and securing their victory.
In the end of course, MI beat DC, just as most people had expected. But the match unfolded much differently from what anyone had expected. Deccan Chargers were riding on the high of their previous victory. Mumbai Indians were raring to prove themselves after their last loss. But what everyone was expecting to see was a cracker of a game – a game where the lowest standing team on the points table would play to prove that they didn't deserve that position, and the star studded team of the Mumbai Indians would strive to prove that their thrashing at the hands of the Daredevils was a one off incident not to be repeated.
MI won, but not with the conviction they were expecting – their point was not really made. And what should have been a match that could have ended in two and a half hours, became one that dragged on for three and a half hours, leaving most spectators yawning.