We can win our first Track and Field medal at London Olympics: Krishna Poonia
Featured Writer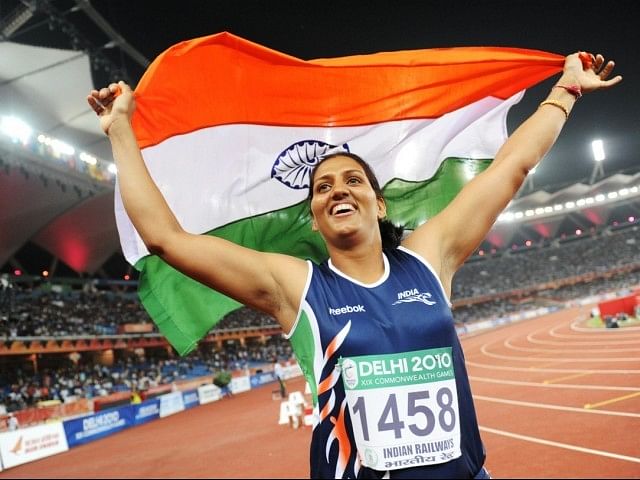 Krishna Poonia rose into limelight when she became the first Indian woman to win a gold medal in track and field events of Commonwealth games. She also went onto become the first Indian to win a gold medal in such events after Milkha Singh, who had won the gold in Men's 440 yards race in the 1958 Cardiff Commonwealth Games.
Born in a small town called Agroha, Hisar district of Haryana, Krishna is now a household name in India and is considered a role model to all the young girls coming from small towns who want to represent India in different sports. A devoted wife and a loving mother – Krishna is a woman of many interesting parts. Talking to Sambhav Khetarpal from Portland, Oregan for Sportskeeda.com, the Padma Shri and Arjuna Award winning discus thrower talks about her preparations for London, India's medal chances, her husband and upliftment of sports in small towns.
How are your preparations going on for the London Olympics?
My Olympic preparations are going very well. I have been training hard here in Portland, Oregon.
You personal best is 63.69m, and to win a medal at London, you will have to touch the 65m mark. So are there any special measures you are taking to get yourself ready for the Olympics?
Yes, absolutely. From the beginning, I have been training keeping the 65m mark in mind. Me and my coaches have been working on specific areas of training so that I can touch the 65m mark, which can fetch me a medal in London.
You are currently training under the guidance of former Olympic champion Mac Wilkins, how much has he helped you with your training?
Although I have been training here for sometime now, I only have one or two sessions in a week with Mac. But whatever time I spend training with him, he provides me with lots of valuable inputs.
How are your fitness levels at the moment? Any injury concerns?
No, I don't have any injury concerns right now. I am feeling fully fit.
After your historic Gold medal performance in the Delhi Commonwealth games, people are expecting Gold from you at London. Has it put additional pressure on you to do well at the Olympics?
Yes, it does put pressure on me, but it was the same before the Commonwealth Games as well. At the time too, people knew that Krishna Poonia could bring a medal. If we athletes start thinking about these things, it will put unnecessary pressure on us. So rather than thinking about people's expectations, I try and focus on my training and find ways to improve my performance.
You are 30 years old now, will 2012 be the last time we will see Krishna Poonia at the Olympics?
If I stay fit, I'll definitely take part in the 2016 Olympics. And why not, after all, representing your country in the Olympics is the ultimate honor for a sportsperson.
With Seema Antil and Vikas Gowda also qualifying for the London games, do you think we can win our first Track and Field medal in Olympics this time around?
Yes, we can definitely hope for our first Track and Field medal in London. Vikas has been in good form and is throwing well, so he is also a good medal prospect in the London Olympics.
We know your husband Virendar has been your mentor-cum-coach for a long time. What role does he exactly play in your training?
In fact, he is the one who takes complete care of my training regime. All aspects of my training depend upon him. Because of the kind of relation we share, he understands me well psychologically. He is the one who keeps a check on every small aspect of my training.
You are a role model to all the young girls coming from small towns who want to represent India in different sports. How can we have more Krishna Poonia's in future?
I think parents need to support their daughters and they should encourage them to take up sports or whichever field they want to choose. The government also has a key role to play. They need to work at the upliftment of sports at grass root levels. Rather than focusing on big cities, they should focus at the development of sports in small villages.
After India managed to bag three medals at Beijing Olympics, do you think the outlook towards Olympic sports have changed in India? What changes do you find from the time before 2008 Beijing Olympics and now?
I feel that the biggest change came after the 2010 Delhi Commonwealth Games. With the amount of media coverage the Delhi games got, people realized that there was more to India than just cricket.
We know that you have been associated with lot of social causes like female foeticide, blood donation etc. Tell us more about it.
As I have been busy preparing for the London Olympics, I haven't been able to devote sufficient time to these social issues. But once the London Olympics finish, I'll make sure I go and spend some time to the cause of society.
Any message you would like to give to your fans?
I would just like to say them that should keep supporting me the way they have till now. I assure them that I'll try my level best to win India a medal at the London Olympics