Indian hockey and its defensive crisis!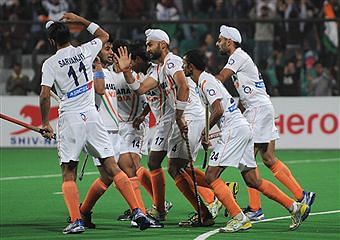 Almost every aspect of the Indian Hockey team has grown under Micheal Nobbs. "Almost" in the above sentence has the maximum weight. I have used "Almost" because there is still one area in which India has not grown. Our attack line is awesome, our midfield is creative and disciplined, but what about our defense? Is it disciplined enough? The simple answer to the question is – NOT AT ALL!
What's the problem?
Sandeep Singh & VR Raghunath! When you look at these names, the first thing that comes to our mind is – drag flicks. And why not, we are gifted enough to have 2 of the best drag flickers in the world. But my question is, isn't hockey beyond Drag Flicks? Why aren't they famous for their defensive skills? Yes, Sandeep is an exceptional drag flicker. Yes, he makes those lovely solo runs. But he is an average defender.
Our defenders are very poor in marking & look vulnerable at times. Such is our helplessness that Ignace Tirckey has to drop back and play as the 3rd defender for most of the matches. At times, we defend poorly than most of the 2nd tire teams in world hockey. Yes we do have Rupinderpal Singh but let's be realistic, he ain't good enough! The problem is, we have attacking minded defenders and not one out-and-out defender. We now realize the importance of Dilip Tirkey and his calm & composed solid defending.
The other problem is our Goalkeepers. The dip of form in our captain Bharat Chettri has worsened the crisis. He is not the Chettri who sometimes, single handedly, saved the day for India. And making him captain has all but cemented his place in the squad. He knows that no matter how poor he performs, he will be in the team. And his deputy in the goal post, Shreejesh is unpredictable. Sometimes he pulls up some miraculous saves but on other occasions lets the ball through between his legs.
What needs to be done?
The only way to strengthen our defense is to bring someone who covers up for Sandeep. We need a player who does not look to attack but sees that the team does not concede goals. And I think the only man in the current squad who is experienced and talented enough to do that is Ignace Tirkey. He tackles well, marks his player and is composed as a player. He also brings tons of experience with him. He is the missing link in our defense and should be made the 2nd defender for India.
For the Goalkeeper crisis, first, Bharat doesn't deserve to be the captain. A captain is the one who leads by example and he certainly doesn't. The captaincy should go to a more deserving candidate. That will help in two ways – he will have to fight for his place in the squad and his goalkeeping will improve.
The second thing that needs to be done is to replace Shreejesh with a more consistent goalkeeper such as Baljeet Singh or Gurpreet Guri. This will also create some for competition for Bharat.
It would interesting to see how does Micheal Nobbs cope with his team's  defensive crisis. He certainly knows what needs to be done & how should it be done. I have put my views in front, Nobbs may have his own ideas. Let's hope for the best!!