Scouser In Exile: The FA Cup final beckons
Liverpool expert Lee Bishop previews the Reds' massive FA Cup final against Chelsea on Saturday afternoon, talking tactics, key players and more.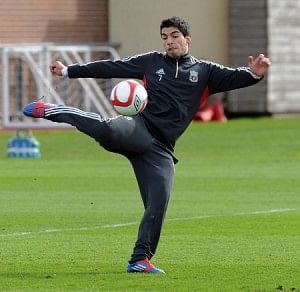 On Saturday, Liverpool play Chelsea in the FA Cup Final. Liverpool have previously won the FA Cup 7 times whilst Chelsea have a not to be frowned on 6 FA Cup's in their cupboard.
The bookmakers have Chelsea down as favourites, and that's the general consensus of the wider footballing community too. What Di Matteo has done since taking over the reins at Chelsea is nothing short of incredible.
They were dead and buried in the Champions League and somehow, he has led them to the final.  He's brought back confidence and swagger to the team and they have had some absolutely superb results, the thriller against Barcelona being a real highlight.
Di Matteo has managed to get the best out of the old guard, going back to basics in terms of his team selection: but he has also revitalised Fernando Torres, and in restoring that players confidence given himself a real selection dilemma for Saturday.
Personally, I hope he starts Torres. It is a gamble because if Torres scores a key goal against us then I and many other Liverpool fans will be thoroughly inconsolable; nevertheless, I really do fear 'the drog' more.
Drogba is the epitome of a big game player, and he is prolific against Liverpool.  If he plays for ninety minutes our centre backs are going to have to work incredibly hard to subdue him.
Either way, this is a massive game for Di Matteo's Chelsea. The honeymoon period came crashing down around them as Newcastle turned them over in the week. Fourth place looks highly improbable now and Chelsea know that they must win the Champions League final to secure a place at Europe's top table.
That's a lot of pressure, especially against a Bayern side who look formidable and will be playing at home. Di Matteo will do well to remember another caretaker manager who almost took Chelsea to glory on several fronts, falling just short in May.
Had Avram Grant crossed the finishing line he would be a Chelsea legend, just as Di Matteo would be, but Football fans, and clubs – especially Chelsea – are fickle and I think he will be less fondly looked upon if he finishes sixth, and is Runner Up in the Champions League and FA Cup Finals. Di Matteo needs this, he needs the confidence that comes with a trophy win.
The same will be said of Dalglish who this week came out and said that he would rather win the Carling Cup and FA Cup than finish fifth, a remark in relation to Liverpool's poor league position which may yet see us finish anywhere from seventh to twelfth.
I would go further than Dalglish and argue that two domestic trophies is better than finishing fourth, or third, or second; but I know I am in the minority. I would argue that nobody remembers who finished third ten years ago.
It is meaningless, yes the revenue is helpful and everybody wants to be involved in the Champions League; I get that, and I do want to be involved in the Champions League; but I wouldn't trade my two days out at Wembley for a Champions League place – not a chance.
Nevertheless, Dalglish will be judged at the end of the season and if his record reads with only the one domestic trophy then I can see why he will be put under pressure. I would happily see Dalglish sign a 5-year contract tomorrow but there are those who are less confident in him.
Both Di Matteo and Dalglish desperately want to win this trophy; they both need it. It is absolutely vital and makes this the biggest game between the two clubs in recent years.
The stadium will be an absolute cauldron. These are two teams that hate each other. The rivalry was formed during a successful European era for both clubs under Benitez and Mourinho and it has been stoking ever since. This will be no Liverpool-Cardiff fun cup day out and wishing each other well for the future.
The ground will be bubbling over with animosity, especially since a minority of Chelsea fans recently disrespected the 96 Liverpool fans that lost their lives at Hillsborough. That is no reflection on the wider Chelsea fan base but it has been noted and the backlash will come Saturday.
One wonders how Chelsea Fans are going to get all those plastic flags into Wembley. Perhaps Roman will parachute them in from his luxury jet. Either way, expect Anfield South to be painted red with banners and flags galore from the Liverpool contingent.
There will be a phenomenal atmosphere inside Wembley Stadium, and I am delighted to have recently obtained a ticket for the match.
This will be my third cup final, after West Ham in 2006 and Cardiff last month; so I am hoping I am a lucky charm for Liverpool.
The nerves have already set in and so I am loathe to make any real predictions for fear of jinxing the game; but what I will say is it has been a long time since Liverpool have won a cup final without requiring penalties.
Follow our Liverpool expert Lee Bishop on Twitter @lee_bish
Published with permission from Premiership Flavour.