Euro 2012 Player Spot: Group C: Italy: Andrea Pirlo
Correspondent
Italy, under Cesare Prandelli, are a new look side with a brand new philosophy that boasts of a more attacking mentality compared to the Azzurri of the past. Of course, the former Fiorentina manager has inculcated a more adventurous approach to his young looking side that cruised through their qualifying campaign for Euro 2012 with utmost ease and calculated efficiency, yet the Italians lived up to their age old reputation of being defensively astute by letting in just two goals in ten qualifiers. In a sense, Prandelli has been brilliant in providing a wonderful balancing act in the team's attacking and defensive setup.
The Euro 2008 quarter final defeat to Spain and the 2010 World Cup debacle have raised expectations of the Italian fans this summer. While most of the ageing side that peaked in the 2006 World Cup in Germany have been dismantled for a more young looking Azzurri, the unknown factor of the current side has made Italy a very dangerous proposition in Poland and the Ukraine, and writing off the four time world champions at a major championship would be an utter miscalculation.
Undoubtedly, the Azzurri are a young national team with plenty of raw talents to look out for during a month of football extravaganza. Yet, a more familiar looking man in blue would be called upon to restore lost pride at the European Championships come June. At the age of 32, Andrea Pirlo is still regarded as one of the best midfielders of the modern era, and Cesare Prandelli reckons that his country's chances rest on the Juventus man's irreplaceable talent that still echoes across the vast reaches of Italian football folklore and beyond. Marcelo Lippi, Italy's world cup winning manager in Germany, and the man Prandelli replaced at the top, once quoted that, "Pirlo is our silent leader, he lets his feet talk on his behalf."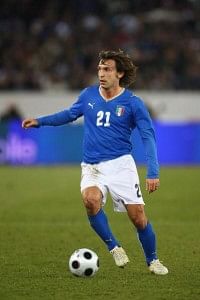 Surprisingly let go by AC Milan at the start of the season after ten years of immense success at San Siro that redefined the very meaning of midfield play in his own way, Pirlo joined up with Juventus and has been instrumental in helping the Turin giants to stake a major claim at the Scudetto ahead of perennial rivals Milan this season. Remarkably fit and way ahead of many in terms of footballing brain, Il Metronomo is one of those veterans of the game who still has cent per cent urge to play for both club and country with the same passion, integrity and humility that were existent when he started playing football. Italy captain and friend Gianluigi Buffon was quoted as saying after Juventus' first game of the season, in which Pirlo produced a captivating performance,
"It's the bargain of the century for us (Juventus). Seeing him play in front of my back line, it made me realize that God does exist."
Critics often look at Pirlo's slowing pace as a factor of his growing age but practically speed was never an issue when it comes to judging a player of the calibre of Andrea Pirlo. A man who has the supernatural ability to split defences in one single pass from deep inside the field and who can make a near fifty metre long pass land right into the feet of an on rushing attacker, is virtually beyond any criticism. If pace is to be a factor, then maybe the game has become a touch quicker than the player becoming slower.
Mere statistics is no justification of Andrea Pirlo's greatness, yet, at the age of 32, figures do matter somehow and the player who is proving to be the motor behind Juventus' success this season has a staggering pass completion percentage of nearly 87 per cent and the number says 2643 passes, more than any other player in Serie A, and as good as Xavi Hernandez of Barcelona.
As far as international football is concerned, the architect, as Pirlo is sometimes called, has made more successful passes (737) in Euro 2012 qualifying than Spain's Sergio Busquets (717), and his influence in the new look Italian side is as strong as ever and just as a former Juve legend in the form of Michel Platini once stated famously, "If Pirlo is on song, everything else falls into place."
Style, grace, humility, vision and dynamism define Andrea Pirlo both as a player and as a man, and in Euro 2012, this same old once in a lifetime talent would be the player that young Italian players would be looking forward to for inspiration and guidance just as Juventus have benefited this season after years of under achievement. The Lombardy born player is a class act and blessed with a tremendously fit body, considering the volume of play he is involved in. He has a lot to offer to Italian football and especially La Nazionale, who would be hoping that the former Brescia and AC Milan legend carry his energy, form and talent into the European Championships where Spain lie waiting in the first game of a tough looking Group C.