Sir Alex hoping City 'do a Devon-Loch'
Correspondent
Manchester City clearly have one hand on the league title after seeing off a resilient Newcastle team at Tyneside on Sunday. A brilliant brace from Yaya Toure has seemingly given City the chance to win their first title in 44 years. With QPR who have their own agenda of avoiding relegation awaiting them next weekend at the Etihad, only few think City will lose it from here. However, the Manchester United manager is still optimistic of a final twist to this title race.
United stayed level on points following City's win with a 2-0 vcitory over Swansea at home, leaving mathematically every possibilty of a 20th league title for them. But Mancini's side will know, if they win it is going to be curtains for United given the gulf in goal difference is impossible to overcome. But QPR ,currently being managed by former United player Mark Hughes,  can stillpose a threat and provide a Devon-Loch style collapse of City believes Ferguson.
"It could be like Devon Loch – stranger things have happened in football. We just have to keep going with the right spirit."said the optimistic Scot.
"We've won the title on three occasions on the last day and we don't mind doing it again. City are red-hot favourites and will make sure they win the match, but QPR need a point and they're fighting for survival. The whole future of the club could be resting on the game."
This isn't the first time that the Scotsman is hoping United's title rivals 'do a Devon-Loch.' In the 90's, he famously hoped for the same when Kenny Dalglish led Blackburn pipped his side to the title to which Kenny sarcastically retorted "Is that an expanse of water in Scotland?" It is to be seen, however, if something miraculous does indeed happen this time around.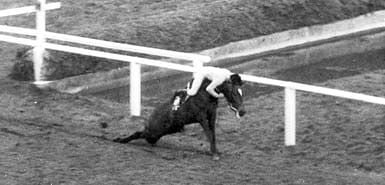 Fergie highlighted how Mark Hughes was ignominiously shown the door by City in a desperate attempt to motivate his QPR counterpart. Hughes was sacked in the winter of 2009 and replaced by current City boss, Roberto Mancini. Queens Park Rangers are on 37 points and need at least a point to guarantee themselves Premier League football next season. Bolton will be away to Stoke, who are two points behind Rangers having played equal games with a worse goal difference.
"Mark knows his job alright. He was sacked by City in a very unethical way and he'll remember that. Mark Hughes' teams always fight, but QPR players are fighting for survival.
"No doubt City will be favourites, the crowd will be carried away and right behind them, they will be getting in the face of the referee as they did against us."
Sir Alex was involved in a heated exchange with Roberto Mancini during the derby at Etihad alleging the Italian was always complaining about refereeing decisions. Nigel De Jong's tackle on Danny Welbeck, which has ruled him out for the rest of the season, sparked this touchline fight.