Manchester United must develop a 'false 9′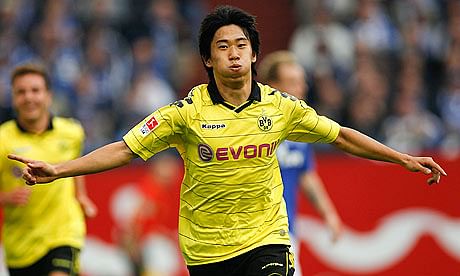 Well the League title is now all but gone, following the defeat at Eastlands last Monday night and the subsequent City victory over Newcastle, United need somewhat of a minor miracle to secure a second successive Premiership championship.
Whilst the thought of Manchester City lifting the Premiership trophy is a sobering one, there are certain elements of positivity that both fans and Sir Alex Ferguson alike can take from this campaign.
Since 2009 and the loss of Tevez and Ronaldo, the United side has never fully recovered, whilst we have seen the superb signings of Javier Hernandez and David De Gea plus the emergence of youth talents Danny Welbeck and Tom Cleverley, the quality United possessed not that long ago has indeed gone.
In no way is this a criticism of Sir Alex, players like Ronaldo and Tevez are world class and are very difficult if at all possible to replace and we have continued to be consistently successful since then. However, as regular visitors to Old Trafford will testify, the squad has been lacking in the midfield and this has become clear this year with the emergence in quality of the Manchester City side.
One of the areas I believe it to be necessary to improve is the "False 9", the role revolutionised by Lionel Messi is creeping its way into all of the top sides in Europe, for example Manchester City with Samir Nasri and David Silva, Chelsea to a certain degree with Juan Mata although that particular system is still in its infancy, and finally Mesut Ozil at Mourinho's Madrid.
This "false 9" consists of an incredibly nimble footed player whose constant and difficult to track movement causes problems to the opposition backline. Messi and Barcelona illustrate it perfectly with defenders struggling to make the decision to rush forward and attempt to tackle Messi, which would then in turn leave the centre forward unmarked, or instead back off from Messi in the hope he will not hit the target.
Manchester United do not have a player of this mould, especially with Park Ji Sung seemingly nearing the end of his United career and this has been illustrated in United's European campaign this season.
In a sense we have been left behind by the development of "False Nine's" with us often struggling to carve out chances against teams such as Benfica and Basel.
However,  at this stage it is just another of the twitter rumours, the potential signing of Dortmund's Shinji Kagawa would be a huge step in the right direction with Kagawa playing in the "False 9" role in the past two seasons and has played an instrumental part in Dortmund's consecutive Bundesliga titles. The Japanese International's nimble footed play would slide effortlessly into the United team with us now having an alternative outlet of attacks rather than traditional wing play.
You can follow our United expert Chris Winterburn on Twitter @Chriswin4…
Published with permission from Premiership Flavour.