Why wasn't Steven Smith's 'catch' legal?
Contributor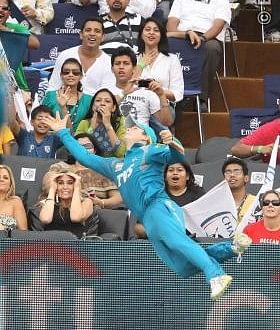 In the just concluded match between Pune Warriors India and Rajasthan Royals, Steven Smith was at it again as he showcased his superhuman effort at the boundary rope. Despite the athleticism on display, the effort came for naught as the shot was declared a SIX by the TV umpire. First take a look at the effort:

At first look, everything seems to be fine for the attempt to be deemed a catch. At no point is he touching the outside of the boundary and having a contact with the ball. On his second attempt, he's outside the boundary but parries the ball inside the playing area by jumping into the air and thereby breaking his contact with the ground while he's touching the ball. On his third attempt, he's within the boundary and then completes the 'catch'. But there is a folly here that he commits according to the new rules introduced by ICC in October 2010.

The newly incorporated 19.4(i) rule requires that the fielder's first contact with the ball must be when some part of his person is grounded within the boundary or, if he is airborne, that his final contact with the ground before touching the ball was within the boundary.

When Steven Smith is attempting to parry the ball inside the playing field on his second attempt, he had already touched the ground outside the boundary and until and unless he comes back inside the boundary, his touch with the ball, whether airborne or not, will be considered as a SIX.

David Hussey performed the same kind of acrobatics in the IPL 2010 match against Delhi Daredevils. Here's the video:

On that occasion though, the fielder had made the 'first contact' with the ball when he was inside the boundary rope and then came back inside the playing area to complete the catch. Hence, the catch is eligible.

Again, prior to this rule coming into place, Angelo Mathews had attempted almost exactly what Steven Smith did today in 2009 in the ICC T20 World Cup match against West Indies. Here's the video:

Now, similar to Smith, Mathews too had parried the ball inside the playing area by jumping into the air when outside the boundary. At that time though, ICC had not incorporated this rule and they came up with this only a year after Angelo Mathews' attempt.