UCL final: Torres or Drogba?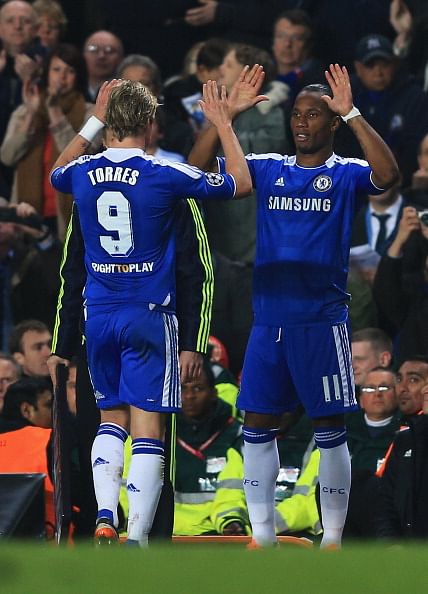 After the highly dramatic semi-final, in which the mighty Spanish contingent of Barcelona and Real Madrid were consigned to rubble by Chelsea and Bayern Munich respectively, the build-up to the highly-anticipated finals has got even more exciting. The air is thick with  match predictions,  expert play-by-play analysis of the previous matches,  speculative line-ups and whatnot. So I am humbly doing my part in contributing to the pre-match speculation by focusing on one problem which is going to be crucial to Chelsea's  hopes of landing a  maiden Champions League trophy, and along with it, assurance of CL football next season too.
THE QUESTION
Whether to play Drogba, or Torres as the lone striker in the 4-2-3-1, which is the most likely formation that is going to be deployed by RDM? Ignoring the unlikely tactic of both being played together.
THE ARGUMENTS
1. THE DIDIER DROGBA CONUNDRUM
As the six-foot Ivorian mercilessly bulldozed past the hapless Barcelona defence, the praises flowed thick and fast soon after. With everybody complimenting his contribution in Chelsea's historic triumph over Barcelona, it seemed as though he was a shoo-in into the starting line-up for the rest of the season. And there is the emotional factor, with many fans pleading RDM to put his name on team sheet, the 'oh-please-let-him-play-in-his-last-game' feelings coming into play. But will he be really effective?
There is no doubt that he will create chaos among the Bayern defence. He will be expected to win most of the duels between him and the central defenders. So maybe Lahm and Alaba would have to drift into the centre to create a 4 vs 1 situation which could be tricky for Drogba to handle, but Chelsea will have the advantage of creating space in the wings which can be exploited. He has the added gift of going down at the slightest touch, and feign injury, something which belies his tough muscular frame. This could buy time for Chelsea, and disrupt the flow of play. His finishing, although erratic is good enough to change a game.
But one problem here is his lack of grace and tactical nous. He relies on his brute strength to overpower defenders. His passing and lay-offs to team-mates are below par to say the least, and he often tries to go for the spectacular(mistimed passes, long-range shots which go way above the goal etc). This often results in Drogba losing the ball sooner or later, with the sheer weight of opposition numbers nullifying him. He is at his best when the ball is in the opposition half, and he has some support around him, with Mata behind him, and Cole or Bosingwa flying through the wings.
At 34, he hasn't lost any of his strength, his heading ability, and his sheer intimidating nature. The relatively young duo of Badstuber and Boateng will have their work cut out for them to this Ivorian. With Bayern's free-flowing attacking football and Chelsea's reliance on counter-attacks, he will be the target-man, with Ramires, Lamps and Mata looking to steal the ball off Bayern's feet and lob it over to Drogba, who will be expected to do the rest.
2. THE TORRES TROUBLE
After enduring one year of constant jeers and malicious boos during his goal-drought, Torres seems to have turned over a new leaf. He has crossed double figures for this season, a remarkable feat compared to last season! So can he spearhead the Blues' attack and lead them to CL glory?
He is tactically more versatile than Drogba, and he is able to play in a variety of positions. He can cut inside  from the wings to unleash rasping drives into the top corner, or can dribble through the centre with his trademark swivel-and-turns. One point which weighs strongly in his favour is that he thrives on counter-attacks, where his speed and finishing can come in handy. On his day, Torres can be a handful for anybody, and his days are gradually arriving.
But the main trouble with his inclusion in the team-sheet is ironically, the counter-attack tactic. Unless Chelsea decide to go on the offensive from the word 'go', they are most probably going to spend more time in their own half, snuffing out Bayern attacks and patiently waiting until their golden moment arrives. For someone like Torres, this is obviously not good news. He might be energetic, willing to pressurize the defenders, making crunching tackles and winning the ball for his team-mates, but all that would entail sitting within within his own half for long stretches, something which he is obviously not used to.
Another negative aspect would be that he is not very good in set-piece situations. For example, if in one of their break-aways, Chelsea do manage to win a corner, you would hardly expect Torres to come rushing in and put the ball into the net with a bullet of a header. No, El Nino is more suited to open play, something which cannot be ensured for the entire 90 minutes.
He would obviously be looking Munich for redemption. After having scored the winning goal vs Barca in the semis and gaining several brownie points with fans and experts alike, this is the perfect stage for him to exorcise his demons once and for all. After all, bagging a hat-trick versus a relegation-threatened club is nothing compared to scoring the wining goal for your team in the Champions League finals.
CONCLUSION
I would like Di Matteo to play Drogba upfront, where he helps them to weather the initial onslaught of Bayern attacks. Ofcourse I would not mind the odd goal being scored in a  counter-attack, that would be most welcome.
Still, if the chips are down, and its nearing full-time, introduce Torres, to tire an already tired defence and put one past  Neuer to deliver the trophy to Stamford Bridge.