What does future hold for van Persie?
Correspondent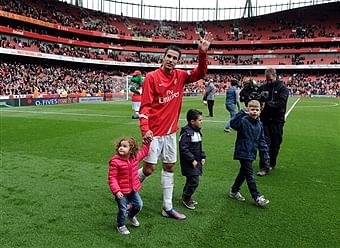 Robin Van Persie has been, without doubt, the best player in the Premier League this season. The Dutchman has scored more goals than anybody else in the English top flight (with 30 goals in the Premier League alone and 37 overall) and has almost single-handedly given Arsenal a chance to get (in my opinion) a pretty undeserved top-4 finish.
Will he stay at Arsenal? That's the question everyone is asking. The striker is scheduled to have talks with the club to extend his contract beyond 2013.  But, will it be in his best interests to stay? Or will he look to move to one of Europe's elite clubs? Let's take a look at 5 clubs which have been linked with the Netherlands international.
1. Juventus– Reports have emerged today linking the Gunners captain to new Italian champions Juventus. In fact, their general director Giuseppe Marotta has been talking about Van Persie to Italian website 'Calciomercato'. 
'Van Persie is a great player. He is a complete player and would be useful to any team. But he still has one year left in his contract with Arsenal.' says Marotta. However, the general director has spoken about Gonzalo Higuain and Luis Suarez too to the same site. He has also indicated that Marco Borriello's loan deal may be made permanent.
ODDS: 5 out of 10. Juve already have two Italian international strikers in Fabio Quagliarella and Alessandro Matri to add to their Montenegran star Mirko Vucinic. If Borriello joins permanently, it seems unlikely that van Persie will join.
2. Barcelona– Barcelona generally play in a 4-3-3 formation, with Messi and Pedro as wide attackers and David Villa, who has been injured for some time, as the main striker. But he will be back before next season. So it is difficult to see van Persie making a move to the Camp Nou.
ODDS:  4 out of 10. I just can't see Barcelona selling Villa or Pedro and with Alexis Sanchez also available, the Spanish club will probably make a move for a slightly lesser-known striker than van Persie.
3. Real Madrid– Barcelona's rival and this year's La Liga winner Real Madrid is another possible destination. Gonzalo Higuain has been brilliant in the last few years for Real, but he has (like van Persie) been linked with clubs like Manchester City and Juventus recently. That may create an opening for van Persie.
ODDS: 7 out of 10. If Higuain does leave, van Persie will be the perfect replacement to play alongside the likes of Cristiano Ronaldo and Karim Benzema.
4. Manchester City– Manchester City always seem to be interested in Arsenal players. With ex-Gunners Samir Nasri, Gael Clichy and Kolo Toure already in the team, they might very well add another one to the list. The futures of controversial duo Mario Balotelli and Carlos Tevez are still unclear; and Edin Dzeko's form has dipped alarmingly in the second half of the season. This might tempt City manager Mancini to buy the Arsenal striker.
ODDS: 8 out of 10. Sergio Aguero might well be the only striker to stay next season, with Emmanuel Adebayor and Roque Santa Cruz, who have been out on loan, also seemingly unwanted. If Tevez and Balotelli are sold, expect City, with all their money, to make a bid for van Persie. I wouldn't be surprised if they offered Dzeko to Arsenal as a make-weight.
5. AC Milan– AC Milan have two proved goalscorers- Alexandre Pato and Zlatan Ibrahimovic. Antonio Cassano is back after heart surgery and veteran Filippo Inzaghi and Brazilian Robinho are also there at present . Will they really bid for the Dutchman?
ODDS: 5.5 out of 10. If Pato is sold, there might be a chance of van Persie joining Milan as Inzaghi is close to retirement and Cassano has only recently returned to first-team football.
6. Stay on at Arsenal – The other option is for van Persie to remain at Arsenal. Lukas Podolski has been signed for the next season and this may convince van Persie to stay on for one more season. Podolski has proved himself in the Bundesliga and in international football and will take some of the burden of scoring goals off the left-footed van Persie.
ODDS: 8.5 out of 10. Van Persie will be close to 30 when his contract ends at the end of the next season. So, if one of the above teams comes calling, he may well be tempted. Having said that, I think it is very likely that he will see out his contract and move on as a free agent next year.