Ben Amos ready to wait for Manchester United chance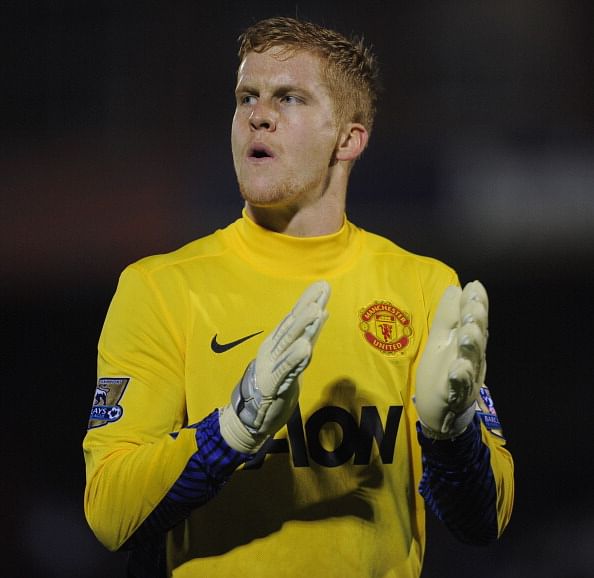 21-year old Ben Amos is ready to wait for his turn to shine at Manchester United. The youngster, who made just one premier league appearance this season (against Stoke), is determined to add more games to his tally. Speaking to SkySports, Amos said:
"I've had to stay patient for a lot of the season and I finally got my debut, so I felt like that was worth the wait. Obviously I would like to play a lot more, but at the moment I'm just concentrating on doing the best I can in training and hopefully more opportunities will come.
"It's a start. I feel like I am good enough to play at this level. It's just about getting the opportunities. David (de Gea) has come in and done well, so while we are winning games I will stay patient and do my best, work hard and try to change that. We will just have to see how it goes."
With Anders Lindegaard and David De Gea, both in their 20s, chances for Amos are expected to be few and far between. There is no question of jealousy and rivalry amongst the goalies though. He added:
"You never know what's going to happen in football. You saw with my debut that anything can happen. If I can come in for a period of games and prove myself, then it's up to me to make sure that the manager can't leave me out.
"They're two very good goalkeepers. There is a good camaraderie between us in training, there is always good banter flying around between us and we are good mates. It's great to work with them and it is really healthy competition all the time. We are all pushing each other on.
"When Edwin (van der Sar) was at the club, he told me that he didn't break into the Ajax team until he was 23, so that gave me a little bit of perspective because he finished when he was 40. There is that part of it and it can be frustrating at times, but I have just got to be patient."