Warner adds to Deccan's woes
Delhi Daredevils have regained their number one position from KKR as they comfortably defeated the Deccan Chargers by 9 wickets. This win means that Delhi are almost certainly into the playoffs.
Match Recap
Delhi Daredevils' captain Virender Sehwag won the toss and decided to field first. The decision seemed to work as Deccan lost two early wickets but soon opener Shikhar Dhawan along with Cameron White decided to go after the Delhi bowlers, adding 126 runs for the third wicket. Dhawan scored a brilliant 84 while White scored 65 runs. Delhi, in reply, started off in the worst possible way possible as they lost their skipper Sehwag in very first over. However they never looked back and David Warner, along with Naman Ojha, guided the team home with 20 deliveries left. Warner scored a magnificent century while Ojha helped himself to a half century.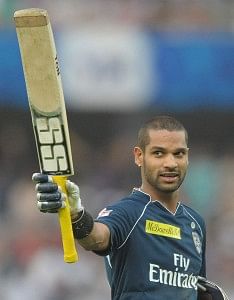 The Turning Point
There never was a distinct moment in the match that could be termed as the turning point.  If there was a phase that made a big difference, then it must have been the way the two teams approached the powerplay in the first 6 overs. Deccan Chargers, in their powerplay, scored only 33 runs for the loss of 2 wickets, while Delhi Daredevils, in their powerplay, scored 64 runs for the loss of just one wicket, and that probably made the difference in the end.
Where did Deccan go wrong?
The Deccan Charger's inexperienced bowling could not defend 187 runs and that probably tells what went wrong. The bowling was lacking teeth and none of the bowlers even looked remotely likely to trouble the Delhi batsmen lest pick their wickets.  They missed Dale Steyn again and the difference he makes to this team could be seen. The bowling department was perhaps where Deccan went wrong in this match. Just wonder if even 250 would be enough with this kind of bowling unit. 
Where do the teams stand now?
Deccan's position in the points table does not change as they continue to languish at the bottom. Delhi who were at second position before the match are now on to, dethroning KKR. They are now certainly into the playoffs.
Game Rating
Despite the game ending in a convincing way, and being pretty one sided in the second innings, it was still high quality cricket. It was top class entertainment, thanks to Dhavan and Warner, who sent the bowlers on a leather hunt. As a spectator, one can ask for nothing more.
Conclusion
Deccan Chargers continue their run of loses at home and it's time they do something to reverse that. Delhi on the other hand look good and will be hoping to win their next couple of matches carrying the momentum into the playoff matches.