CD Review: Songs of Cricket
Given the Quartet's style of singing and the featuring of Richard Stilgoe in a number of tracks – Lillian Thomson, "a maiden bowling overs at 100mph", is perhaps my favourite of the comedy tracks, acknowledging England's historic woes as well as a gentle poke at Australia's fearsome duo – it's immediately clear that this is not going to be a 'safe' CD you could perhaps be drawn into thinking.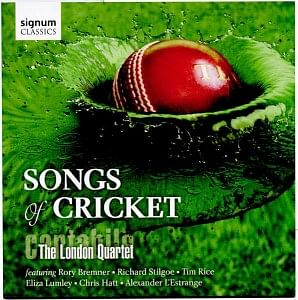 Indeed the very first track, a collection of classic cricket tunes, is given real life by the Quartet's distinctive acapella twist. This isn't a CD to put on whilst you stare glumly at the TV, watching as rain washes out another day at Lord's and we get a re-run of some Natwest Final, again. This is a celebration of the quirks of cricket, of poking fun at yourself for being English as well as reflecting on some of the classic cricketing institutions (Bradman, Hambledon, Murali's joints).
The fact that this is a collection of songs from The London Quartet and includes a number of collaborations with Australians means that the focus of the CD is very much on the Ashes rivalry. If your hero is Irfan Pathan, heaven forbid, then there would be less to relate to on this CD than, say, somebody who 'fondly' remembers English batsmen floundering about and felt a small wave of patriotism pass through them every time Chris Tavare left a ball (you know who you are).
That's not to say that 'Songs of Cricket' is simply a jolly that would have the crusty MCC members complaining about too much happiness, or Giles Clarke calling it a major threat to cricket. There is so much variety to sink your teeth into, and trust me Shahid Afridi would be the first to do so, given the mouth-wateringly shiny cricket ball on the front cover of the CD.
Songs of Cricket throws in gems throughout the 69 minutes of listening time. A reinterpretation of the (Andy) Flower Duet, an ode to England's head coach, not only provides not just wonderful flowing lines such as "Poor Andy Flower, who picked this shower?", but is also sung brilliantly.
By sticking to and pulling off the operatic style thanks to Eliza Lumley and Richard Bryan (on falsetto), we are left with a song that to someone who isn't really listening properly comes across as simply a very good rendition, when in fact it masks some absolutely inspired lyrics (again masterminded by Mr Stilgoe).
This style isn't just confined to this one song, with Jerusalem given the same treatment with nods to Murali, and a certain incident involving Mr Atherton and his pockets. There is even a monastic chant of 'The Rules of Cricket' just in case you thought all of the bases had been covered, whilst the collaboration with Australian singer Greg Champion is a real highlight.
For me the only song that doesn't quite hit the same levels as the others is a rendition of the famous tea-towel aimed at throwing anybody who first tries to understand cricket. However, when there is one song out of a generous 21 that I would class as 'maybe not quite so brilliant', then you can pretty much guess in a nutshell what I think of this CD.
It is not just the music that provides the entertainment as the CD booklet is a wonderful accompaniment. Unusual factoids are provided for each song, as well as full lyrics. You can read up on a Korean film about naked swimmers in a Piranha-infested lake (honestly) whilst listening to a splendid re-enactment of THAT ball to Mike Gatting from Gats' own viewpoint.
In a way that sums up Songs of Cricket. There is so much to explore on and off the CD that is simply a joy to experience. The well balanced mix of songs offers something for everybody, and everything for those looking for something a little bit unexpected. Hopefully this won't be the last foray The London Quartet make into 'cruckut'.
4.5/5. You can buy Songs of Cricket here.
Songs of Cricket was reviewed by by halftracker
Published with permission from Alternative Cricket...cricket for grown-ups.