Strategy has been playing a vital role in F1 since decades and it is very important for the teams to hit the right spot to extract maximum from the machinery.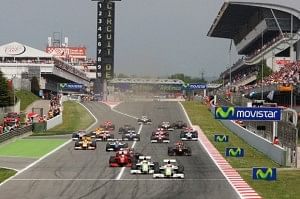 Strategy making is a continuous process which starts before the launch of the cars.To make it clear, different departments are assigned different strategies. The development and research team strategize on how to bring updates and other enhancements to the car throughout the season while the logistics teams have their own strategy which involves movement of the entire F1 freight from one race to another race.
Coming to the races, the preparations begin one week before the race and a lot of work has to be done before the race weekend to get optimum performance. Strategies are also needed in the marketing side of F1 such as sponsorship ties.
The race weekend kicks off usually with practice 1 and practice 2 on Friday. During these 90 minute sessions, teams try to find the optimum set up required for qualifying and racing. Also at the start of every practice, teams run system checks to make sure that every part of the car is working perfectly. Once the telemetry engineers who analyse various systems are happy, teams focus on the set up and other parameters. During practice sessions, teams try to fiddle with the set up in order to understand which set up is the best for that particular track. Practice sessions play a vital role in deciding the strategy that a team will adopt for qualifying and the race.
Practice 3 and qualifying take place on Saturday of every race weekend. Usually most of the teams apply finishing touches to the set up and other parameters of the car in practice 3. They also run a qualifying simulation during practice 3.
Strategy becomes more evident during qualifying as teams make various choices regarding tyre allocation,wing angle etc. In the present scenario as we have heavily degrading Pirelli's teams have to compromise on qualifying set up in order to get optimum performance in the race. This is because if they go aggressive on the setup, they may get an ultra quick laptime and a good grid position, but will struggle in the race as teams are not allowed to change set up in between qualifying and race.
Most of the teams sit down after qualifying and analyse the data they have gathered through the practice sessions. On the basis of this data, they make the strategies for the race which is mainly related to tyre allocation. Some teams go aggressive with their tyre strategy by doing lesser pit stops and using harder compound tyres while other teams go aggressive on tyres by choosing softer option tyre which gives maximum performance for the first few laps and then degrades. So there is alot of thinking and pondering over by the teams behind the scenes to get their cars to chequered flag!!