The best ever Premier League season? This is it.
Correspondent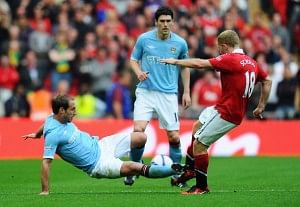 The Barclays Premier League 2011-12, which is due to end this weekend, has been voted the best ever edition of this competition. 20 teams go into the last gameweek with the fate of two teams sealed (Wolves and Blackburn have both been relegated already) as far as relegation is concerned.
The last spot is not confirmed yet with Bolton and Queens Park Rangers both fighting for survival. QPR have the tougher assignment of the two, away to Manchester City, who again have their own agenda for winning this game. If City win their final game, they will be crowned champions of England for the first time since 1968, and the first ever in the Premier League era.
Never before has the Premier League witnessed such drama and suspense. For the first time ever, we go into last round of games with so much at stake. The Premier League winners are yet to be decided; 3rd ,4th  and 5th places are up for grabs and the final  team to be relegated to the Championship not yet confirmed.
Manchester United will play Sunderland away where they have to win and hope QPR do them a favour, if they are to be crowned champions for the 20th time. Arsenal, Tottenham and Newcastle United are still fighting for the 3rd,4th and 5th places in the table. Normally the top four teams qualify for the Champions League (the 4th having to go through an extra qualifying round). But this time, with Chelsea due to play their Champions League final against Bayern Munich on the 19th of this month, the teams will have to wait to find out if they are playing in Europe's showpiece event next year or not.
The team which finishes 3rd will have little to worry though, but the 4th placed team will lose out on Champions League action if Chelsea win on the 19th. Newcastle have the toughest fixture of the lot; a trip to Goodison Park where a resurgent Everton awaits them. Arsenal will be away to West Brom and Tottenham will be quietly confident playing Fulham at home.
Premier League chief executive Richard Scudamore agrees to the 2011-12 edition being voted the best ever.
"We've never had a season in our 20 where all three things – title, Champions League places and relegation too – have gone down to the last day," said Scudamore.
"Generally, everyone's upped their game. Teams are going for victories more and there's lots of attacking football and lots of goals.
"Many great players and great managers have come together to create the excitement we've seen and it's a wonderful cocktail to have. Long may it continue into next season."
The league has indeed surpassed many people's expectations this season. The title race has been arguably the best ever with plenty of twists. There have been some stand out performers as well. Robin van Persie has almost single handedly guided Arsenal to a probable 3rd place fnish netting 30 goals this season, including a superb volley against Everton which was a highlight in the player's season. Kyle Walker of Tottenham has been a real livewire for his side and recently won the PFA Young Player of the year award. David Silva of Man City, Wayne Rooney of Man Utd have been top notch for their sides.
The Premier League has thrown in some surprises as well. Newcastle United's Papiss Demba Cisse and Dutch keeper Tim Krul have both been revelations this season. Nikica Jelavic of Everton has been a real handful for defenses while American Clint Dempsey of Fulham has been inspirational for Martin Jol's side this season. Michel Vorm of Swansea has earned himself plenty of admirers having been terrific between the posts for his side, saving his team on multiple occasions.
If both United and City win their last games, it will be for the first time that the premier league champions will be decided on goal difference. The 2011-12 edition thwarted stiff competition from six other to win this award. They are listed below.
1994/95 (Champions: Blackburn Rovers)
1995/96 (Champions: Manchester United)
1997/98 (Champions: Arsenal)
1998/99 (Champions: Manchester United)
2004/05 (Champions: Chelsea)
2007/08 (Champions: Manchester United)