Verdasco, finally, solves the mystery of Rafa
Senior Correspondent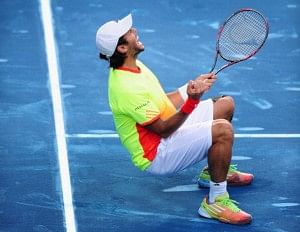 At the conclusion of the epic five setter in the semi finals of the 2009 Australian Open, when Verdasco said that it would require at least three winners to earn a point against Nadal, he was actually emphasizing on the brilliance of Nadal. What one could identify from his tone was his desperation at not being able to solve the mystery of Rafa even after coming so close to taming him.
In fact, if not desperation, what else one can expect from a professional like Fernando Verdasco if he kept getting tormented repeatedly following his defeats to the same person over and over again.
He has not been alone among players who have suffered defeats to Rafa. Almost every ATP professional has had to undergo in the past few years. They might have triumphed over him on some occasions but none of them were able to do it on a continuous basis, if you take Djokovic out of the equation. Even in case of Novak Djokovic, Rafa has the better head to head record. When a player of Roger Federer's class had to bear such agony, which pushed him to weep in the Rod Laver Arena, saying "Oh God, this is killing me", it should not be a disgrace for the rest.
Having said that, for Verdasco though, it has remained a disgrace. Imagine if 2 players play tennis for the same country and no matter how much hard player B tries to establish his identity, if player A keeps defeating him and denies him the recognition he deserves, it will become unbearable for player B. The same situation has been with Verdasco, who has had to live under the shadow of Nadal for so long.
When you play 13 matches against an opponent and still cannot succeed in winning against him even once, then you can only start to doubt your calibre. That was the career stat which read prior to Verdaso's match on blue clay in Mutua Madrid with Nadal. Like I said, though defeating Nadal is one of the most difficult things in the world, certain players have beaten him at least once or twice. But, in Verdasco's case he could not do it even once.
Any player, if he had been victorious against Rafa, would tell you how hard it was being on the court against Rafa. Rafa is one of the most mentally tough players ever to have played the game. His game is scripted by endurance and tenacity. He often pushes his opponents to play his game – whether the challenger is willing to or not. Especially on clay, the former could be referred to have played his best tennis ever.
So, if a player has to prevail in tennis and win trophies, it is inevitable that he has to beat Rafa. In that way, Verdasco was always found wanting when it came to progressing far in a tournament as he could never vanquish Rafa at any point of time. He always has had the aspiration to get Rafa out of his mind and so may be he threw this thought to the Law of Attraction. As the law goes it was almost as if the clay was made in blue especially for him in this year's Mutua Madrid open. In spite of the dissatisfaction and threats of boycott for the next year expressed by players like Nadal and Djokovic, the present tournament has gone live as per the schedule.
Clay, which has been Rafa's personal haven all these days, seems to have given him the blues. Verdasco, who was the virtual underdog, as he took the court against Rafa yesterday, took the first set 6-2 to everyone's surprise. But the joy was only short lived as the relentless Nadal came back to win the second set, which was not to anyone's surprise. At that point of time, hopes on Verdaso's chances started to diminish and Nadal's presence in the quarters looked imminent. In fact, Nadal had the upper hand as he was leading the third and final set 4-1 and no tennis fan would have given a chance for Verdasco to make a come back from that stage.
On the contrary, what turned out was epic. Fernando Verdasco left Rafa to serve for staying in the match. Yes, it happened for the first time in Verdasco's career. Nadal was beaten by Verdasco for the first time in their fourteen meetings.
If there would be something left for Verdasco to relish once he retires, then it would be the single defeat that he gave yesterday to Rafa. I am not sure if this moment would ever happen to him at any point of time in future. But if it does, I would be very surprised. May be, in another forty to fifty years down the line, he can boldly tell his grand children, showing the pictures of yesterday's third round match in Madrid, that he had managed to beat Rafael Nadal.