Dale Steyn interview: "It would be boring to watch a fast bowler running in and blowing kisses to the batsman."
Featured Writer
Passion, pace, aggression and most importantly, character – Dale Steyn has it all. For quite a few years now, Steyn has been one of the most devastating bowlers in the world; his extraordinary talent sets him apart from all of his contemporaries. And despite having reigned over the ranking charts for years, he still goes about his job with an insatiable appetite for success that has bowled over spectators from all over the world.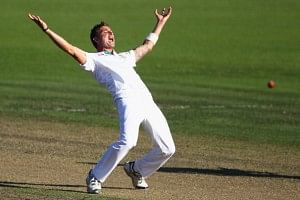 Having laid the foundation for creating an exceptional fast bowling attack for South Africa, Steyn has been vital in the team's recent run of success. Led by his fearsome pace, the South African bowling attack is considered the best in the world today. But his IPL team, Deccan Chargers, have had a very substandard season so far, thanks largely to the fact that Steyn is the only real impact player in the squad. In an exclusive interview with Sportskeeda, the legendary cricketer gives us a new perspective on cricket and his journey so far.
Q. How did the cricketing dream begin for you?
Steyn: My cricketing dream started when I was pretty young; to be more precise, when I was about 9 years old. I asked my parents if I could get a cricket kit; luckily for me they were very receptive and since it was Christmas time too, a couple of days later I had a very basic cricket kit in my hands. The kit didn't have pads or anything, but it did have a bat, wickets and a ball. I started off by playing with my friends, and that's how it all began.
Q. When did you get the feeling that your dream was going to materialize?
Steyn: Immediately! I realized that I loved the game and thoroughly enjoyed playing it. However, I started playing first class cricket only at the age of 20, which is when my career really took off. But right from my younger childhood years to my teens, all I did was play cricket.
Q. Did you always know you wanted to be a bowler?
Steyn: When I was younger, I just wanted to play; I enjoyed every facet of the game. I liked both batting and bowling then. As I got older, I started to think about what I was good at, and I realized that clearly, bowling was my strength. Although I still enjoyed batting, my bowling took a giant leap forward, and I became a specialist bowler.
Q. Who was your childhood hero, the player who inspired you the most?
Steyn: When I was younger, I loved watching Jonty Rhodes in action. He was my hero and he has inspired me to a large extent.
Q. What is your take on the IPL and how has your experience been so far? 
Steyn: The tournament is interesting. Over the course of five years, it has gotten better and better and has become more professional. People have started to take it a lot more seriously now. I personally love it and have thoroughly enjoyed it so far. It's fantastic to share the dressing room with players from all around the world. To have the opportunity to learn from their experiences and learn different techniques in different areas is a massive plus point. The IPL has been very good for me and I feel blessed to have had the opportunity to play in it.
Q. You played for RCB before you were picked by the Deccan Chargers – how did you feel about that? How different is playing for Deccan Chargers from playing for the Royal Challengers??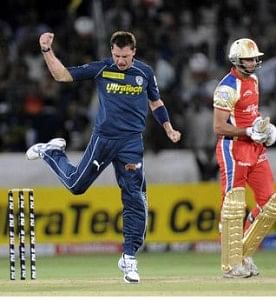 Steyn: I enjoyed my time in RCB; it was a very good experience. The IPL is quite unique in the sense that no matter where you go, you get great support from the Indians because they love the game so much. It doesn't matter which team I play for; the support from the locals is quite amazing and they support you just the same irrespective of the team you represent.
Both the teams have been very good to me, very kind, very helpful, and I've learned a great deal from both of them. Sometimes when you play for a team and you are playing on your home ground, they try and prepare pitches or wickets to suit some of their own strengths. Both the teams that I have played for, I have sometimes been a strength for the team, and they have gone out of their way to execute that for me. It's been great; I'm learning a lot too, so it's been fantastic and I'm loving it.
Q. Do you think there's too much added pressure on you to perform as you do not have another lead strike bowler in the DC team?
Steyn: I hadn't realized that until right now! I don't think there's been any added pressure. I think there are a lot of other teams in a similar situation. It's incorrect, I believe, to say that we are the only team under pressure. I think Rajasthan are playing under similar pressure – playing a lot of spinners and creating spin-friendly pitches, as they know that their fast bowling unit isn't one of their strengths. So I don't feel like I'm under any kind of pressure. We understand what the team needs and how to sort it out and try to play as a team. I just know that I have to keep going ball after ball and do what I do best, and I suppose it is the same with everybody else too.
Q. How important a quality do you think speed is for your bowling? Are you constantly working on your speed?
Steyn: I think speed is an important quality for me as it is the one thing that I am blessed with. Being naturally equipped with good pace, the other thing I had to work on was my direction, I guess. My accuracy eventually got better, and my pace has always been there. I think the older I get, I have to work that much harder on my pace. My accuracy has reached its pinnacle, and it will probably start going downward as I get older. But that's age, sport and cricket for you. I do work on keeping myself fit so that I can maintain my pace. I get into the gym whenever I get the opportunity, but a lot of it is just natural ability for which I consider myself quite blessed and lucky.
Q. You once said you looked up to Brett Lee amongst the contemporary bowlers – what is it about him that inspires you?
Steyn: To be honest, most fast bowlers inspire me, not just Brett Lee. But I really enjoy watching Brett Lee bowl. In 2003, I was living in Pretoria and I was in the academy where I got the chance to catch a glimpse of Brett who was playing for Australia against the Titans. It's quite funny because our coach Darren Lehmann played that game too and when I told him that the other day, he couldn't believe it and started laughing. I have enjoyed watching Brett bowl since a very long time – throughout high school, as I was trying to become a professional cricketer, I watched him bowl and do his thing. He was the person that I modeled myself on, both as a cricketer and as a professional. It's brilliant the way he works and goes about his game even at this age.
Q. What has been your favorite cricketing moment as a South African cricketer?
Steyn: My favorite moments have to be winning the Test series in Australia and England. I think it's special for a cricketer to go there and actually win a Test series because it is extremely difficult. It's the toughest challenge for any team, in my opinion.
Q. You have been the No.1 bowler in the world for 3 years now. Do you think that is a validation for all your hard work? How important are rankings for you?
Steyn: Rankings don't really matter too much to me, honestly. Maybe when I first got there, it was satisfying. I'm not saying the novelty has worn off, I'm only saying that as I've gotten older, I've learnt a lot more about cricket. I've learnt that stats are just an amalgamation of numbers, current form and the way players are performing currently, and that's what helps one decide who No.1 is. Although the stats or rankings show that I'm No.1, I feel there are a couple of other guys who are doing a better job than me out there at the moment. Having said that, it is a great thing to have happened to me.
Q. To what or whom would you credit your success as a bowler?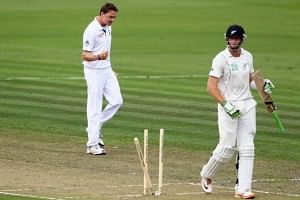 Steyn: I think I would credit my success as a bowler to hard work, without which I wouldn't have been half the bowler that I am today.
Q. How important to you is aggression?
Steyn: I think aggression definitely has to play a role in bowling; it is a pretty important weapon in any bowler's arsenal. For a fast bowler, being aggressive is just your job; it's what you are expected to be. It would be quite boring to watch a fast bowler running in and blowing kisses to the batsman! So I guess as a fast bowler you have to play that role – of a mean and aggressive kind of person. For me, I think it comes out naturally too; it is a part of my personality; I can be really relaxed at times but at others I can be very competitive too.
Q. What would you say about your celebrations after taking a wicket? Just so you know, your fans love them!
Steyn: They come quite naturally to me, as a matter of fact. But I'll keep trying new things to surprise the crowds so that they can enjoy them more!
Q. The South African bowling attack is considered the best in world cricket at the moment. How important is your role in leading the attack?
Steyn: I think we've all been around for quite some time now in the South African attack. In my view, it's not just me; I think there are leaders in all aspects of the game. There are leaders in batting, bowling, fielding, but that doesn't mean that the leader has to be the highest wicket-taker or the best at all times; that's not how it works. And that's definitely not how it works in the South African side. You have to go there and showcase all the principles and ethics that the team has discussed, and implement all the strategies right. I just adhere to the ethics and strategies that the team decides upon, try to perform as we've talked about, and lead by example. I might not take all the wickets, but what I need to make sure is that the guys are following me in the right direction, that's all.
Q. What advice would you like to give young aspiring bowlers who want to make it as big as you have? 
Steyn: I don't think I made it that quick actually; I just happened to be at the right place at the right time. I think if the younger players can be around experienced players who have played the game and know what they're doing, it's ideal for their growth. I believe that the best opportunity to learn is from senior players. When I was younger, I tried to spend as much time as I could around players like Shaun Pollock, Jaques Kallis, Mark Boucher and others, who were obviously all South African, since I didn't have an opportunity like the IPL back then. So any player who is playing the IPL or is new in the IPL should make the most of the opportunity and spend as much time as possible around the big name players, because that is where you learn the most. Even if you're not in the IPL, but play in your local club or first class team, you should hang around your experienced seniors because that is how you can ensure maximum learning.