Decisive action if United surrender title - Sir Alex Ferguson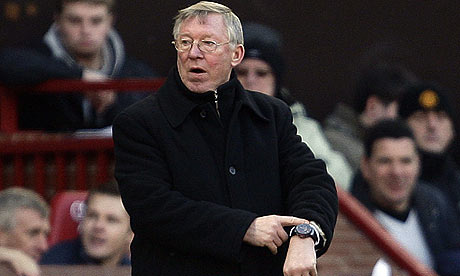 Manchester United will not be afraid to make any changes to the current squad if they end up the season without any silverware. Sir Alex Ferguson has hinted that he would not shy away to make any changes to the current team if they succumb the title to city rivals Manchester City.
Manchester City are in a poll position to win the Premier League Title on Sunday. City should do something stupid to not win the Premier League Title. It would not be an easy game for City as they play relegation threatened QPR.
Should City be crowned as Champions on Sunday, many pundits believe that Power House would be shifting to the Blue half of Manchester.
"We do tend to get there in the end but it looks like we're going to miss out this season," Ferguson said. "We're not looking as though it's the end of an era for us. In many ways, it's the start of one for us. The challenge will be really obvious to them now. If they lose the league, as we did with Chelsea a couple of years ago, we did something about it. Hopefully, we can do so again." Sir Alex went on to add.
Manchester United need to flaunt their Cheque books during the Transfer window. United need a left back who can replace Patrice Evra after he had an awful season. United need a world class midfielder who can command and dominate the United Midfield.
Nicolas Gaitan, Eden Hazard, Wesley Sneijder, Leighton Baines, Shinji Kagawa, Gerard Pique and many more are in United radar as per the reports. Nothing has been official confirmed from Old Trafford as of now.
United will also try to offload Dimitar Berbatov, Federico Macheda, Anderson, Fabio da Silva which would bring in some money.
Ferguson had gone through the similar time after loosing the final of UCL against Barcelona. Looks like Ferguson is having a Deja vu.  Final verdict is that United need to spend during the Transfer window in case if they need to catch up the Top European Clubs and also to re-conquer their power and pride back in English Football.