Premiership weekly: 5th – 11th May
This week's edition includes a Premiership round up, pieces on Alan Pardrew and Vincent Kompany following their awards, Stoke under-performing this season and more.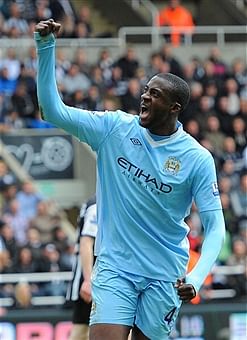 Premiership round up
The FA Cup final witnessed only one Premiership match take place on Saturday, which saw Norwich City get a shock 3-3 draw away to Arsenal, with Steve Morison getting a late equaliser for the visitors.
A Yaya Toure double for Manchester City away to Newcastle United all-but secured the blue half of Manchester the title; Paul Scholes and Ashley Young goals in a 2-0 win over Swansea City put Manchester United level on points again with their "noisy neighbours", but they have an inferior goal difference.
Bolton Wanderers chances of avoiding relegation were dealt a blow when they succumbed to a 2-2 draw at home to West Brom, despite being 2-0 up; A late Djbril Cisse strike gave QPR a vital victory over mid-table Stoke City, and this gives them a two point advantage over the Trotters going into the final day.
Tottenham Hotspur dropped vital points away to the under-performing Aston Villa as they drew 1-1; Already relegated Wolves drew 0-0 at home to Everton and goals by Dempsey and Dembele gave Fulham a 2-1 victory over Sunderland at Craven Cottage.
Monday evening's match saw Blackburn Rover's relegation from the Premiership confirmed with a 1-0 loss at home to Wigan Athletic, which secured the latter's survival for yet another season.
Liverpool avenged their FA Cup defeat to Chelsea on Tuesday night by beating the Blues 4-1 at Anfield. The result was not the only surprise of the evening, with both Jordan Henderson and Jonjo Shelvey scoring for the Reds.
Alan Pardew and Vincent Kompany win yearly honours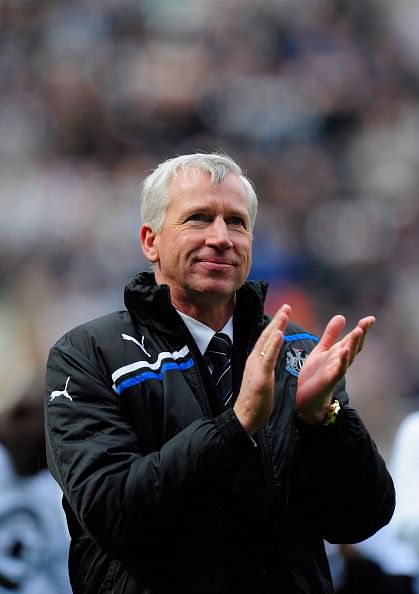 The thing that links both Alan Pardew and Vincent Kompany is the way they have exceeded expectations set for them to pick up the manager and player of the year awards respectively.
When Pardew was controversially appointed by Newcastle in December 2010, many were disappointed due to Pardew's previous unsuccessful managerial stints with Charlton and Southampton.
Kompany's arrival at Manchester City was not slated, but many saw him coming in as a back-up and nothing more. Both have surpassed expectations massively and both are on the verge of leading their sides to something great.
Note: I haven't given my view on whether they deserved to win or not. This is because next week's Premiership Weekly will be an award special.
Stoke City's dismal performance unnoticed by many
It is fair to say that Stoke City have established themselves as a Premiership side since their promotion in the 2007-2008 season. This culminated last season in an FA Cup final appearance and Europa League football as a result of that. This season, Stoke City are in 14th place with one game to play, and while they can finish at 10th spot with some luck although their Premiership performances need to improve next season.
Despite Peter Crouch' goals, Stoke are the Premiership's lowest goal scorers with 34 goals, which is a worrying record.
For all of Tony Pulis' brilliance, his one flaw is his lack of transfer acumen. The likes of Kenwyne Jones, Dean Whitehead and Cameron Jerome were all signed for big fees but none are up to Premiership standard.
With the promoted teams getting better each year, the clubs etched in mid-table look increasingly likely of facing the drop. Blackburn have been relegated this year, Bolton could also join them in the second tier next season and it could be Stoke's turn next season.
Last-day battle again!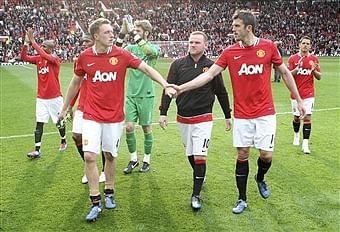 As a Barnet fan, the last three seasons have seen us secure survival on the last-day. The last game in such circumstances makes you got through every emotion, from excitement and joy to pain and anguish.
As a neutral, watching the last-day of the Premiership is as good as it gets, with the title, the last two Champions League places and relegation battles all needing to be settled. The Manchester clubs will fight it out for the title, with City being at home to QPR and United are away to Sunderland.
It's a contest between between QPR and Bolton Wanderers for the last relegation spot, with Bolton being away to Stoke City. The race for the Champions League spot heats up with Arsenal, Tottenham and Newcastle facing West Brom away, Fulham at home and Everton away respectively.
The 4th Champions League space will be lost if Chelsea beat Bayern Munich in the Champions League final. As the notorious singer and Manchester City Noel Gallagher said on Talksport,
"The table will change a numerous number of times throughout the day, making it worse for everyone involved."
He is not wrong there, but us neutrals will love it.
The King has entered the building Liberty Stadium!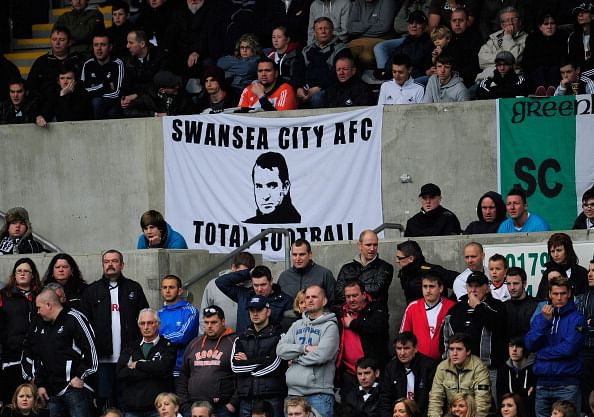 At the start of the season, many fans, bookies and pundits alike thought that Swansea City would not survive in the Premiership, with some quipping that there was more chance of spotting Elvis Presley than the Welsh club surviving.
This season, they have proved all their doubters wrong not only by staying up, but by playing an attractive and attacking style of football.
To commemorate this, Swansea boss Brendan Rodgers has asked "all fans to dress up as Elvis Presley as a tribute to 'The King' and to themselves for their achievements this season." Providing they keep the talented Rodgers, the future for Swansea City is looking very bright indeed.
Published with permission from Premiership Flavour.