Madrid Open review: Those stubborn 30-year-olds
Featured Columnist
A whole day after the completion of the Madrid tournament, the fracas over the blue clay-that-is-not-clay hasn't died down. I was greeted this morning by Ion Tiriac's defiant stand that he was prepared to face any amount of whistling from the crowds (there was plenty of whistling at Tiriac and tournament director Manolo Santana during the trophy presentation) for the sake of creating a tournament that was television-friendly. Meanwhile, World no. 1 Novak Djokovic still isn't done with his criticism of the court surface in Madrid; snugly ensconced on the welcoming red clay of faraway Rome, Djokovic said that the courts there feel like paradise after a week of slipping and stumbling on the Madrid courts. It would, of course, have been perfectly alright for this life-or-death matter to be dragged out in such excruciating fashion, if it hadn't been for the fact that the performances of two fine players are in danger of being overlooked in the brouhaha.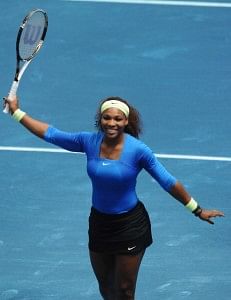 Serena Williams is into her thirties, but her play seems to be stuck in a time warp – it simply isn't showing signs of falling off in any way whatsoever. If anything, Serena's career actually seems to be playing out in reverse. In her peak years, she would pick and choose the tournaments she participated in, often giving tournaments like Madrid a pass, and concentrating only on the Majors. But now, after having accumulated many more miles on that 30-year-old body, and with justifiable reason to skip the less important tournaments, she seems willing to play as many matches as she can, diligently showing up at every Slam tuneup she can get entry into. And she doesn't just enter these tournaments as a formality, either, which you would expect from an aging champion. Every tournament she enters, every match she plays, Serena has only one game plan – go out with all guns blazing.
And go out with guns blazing she did, as Victoria Azarenka and Maria Sharapova, the two best players in the world today (according to the computer rankings, anyway), will testify. Despite having watched her strut her stuff all these years, Serena's ability to lift her game against strong opponents never fails to astonish me. She obliterated Sharapova and Azarenka by the identical scores of 6-1, 6-3, but the matches were possibly even more one-sided than the scores suggest. For a player that hits with so much power, making as many razor-sharp returns and go-for-broke winners as Serena does in these high-profile matches is one day going to be held up as the most dependably eye-popping spectacle in tennis history. And at this point, I don't even need to mention the ever-present threat of her serve; it's almost a given that she'll save almost every break point she faces with an ace or service winner.
With every tournament that she wins, with every year that passes without any discernible dip in the quality of her play, the Serena legend grows. She brings life to the tennis world, and is utterly captivating when she's on the court. And to think that only two tournaments ago we were willing to writer her off into the sunset. Will we ever learn?
Roger Federer is into his thirties too, but his age is a lot more obvious (and a lot more frequently mentioned) than Serena's. Is it possible, though, that age has had as little effect on Federer's game as it has on Serena's? For the past two years, I have stuck to the theory that age has slowed Federer down, and no one can deny that his focus and levels of concentration are no longer what they used to be. But with every tournament that he has won in these past 6 months (and he's won a lot of them), his footwork and reflexes have increasingly started looking just as brilliant to as they have ever been.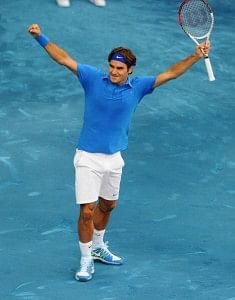 While changing the color of the courts in Madrid may not really have been responsible for changing the nature of the courts, it was universally acknowledged that the courts were more slippery than normal this year, for reasons best known to the tournament organizers. And while I do believe the players overreacted to the color switch, it was obvious that moving on the courts, particularly when changing direction, was proving tricky.
Not for Federer though. The man's footwork during the tournament was, there's no other word for it – extraordinary. He ran around his backhand just as frequently as he does on any other surface, he hugged the baseline despite the constant threat of getting a bad bounce, and he attacked the net with trademark conviction. All of which paid huge dividends in the tough final match against the monster hitter Tomas Berdych, which Federer won 3-6, 7-5, 7-5. Federer wasn't at his best in the match – there's no doubt about that. But he hung in there long enough, and concealed his backhand efficiently enough (even throwing in a few biting slices), to finally outsmart his opponent.
For much of the match, Berdych was eating up Federer's second serves – Berdych's returning, specially in the first set, was almost flawless. So Federer responded in the only logical way imaginable – he upped his first serve percentage. In the 3rd set, Federer seemed like he was channeling his inner Pete Sampras, as he repeatedly came up with big first serves on break points and 0-30 points. The way in which he ended both the 2nd and 3rd sets was distinctly Sampras-like too – he made his move, snake-like, at precisely the point of no return for Berdych, and the rattled Czech threw in a double fault in the 2nd set and a regulation unforced error in the 3rd to lose them both. This may not have been Federer's most authoritative victory, but it was still a lesson in tennis strategy. And it made for fascinating viewing.
Does growing old make you slower and weaker, or does it make you smarter and more well-equipped? Two 30-year-olds are hell-bent on proving the latter, and while I wouldn't necessarily bet that they're going to succeed, I know I wouldn't want to miss their journey for the world.