Tennis deserves Federer - Roger that!
Former World No. 1 Roger Federer wins the Madrid Masters crown as he mastered the blue clay to topple Tomas Berdych 3-6, 7-5, 7-5 in the finals of the Madrid Masters 2012. With the win, he regains the second spot in the rankings and stands only behind Novak Djokovic in the ATP list. Claiming his fourth title this season, he also equals the record of 20 ATP World Tour Masters titles. The Swiss maestro has been in blistering form over the past eight months.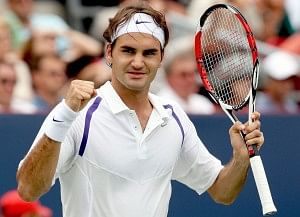 His recent success has once again demonstrated that he can dominate on any sort of surface. The best thing about Federer is that he has a natural instinct for getting better. While most of the other sportspeople need someone else to tell them their mistakes, Federer just feels it himself. His mental toughness and fitness is a kind of deadly weapon. Federer has become a standard for tennis brilliance and creativity that goes hand in hand with his concentration and resilience on the court.
In Roger's case, he has one of the best forehands ever. His backhand slice is known as the best to have entered the game. It is true that he does not serve the fastest in the game but he serves the most accurate. His calmness while he plays is superb. That's the key to his graceful performances and his endurance in the game. In years to come, the tennis maestro can win many more titles with his Swiss Army knife variety.
There are many things which make him the most versatile player of the game. In my opinion, his take on the much debated blue courts in Madrid Masters 2012 illustrates his respect for the game and his positive attitude towards the change. Federer has not spoken anything provocative about the courts. In contrast, Nadal has been the biggest critic of the blue clay of Madrid, blaming it ceaselessly for his poor performance in the tournament. Other players need to learn to play on any surface rather than crying about it publicly. The whole controversy has proved that if one wants to be a good clay court player, he must be able to play anywhere. Federer emphasizes fair play to show respect for the game and its rules. All these qualities make me say that tennis really deserves players like him.