Shalabh Srivastava pleads innocence: Exclusive interview
Correspondent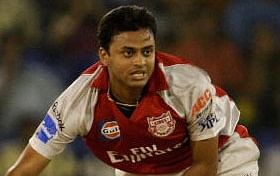 A day after making headlines as the man who was caught on camera while allegedly engaging in spot-fixing, Shalabh Srivastava is understandably in a tense mood. The 30-year-old left arm pacer from Allahabad is embroiled in one of the biggest controversies in IPL history, as a TV channel yesterday showcased video and audio clips of Srivastava demanding money for deliberately under-performing in the IPL. Srivastava is also alleged to have said that the franchises pay 'extra remuneration' to star players, over and above their designated auction price, in order to retain their loyalty. The Kings XI Punjab player is desperate to prove his innocence, and he spoke to Sportskeeda correspondent Taruka today to set the record straight.
Taruka:  First things first. Is there any truth to the accusations of spot-fixing that have been put forward by India TV?
Srivastava: I am trapped in this controversy through no fault of mine. I strongly affirm that I have not taken money from anyone; I am completely innocent. India TV edited the footage and distorted the video clips to portray me as a negative character.
Taruka:  How did you get involved with India TV in the first place? Did you ever meet the representatives of the channel?
Srivastava: People from the news channel posed as agents from a sports management company to approach me. All my conversations being shown in the sting operation were recorded in as many as four meetings during the last one year. And my last meeting with the so-called agents was almost a month back.
Taruka: Exactly what questions did the representatives from the channel ask you? And what did you say to them in response?
Srivastava: I just had a routine, friendly talk with them, the way anyone would with a sports agent.  The agents (reporters) continuously tried to bring up controversial subjects with me in all four meetings, but I refused to get drawn into those topics and instead answered only their regular, straightforward questions. They offered me Rs 1 crore to concede 20 runs in an IPL match, which I refused.
Taruka:  What about your reported claim that big players are paid extra money in black by the franchises? Did you say any such thing in front of India TV's representatives?
Srivastava: At one of the meetings they asked me to take some big names of the game and talk about the money being pumped in IPL through different teams. But I didn't say anything negative about any player or franchise even when they asked such volatile questions. Instead, I said a lot of positive things about the IPL, but they haven't shown any of that in the video clips.
Taruka:  Did you ever get the suspicion that the 'agents' were not really who they claimed they were and, in fact, were looking to create a controversy?
Srivastava: They never posed as reporters before me. They offered me a contract, and claimed that they had permission from the BCCI for the contract. They wanted me to sign up for it, which is when I asked them to come to Lucknow to finalize the details. But they never turned up for that. It was then that I realized that something was fishy. After the first two meetings I started to ignore their phone calls, but they kept calling me from different numbers. On one occasion they even caught up with me as I was coming out of the airport. They literally stalked me wherever I went, and it became really difficult to get away from them.
Taruka:  How do you plan to prove your innocence?
Srivastava: There is nothing much to prove, because the allegations are completely baseless. The claims made by India TV don't hold much ground because I haven't even played a single match this year. And you can check my records – I have never thrown a 'No ball' in any IPL match.
Taruka:  What would you say about comments that fringe cricketers are forced to take such illegal measures because of the low income they receive?
Srivastava: I am happily married and have a two-year-old daughter. I earn enough to satisfy all of my family's needs. I am a very honest man and I would never even think of going along any illegal path to earn more money.