Current Affairs: Sports Quiz # 1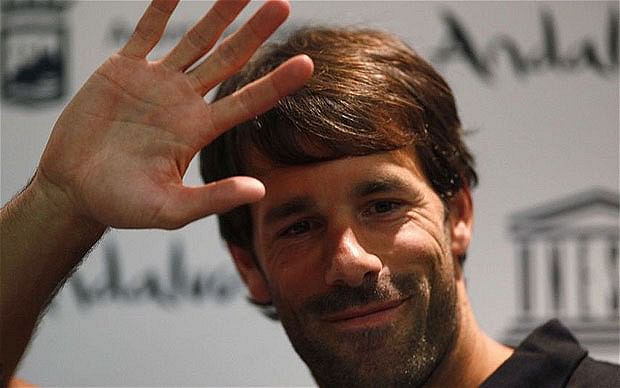 1. Which among the following foreign players is the youngest to feature in Indian Premier League 2012?
a. Steven Smith
b. Marchant de Lange
c. Chris Lynn
d. James Faulkner
2. What is the nationality of Viswanathan Anand's fierce competitor Boris Gelfand?
a. Iran
b. Iceland
c. Italy
d. Israel
3. Which among the following athletes was not tested positive in the Asian Grand Prix Series 2012?
a. Arpinder Singh
b. Harvinder Singh Dagar
c. Kripal Singh
d. Anshu Rai
4. Which of the following women missed the air rifle final by one point in the World Cup in Milan, Italy?
a. Mampi Das
b. Ayonika Paul
c. Anjali Bhagwat
d. Apurvi Chandela
5. After defeating whom did Mary Kom, the Indian woman boxer qualify for the quarterfinals in the world championships?
a. Marielle Hansen
b. Ren Cancan
c. Nicola Adams
d. Hye Kim
6. Which team's manager has been voted the top manager in the first 20 years of the English Premier League?
a. Chelsea
b. Arsenal
7.  Pastor Maldonado emerged as the winner of the just concluded F1 Spanish Grand Prix. Who took the 10th place with a single point?
a. Mark Webber
b. Nico Hulkenberg
c. Jean-Eric Vergne
d. Daniel Ricciardo
8. After beating whom in the Internazionali BNL d'Italia (Mens' singles) tournament did Andy Murray celebrate his 25th birthday in style?
a. Jo-Wilfried Tsonga
b. Juan Carlos Ferrero
c. David Ferrer
d. David Nalbandian
9. Former Manchester United striker Van Nistelrooy recently retired his retirement from professional football in Malaga. How many goals did he score after joining Malaga in 2011?
a. 2
b. 3
c. 4
d. 5
10. Which particular sport does the recent novel of John Grisham 'Calico Joe' feature?
a. Soccer
b. Baseball
c. Basketball
d. Wrestling
Find the answers to this quiz here: Answers to Sports Quiz # 1