The greatest tennis players of all time – No. 16
Featured Columnist
Continuing with our series on the greatest tennis players of all time, here's No. 16 on our list.
No. 16 – Pancho Gonzales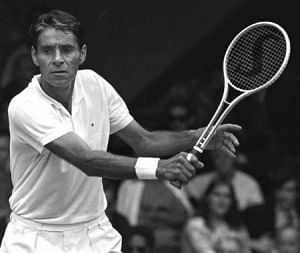 How can you tell that a player's dominance over his sport reached epic, even unmanageable proportions? From the fact that the rules had to be changed so that the rest of the field could catch up. In the days when Ricardo Alonso Gonzalez, better known as Pancho Gonzales, frequented the men's tennis courts, his game, comprising of a monster serve and razor-sharp volleying skills, was untouchable. So untouchable, in fact, that the organizers of the professional tour had to enforce a rule that prevented players from hitting the follow-up shot to the serve on the full, thus effectively decreeing serving-and-volleying unlawful. But if you think that stopped Gonzales from winning, you're sorely mistaken.
This series is supposed to only take into account players from the last 50 years, and Gonzales's peak years and major successes came nearly 60 years ago (in the mid- to late 50′s). But such was his impact on the game that we are compelled to make an exception for him. Gonzales came closer than any other player in the history of tennis to being a 100% sure bet to win a match. If you ever wanted a player to play for your life, you would absolutely have to choose Gonzales. His will to win was so ferocious, and so complete, that it transcended his professional life and became a part of his personality, rendering him a sullen, me-against-the-world loner for his entire life.
Gonzales was an American of Mexican descent, and correspondingly suffered his share of discrimination through his career (or at least he thought so). He started learning tennis at the age of 12, without any coaching of any kind – he taught himself the game by observing recreational players playing on public courts. As a driven, rebellious teenager, Gonzales often came  dangerously close to delinquency, dropping out of school and even spending a year in detention on charges of burglary. He joined the Navy towards the end of World War II, but was unceremoniously thrown out from there too, on the grounds of of – you guessed it – bad conduct. Adhering to the rules of authorities didn't exactly sit well with the fiery Gonzales.
His reputation as a troublemaker preceded him wherever he went, which spelled disaster for his entry into the good graces of the rich, orthodox tennis establishment. For a long period of time he was banned from playing major tournaments because of his deviant past. But like so many other obstacles faced in his life, Gonzales brushed aside this one with ease too; he played (and mostly won) the smaller tournaments to earn a high enough ranking that forced the organizers to put aside the ban and sponsor his participation in the majors. Gonzales went on to win back-to-back US Open (then called the US Championships) titles in 1948 and 1949, and his success compelled the organizers of the professional tour to reluctantly sign him up for a contract in 1950. Since players competing on the professional tour were barred from entering the Majors, those two US Open titles would remain the only Slams Gonzales ever won in his career.
Gonzales's time on the professional tour had it all – bitterness at being paid less than his more popular peers, employing underhanded tactics to get his own contract prematurely terminated, and most memorably of all, an 8-year reign of unquestioned dominance that can match (or even surpass) anything that Rod Laver or Roger Federer could put together in their careers. Gonzales made no friends on the tour or among the crowds, to put it mildly, and plodded along from one tournament to another with a permanent scowl on his face; his unpleasant disposition was so severe that it would make Ivan Lendl look like a giggly cheerleader by comparison. But none of that translated to his game. At his peak, Gonzales was in a league of his own; despite the open animosity that his employers and peers had towards him, he was the player who gave the tour meaning. His serve was impregnable, and that combined with his impeccable volleys and searing forehand made for a combination so lethal that it forced the aforementioned change in the rules. But he continued beating up on his rivals even with the change, and the rule was subsequently restored to its original form.
Like most champion players, Gonzales was adept at many aspects of the game. While he built his success around the serve-and-volley style, he once even managed to hang back at the baseline and defeat baseliner extraordinaire Jimmy Connors. Gonzales's ability to lift his game at the most crucial junctures was, however, his most remarkable asset – some observers report that he never once got broken while serving for a set or match.
With the emergence of spectacular talents like Laver, Ken Rosewall, Tony Trabert and Lew Hoad, Gonzales's grip on the top spot of men's tennis slowly started to loosen. But he remained competitive with his younger peers well into his 30′s, winning 15 Pro Slams (the equivalent of Grand Slams on the professional tour) in all. By the time the Open Era began in 1968, Gonzales was already 40 years old, but that didn't stop him from defeating the likes of Roy Emerson (who was, at that time, the world record holder for most Slams won) and Rosewall with regularity. He even defeated Laver, who was then the No. 1 player in the world and holder of all the four Grand Slams, in an winner-take-all, five-set epic at the Madison Square Garden. In 1969, he played (and won) that period's Isner-Mahut match – he battled Charlie Parasell for more than 5 hours in the 3rd round of Wimbledon before grinding out a 22-24, 1-6, 16-14, 6-3, 11-9 victory. So grueling was that match that it prompted the introduction of tiebreakers (which were, for the record, used at Wimbledon for the first time in 1971).
Despite his long run of success, Gonzales never got over the apparent prejudices he was made to suffer at the hands of society and the media because of his ethnic heritage (even his widely accepted nickname 'Pancho' was originally used in a derogatory sense). Gonzales's post-retirement days were not specially warm or pleasant; he died of cancer in 1995 while struggling with poverty and loneliness, estranged from his whole family except for his 6th wife Rita Agassi (who, incidentally, is the sister of Andre Agassi).
In many ways, Gonzales was the quintessential tragic hero – the Heathcliffe of the tennis world, if you will. His otherworldly talent made him an irresistible force, but his attitude and demeanor (which weren't entirely unrelated with the treatment given to him by the upper class tennis establishment) made sure that he was never accepted or loved the way a champion sportsperson should. But a champion sportsperson he was – there's no going around that. In fact, most people who saw him play might cringe that he's ranked as low as No. 16 in this list. And I can only welcome such criticism – it is nice to know that there are people who are willing to fight for Gonzales the way he fought for a win on the tennis court.
Now for the customary video clip. This one's a little too theatrical for my liking, but the greatness of the man is reflected effectively enough in it. Take a look for yourself:
Here are the other players who have made it so far:
No. 20 – Venus Williams; No. 19 – Justine Henin; No. 18 – Ken Rosewall; No. 17 – Andre Agassi
Read the detailed write-ups on all the players in this list here:
The greatest tennis players of all time