Indian Badminton player Rupesh Kumar interview: "Yes it was sad that I missed the Olympics"
Contributor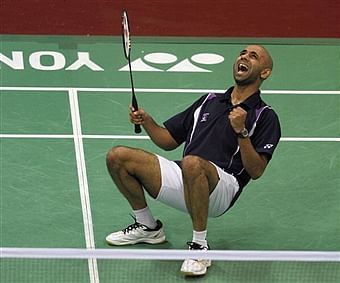 Rupesh Kumar is arguably India's finest-ever doubles player, with nine successive national titles. With a silver medal in the team event of the 2010 Commonwealth Games, and titles in Bitburger, New Zealand and Austria, Rupesh has led Indian badminton's revival after its slump in the Nineties.
Q. Now when you look back, how difficult was this journey for you?
I wouldn't say the journey was difficult cause I enjoyed being part of the sport, however staying away from my family was difficult, specially my kids. Like every sportsman I too have had my shares of winning and losing but I think that is the beauty of being a player as you learn so much about life and yourself.
Q. Being a doubles player, do you think you get your fair share of popularity and encouragement?
Of course I have always felt a little let down by the attention I got as a doubles player. People generally tend to think that it's easier compared to singles, but the thing is everything is difficult in its own way and the lack of attention is sad.
Q. What has motivated you to stay in the game for so long?
Motivation I would say is my love for the game. Even during vacations I just can't stop myself from going to the stadium, playing a few games, meeting people related to the game. I mean whatever I have today is what the game has given me.
Q. You missed qualifying for the Olympics by just a few points. Any regrets?
Yes it was sad that I missed the Olympics. But I just want to stay positive. May be it was not meant for me. I have no regrets. I love the game and I always will.
Q. Apart from Badminton,what else do you do?
Apart from badminton I hang out with friends, eat some good Kerala food, listen to music and watch a lot of movies.
Q. What tournaments are lined up for you now?
Since I'm taking a break right now, I haven't decided on the tournaments I plan to play. Will get to know about it sooner or later.
Q. You are father to twins. Will they be carrying your legacy forward?
Well they do love playing badminton but whether they would like to pursue it when they grow up, I'l leave it completely to them. My wife and I are both sports-people so they definitely have sports genes.
Q. Do you think India has good chances of securing a medal in the Olympics?
Yes of course, there is Saina who I am sure will make it to the podium. In the men's section, there is Kashyap. He has been phenomenal this year and is capable of defeating anyone. Then ofcourse we have Ashwini and Jwala in womens doubles and V Diju and Jwala in mixed doubles. We can hope for the best.