Bangalore 10k: Running with Oracle's Sanaullah
Contributor
Sanaullah, a software developer working in Oracle who graduated in 2010 from NIT Surathkal, tells us about why he will be participating in the 10k run this year in Bangalore.
Is this your first run? What category will you be running in?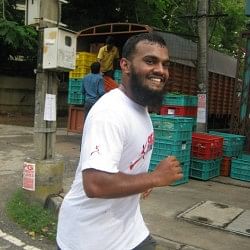 Not exactly my first, but it is my first large scale run. I had previously run for an event organized by my gym 'Snap Fitness', which was a 10k run as well. But the magnitude of this run is huge – it's much bigger than my earlier one. I will be running in the Open category.
 How interested are you in sports, and what sports do you play?
I follow cricket, and I used to play basketball when I was in college – that was two years ago. But once I started working, I found it difficult to make time for games and sports. I still have a passion for basketball and cricket, but when it comes to running, I find it difficult to make time to go out and run. Most of the time, I run on the treadmill while working out at the gym.
Is Oracle sending a corporate team for the run? Do they generally encourage their employees to participate in sports?
No, there's no corporate team as such. But Oracle had sponsored a marathon earlier. So yes, they are involved in a lot of such ventures. Internally, Oracle encourages sports to a great degree; we have a lot of sports teams within our company. We have a cricket, basketball, volleyball team – these teams participate in inter-company tournaments.
How can youngsters be encouraged to participate in marathons and other events such as this? Is it important to encourage youngsters' participation at all?
I'm assuming that a lot of youngsters are already into sports, so running a marathon would not be a very difficult task. The only challenge here is maintaining fitness, which they can do over a period of time. For people who are working, usually we don't get the time or are tired by the end of the day to indulge in any physical activity, which is not good for the body in the long run. Participating in such events helps us concentrate on nutrition, building stamina and working on fitness, so yes, it is very important to encourage more people to participate.
What have you done to prepare for the marathon? Are you going to run the entire 10 km?
I have worked out on a cross-trainer for a 3-4 km stretch so that I can maintain that intensity while actually running. I have worked on strengthening my back and lower back. I have mostly engaged in indoor workouts. Hopefully, they should be enough. As for the distance, I'm just going to try to run – let's see how far I get.
Have you set a time limit for yourself to complete the run?
I'm hoping I finish it quick enough to make it to the top 1500 and get that special edition T-shirt that they are offering. But otherwise, I'm looking at finishing the entire 10 km within 50 minutes to one hour.
Do you have any message for our readers?
I hope that all of you concentrate on your fitness, health and nutrition. A lot of us are so busy with work that we tend to ignore health and fitness, but we must always remember that health is a more important factor than work as it can help keep us more focussed at work as well. So take out time to keep yourself fit.