Federer's part of the draw- not looking bad if viewed logically
Senior Correspondent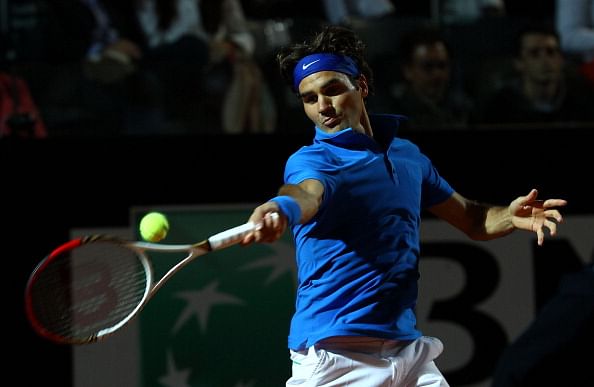 The draw of French Open 2012 is released. The fans of Roger Federer have grown wild. They feel that their champ is hard done by. They are of the opinion that he has been pushed to play in the toughest draw from where going on to win his 2nd French open seems to be not easy at all.
Superficially, if we go through his part of the draw, given the sort of opponents he has been pitted against, we are bound to believe that Federer's bid to capture his first major since Australian 2010 looks all the more impossible. The opponents, likely to feature in all his matches from the second round of Roland Garros this year, are no pushovers and so many of Roger's fans including myself were upset seeing the draw in which he is figured.
But, logically, as I went through the draw again, I feel strongly that this is the best draw a champ like Roger Federer could get. Basically, there are two important reasons which make me believe that Roger's name is figuring in the best half of the draw.
The first and foremost reason for me to believe so is – Roger, as he is going to play high quality players right from the word go, he can never afford to relax. Not that he would be relaxing against lesser opponents but when he plays against mediocre players, his game is not going to improve. When Federer is going meet a low ranked opponent, it is going to be a mere formality and we will feel as if he is going to reach the forthcoming rounds hands down. When such opponents play against Roger till the quarters and immediately thereafter he gets super quality opponents, then all of a sudden he will be required to raise his game and that would be difficult.
Now, the sort of tough opponents Roger is going to lock his horns with, he is expected to be at his best right from the start of the tournament. All through the two weeks, he has to be circumspect and should continuously look to improve his game. In this way, he would be bringing his best game against players such as Novak Djokovic and Rafael Nadal in the business end of the tournament. So, by constantly improving and playing his best he will be at his imperious best against Djocker and Nadal, both of whom, on the other hand, are not having any tough opponents to conquer till last four stage. In this way, I feel Roger can thank his stars for getting a draw of this sort. Infact, we can never forget the fact that Roger has won 6 ATP world finals, more than anyone till date, which clearly tells us facing top seeded players is not a big deal for him.
The second reason which tells me that Roger need not be worrying about his opponents is the fact that though every one of them seems to be a hard nut to crack, none of them has a great record playing against Roger Federer. Infact, Federer knows very well to beat each of them. Now, if one runs down quickly the opponents of Roger, we can easily understand the fact.
2nd Round :
In 2nd round Roger's opponent is David Nalbandian of Argentina. This man is trailing 8-11 in head to head record against Roger. Though the figures indicate to us Nalbandian is not so much a bad player because he has beaten him 8 times, the fact is of late Nalbandian is just as unimpressive as Roddick or Hewitt when it comes to meeting Roger. Nalbandian had won his first five outings with Roger at the beginning of latter's career but in the last six to seven years he could add only three victories against Roger. This means Roger has won 11 out of the last 14 matches played between them. So, it is Nalbandian who has to worry about Roger and not the other way around.
Third round:
In third round, Roger's opponent will be Andy Roddick. Notwithstanding his latest victory against Roger in the third round at Miami, not long ago this year, Roddick does not seem to be a player who can spun heroics in the French open. He has won only three out of the 24 matches played between them and that shows how dominant has Roger Federer been. I strongly believe facing Roddick would be a cake-walk for the former world No.1 and the winner of 16 majors.
Fourth Round:
When a player has been beaten 10 times in a row by a special player, then he is not going to beat him when both play the 11th time. This would be the case of Felencio Lopez, who has never beaten Roger Federer. Federer was the winner of 2009 french open and also has been a finalist four other times in French open. To beat Federer in such a place, where Nadal was the lone player to vanquish him many occasions, will take something extra and I somehow do not feel Lopez has a sort of game to beat him in a best of five setter.
Quarters:
This is the only round which Federer may find it a little difficult to overcome but still he would enter the semifinals is what I feel. The opponent in this round could be either Del Potro or Berdych. Both of them are almost similar in their style but I feel Federer has the game to prevail over them. Again, Del Potro was beaten on the last five occasions and Berdych was beaten on the last two occasions by Roger. Infact, both of them are not great clay courters and their style of play is not going to harm Roger in any case. Roger can beat both of them and may lose a set in the process if either of them plays well against him.
Thus, I feel that Roger's entry into the semifinals of Roland Garros is going to be as easier as Nadal's or Djokovic's. In fact it is "advantage Roger" because in the later half of the second week at Roland Garros, it would be him who would be having a better game, given the level of opponents he would have played against till then.