Kumaran joins leaders in chess tournament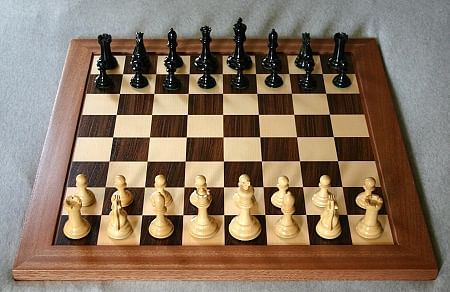 Pondicherry – B Kumaran, a class 9 student of Chennai's Sri Sankara Senior Secondary School, overcame S Jayakumar to join the leaders with 4.0 points after the fourth round of the third KACC International FIDE Rating chess tournament (Below 2200) here Sunday.
Also in contention with 4.0 points were top seed K. Gunasekaran (TN), third seed Linda Rangarajan (Pon), along with M. Chakkravarthi Reddy, M. Teja Suresh, Ramakrishna Perumalla (all AP), V. Varshini, P. Elancheralathan (both TN) and S. Suresh Krishna (Pon).
Gunasekaran put it across veteran M J Noohu. The equal rook and minor piece ending was handled deftly by Gunasekaran who nurtured a minute advantage and clinched the full point.
Second seeded Linda Rangarajan was stretched Karnataka's Sushrutha Reddy. In an exciting rook and pawn ending that appeared to be heading for a draw, Linda exerted enough queen side pressure and went on to win the game in the fourth hour.
Important Results (Round 4): M J Noohu (TN) 3 lost to K Gunasekaran (TN) 4, Sushrutha Reddy (Kar) 3 lost to Linda Rangarajan (Pon) 4, Ramakrishna Perumalla (AP) 4 bt Magesh Babu Matapathy (TN) 3, S Mathivanan (Pon) 3.5 drew Mohan Kumar (TN) 3.5, M Siddarth (TN) 3.5 drew S Sathyanarayan (TN) 3.5, S Jayakumar (TN) 3 lost to B Kumaran (TN) 4, M Chakravarthi Reddy (AP) 4 bt E Balachandar (TN) 3, N Aadityan (TN) 3.5 drew R Vaishali (TN) 3.5, P Elancheralathan (TN) 4 bt E Balachandar (TN) 3, T Balaguru (Pon) 3 lost to M Teja Suresh (AP) 4, B Vignesh (TN) 3.5 drew Siva Mahadevan (TN) 3.5, P R Hirthickkesh (TN) 3 lost to Suresh Krishna S (Pon) 4.